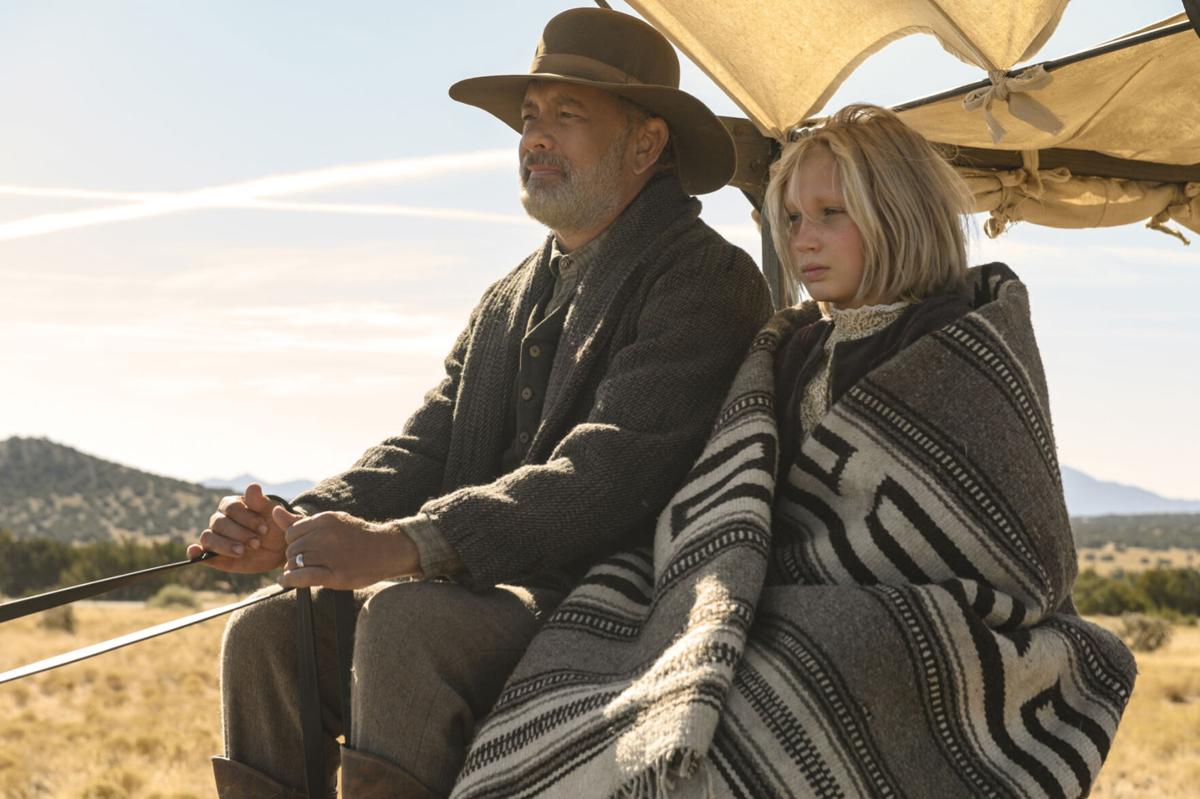 News of the World
(PG-13)
"News of the World" explores loneliness at two ends of the candle.
Johanna is a 10-year-old orphan, whose parents were brutally killed.
Captain Jefferson Kidd is a 71-year-old former member of the Confederate Army, whose wife died of cholera while he was at war.
In 1870, a few years after the end of the Civil War, Capt. Kidd is now surviving by traveling from town to town reading the news aloud to crowds of townspeople who pay a dime per person.
One day, between towns, he discovers a broken wagon – with a young girl hiding nearby.
At first, Capt. Kidd tries to find a place to take her – an orphanage, perhaps.
Finding no answer, this good man does what's right.
"This girl needs a home. I found her. I'll take care of her."
The Captain finds out her aunt and uncle live on a farm, a long ride away.
He decides to make the long journey to take her only relatives.
Along the way, they will confront outlaws intent on kidnapping and harming Johanna. The Captain wins that bloody showdown, which reassures the skittish Johanna she's safe with him.
For the first time, the orphan smiles.
She's wearing Indian clothes, having lived with a tribe for a time after her parents died. She speaks their language. When they meet members of that tribe on their trek, she wins their trust and they give her a horse for her journey.
We've seen this movie a few dozen times in different forms – fate, or perhaps an angel, brings together two people who need each other.
What lifts this movie above the formula is, of course, Tom Hanks, directed sensitively by Paul Greengrass.
What starts out as a Western evolves into an old fashioned family film. Tom Hanks channels his inner Jimmy Stewart to give a lost girl the wonderful life she deserves.
She, in turn, will fill the hole in this widower's heart.
Cynics may try to resist the unapologetic pull at the heart strings, but chances are this touching, albeit unconventional, story of Old West adoption will eventually melt your heart.
Let's start with Capt. Kidd, storyteller.
Although the story is fictional, the concept of people learning history through storytellers is as old as Homer. Scholars speculate that Homer was blind like named Demodokos, a sightless storyteller in "The Odyssey."
The blind led the blind through his odyssey.
The apostle of the obvious reminds us that iPhones and newspapers were scarce in Ancient Greece. Generations passed down history through storytelling.
I'd love to have sat at the feet of Homer and Socrates and heard their stories.
In the old West, the scriptwriter found some accounts of storytellers who read aloud in public places. The idea of going to a saloon in Tombstone for a pint, and listening to Tom Hanks read me the news is appealing. Count me in. I've got my dime.
It's a nostalgic pleasure to watch Hanks ride from town to town as the "town crier" bringing the news to small towns.
Capt. Kidd, news reader, tells them a railroad is being built to connect them to the rest of America. He tells them a man was buried too soon – and then popped out of his grave during a wedding.
"News of the World" reminds us of our debt to those who bring us the news, by any means.
Let's conclude with the most touching scene.
Captain Kidd visits the grave of his wife. With tears in his eyes, he takes off his wedding ring and leaves it by her grave with a locket containing her photo.
He loved her. He's lonely without her.
Captain Kidd then mounts his horse and heads back to where he left Johanna.
Arriving at the farm, he finds an unhappy child, and begrudging foster parents.
He beckons the girl and quietly asks her if she would like to come with him.
Johanna stands still for a long silent moment, tears in her eyes. Finally, she steps forward for a hug I can still feel, days later.
We started with two lonely people who, at the end, both find love again.
A story of love lost and love found never grows old, if delivered authentically.
Thanks to Tom Hanks, 64, and Helena Zengel, 12, we leave uplifted by a sentimental happy ending, one earned through two touching performances.