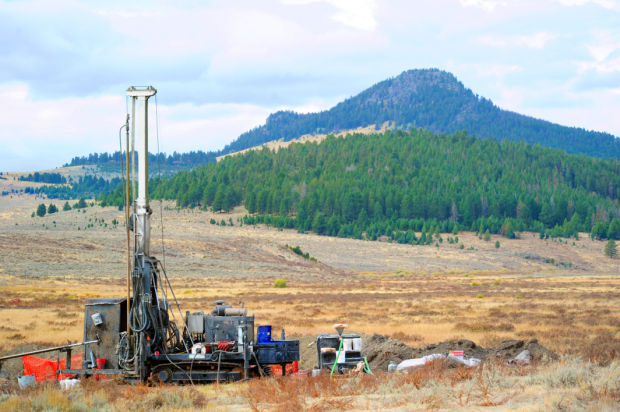 A mining company proposing a controversial Meagher County copper mine has submitted its application for a mine operating permit to the Montana Department of Environmental Quality.
Tintina Montana Inc., formerly Tintina Alaska Exploration Inc., announced Wednesday that it has applied for the permit to mine about 15 miles north of White Sulphur Springs in the Smith River watershed. The permit application now triggers a 90-day review by DEQ, which can return the application if it finds "deficiencies." If deficiencies are found, Tintina can address them and resubmit the application.
If a final application is approved by DEQ, it will then trigger an environmental impact statement including consideration of public comment and likely public hearings.
"We've been pushing very hard for this for a long time now -- we wanted to get it done by the end of the year so we've pushed really hard for some time," Tintina Vice President of Exploration Jerry Zieg said. "We're relieved to have a document to submit and really pleased with the way it turned out. I truly feel like the plan we've passed on to DEQ for review is pretty exceptional."
The mine, called the Black Butte Copper Project, would use a tunnel to access the Johnny Lee Copper deposit, which Tintina says contains high-grade copper ore. Supporters of the mine cite its economic impact and use of modern techniques to protect the environment as reasons it will benefit the White Sulphur area.
The mine has the backing of all three county commissioners and several area businesses display signs supporting the project.
Zieg pointed to design elements such as cemented tailings eliminating the need for tailings ponds and treatment of water contacting the operation as environmental safeguards.
Wednesday's application comes after testing began at the site as early as 2010, and analysis has revealed "an exceptionally high grade copper deposit," Zieg said. The permit application gives those for and against the mine a solid document to analyze, he added.
"It's been difficult messaging because we didn't want to over-promise anything, so we wanted to make sure we could stand behind what we said and that takes a fair amount of time," he said. "It is really good to have this document out there saying we're essentially making a commitment."
Opponents of the mine including Trout Unlimited, the Montana Environmental Information Center and others challenge its proximity about a mile from Sheep Creek, a tributary of the Smith River. The project requires both groundwater dewatering and tailings that risk the health of the creek and downstream to the Smith, they say.
The Smith River, known for its stunning canyons and difficulty to draw a floating permit, is too precious a resource to put in jeopardy, they say.
The Smith contributes nearly $10 million to Montana's economy and 107 jobs, according to the American Fly Fishing Trade Association.
Montana Trout Unlimited Executive Director Bruce Farling centered his concerns on the constraints and ability for DEQ to adequately analyze the project.
The law only allows for a 90-day review of the mine permit and one year for the environmental impact statement -- both woefully inadequate and opening the state up to court challenges, he said.
DEQ also has a poor record of reviewing mining permits and monitoring pollution after permitting, he added.
Trout Unlimited hired its own scientific team to analyze the application, and Farling hopes both the state and Tintina will be open to their assistance.
"We have very little confidence DEQ will handle this permit application and find all its failures," he said. "We feel like we're forced to do this and the team we have, every single one of them is light years ahead of the qualifications and experience of DEQ."
DEQ has a high level of discretion when it comes to demands it can make on Tintina's operation plans, including increased engineering for flooding and waste-water disposal, Farling said.
"Our message is don't treat this like any old mining proposal," he said. "It deserves a heightened level of scrutiny and acceptance of risk must be much less."
DEQ Environmental Management Bureau Chief Warren McCullough stressed that his agency will give the permit an unbiased review under the law. Whether the mine is approved or not will not come down to a public vote, he said.
"We do hear the personal attacks on our integrity and analysis and the 'Here we go again with the sins from the past' from the NGO's," he said. "It's important to remember that many of these mines we're criticized for are not modern mines and we're now able to apply those lessons to today."
DEQ has improved bonding requirements for mining companies once restrained to flat rates, McCullough said. Technology has also meant a much better understanding of environmental factors at play and subsequent analysis, he added.
When it comes to Tintina as a company, Farling challenges the message that Black Butte will be a small-underground mine with a relatively short life. Tintina and majority owner Australian-based Sandfire Resources have indicated plans to continue exploring the area for copper.
"The Australians' bigger picture is setting in, and essentially it is to turn the west side of the Little Belts into a mining district," Farling said.
Further complicating the future of the mine is the currently depressed price of copper.
Copper prices have historically been volatile but market analysts see it as a temporary downward spike, Zieg said. If the mine were operating Zieg speculated it could ride out today's prices. If Tintina was asked to make a decision about beginning production, current prices could cause a delay, he said.
Farling believes that copper prices and volatile markets are a major cause for concern.
"I think they're overly optimistic by saying they'll begin production by 2020. They're all saying up in Meagher County what a great deal this is, and I think that is seriously in doubt," he said.