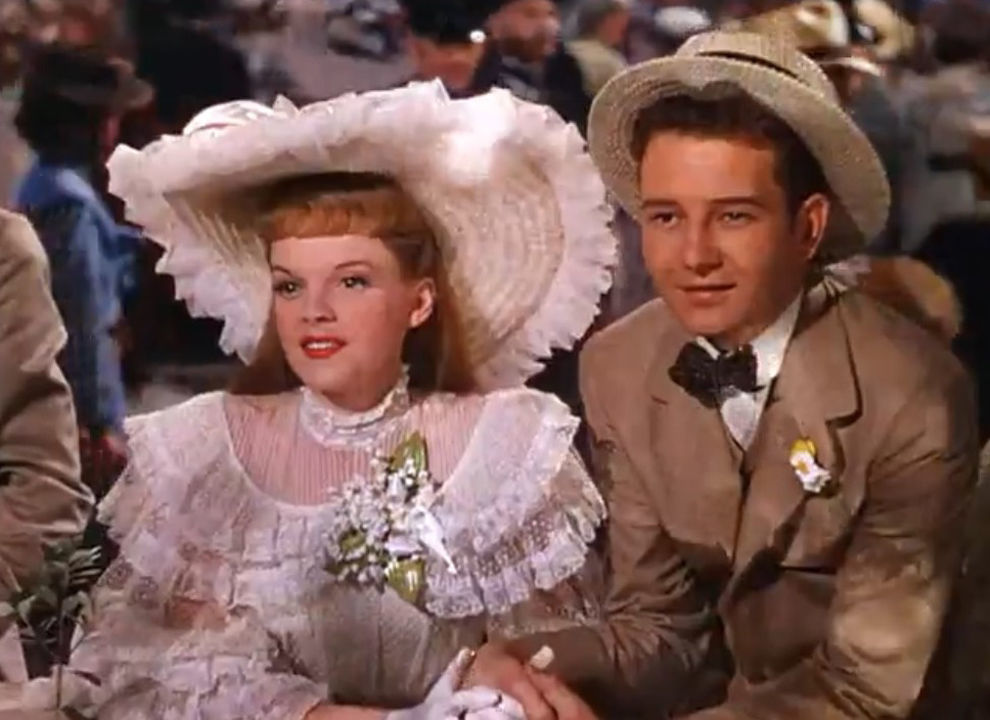 Meet Me in St. Louis
Free on YouTube (wrong screen ratio)
(PG-ish)
Today we'll gather round the piano and sing together.
"Have yourself a merry little Christmas, let your heart be light."
Please spare me your sentimental gushings of what a happy song that is. I've seen and loved "Meet Me in St. Louis." I watched Esther (Judy Garland) sing it with tears in her eyes while her little sister, Tootie, (Margaret O'Brien) cried with her.
"From now on your troubles will be out of sight."
I watched Tootie rush to the front yard to behead the snowmen with a broomstick – and then cry so loud she awoke the Gods above her – including dad.
"Through the years we all will be together, If the fates allow…"
That ironic song is sung after dad had announced that the family was moving from their beloved St. Louis to New York, a lucrative promotion for dad.
That news brought only anger and tears to the clan.
Except, notably for mom, who loved her husband so much, she embraced his dream.
"If you think it's best for us to go away, that's what we'll do."
In one of the film's most endearing scenes, mom sits down at the piano and plays "You and I through the years of dark and fair weather, you and I." Dad comes to her side and they sing together of their love that will, in fact, last forever through the dark weather.
And those tender notes float up the stairs like an aroma from a lovely candle, drawing the sad siblings down the stairs to join their mom and dad – and enjoy hickory cake.
Healing notes, healing cake. Just what the doctor ordered to overcome the St. Louis blues.
Mom healed her family with a song – a duet embracing a love so strong it would withstand hard times.
Vincente Minnelli's "Meet Me in St. Louis" (1944) is so old fashioned as to border on corny. But the emotions are genuine, and the cake impeccable. Judy Garland, 22, and Margaret O'Brien, 7, in particular, sweep me away every time.
I'll leave it to other critics to salute the filmmaking, the music and the script.
I'll focus on the sentimental love story, full of values I embrace. Yes, of course, it's personal. I was married 50 years to Sue. I only did one thing better than her: I had better judgment than she did in picking a spouse.
"Meet Me in St. Louis" fondly reflects on the nuclear family that stays together forever, a dream that's more fantasy than reality in the 21st century.
And while it's true that some marriages should dissolve to protect unloved/abused family members, some fade away for remarkably shortsighted reasons. A friend of mine married a wonderful school teacher. He called me one day to tell me he had left her and was going to Australia.
Why?" I asked, incredulously. "Because the thrill is gone," he said.
I love the BB King song, but I don't buy it as advice for abandoning a marriage.
I've taken an exit from the movie.
Let's get back on Interstate 70 towards St. Louis.
Judy has no date for the dance. She's in tears. Grandpa (Harry Davenport, 77) comes to her and whispers that his tux still fits – and offers to take her to the dance.
Her tears turn from sad to happy, and she embraces beloved grandpa. And they do, indeed, attend the dance together.
An unselfish act of love to heal the broken heart of his granddaughter.
And, of course, the story ends with dad seeing Tootie-the-snowman-assassin crying. He gathers the family and announces "We're not going to New York." He, finally, embraces love over money.
Father is the head of the household in name only. The ladies, including 7-year-old Tootie, are directing family traffic.
And the music, of course. The title song, "Merry Little Christmas" and "The Boy Next Door" join old favorites like "Together Forever."
In recent weeks we've celebrated child actresses who steal scenes from their elders. Margaret O'Brien is yet another who could break hearts before she reached 50 inches or 60 pounds.
Some think of "Meet Me in St. Louis" as yet another of those "old movies" that have no connection to the world of today.
And yet Margaret O'Brien is still very much with us at 83, living in Southern Cal. Wouldn't it be lovely, some day when social distancing is a distant memory to have a Margaret retrospective at the Myrna and have Margaret with us?
But it was pretty unlikely that Bishop Tutu would ever play a show with the "Montana Logging and Ballet Company" at the Helena Civic Center.
Dreams can't come true unless we dream them.
Get local news delivered to your inbox!
Subscribe to our Daily Headlines newsletter.