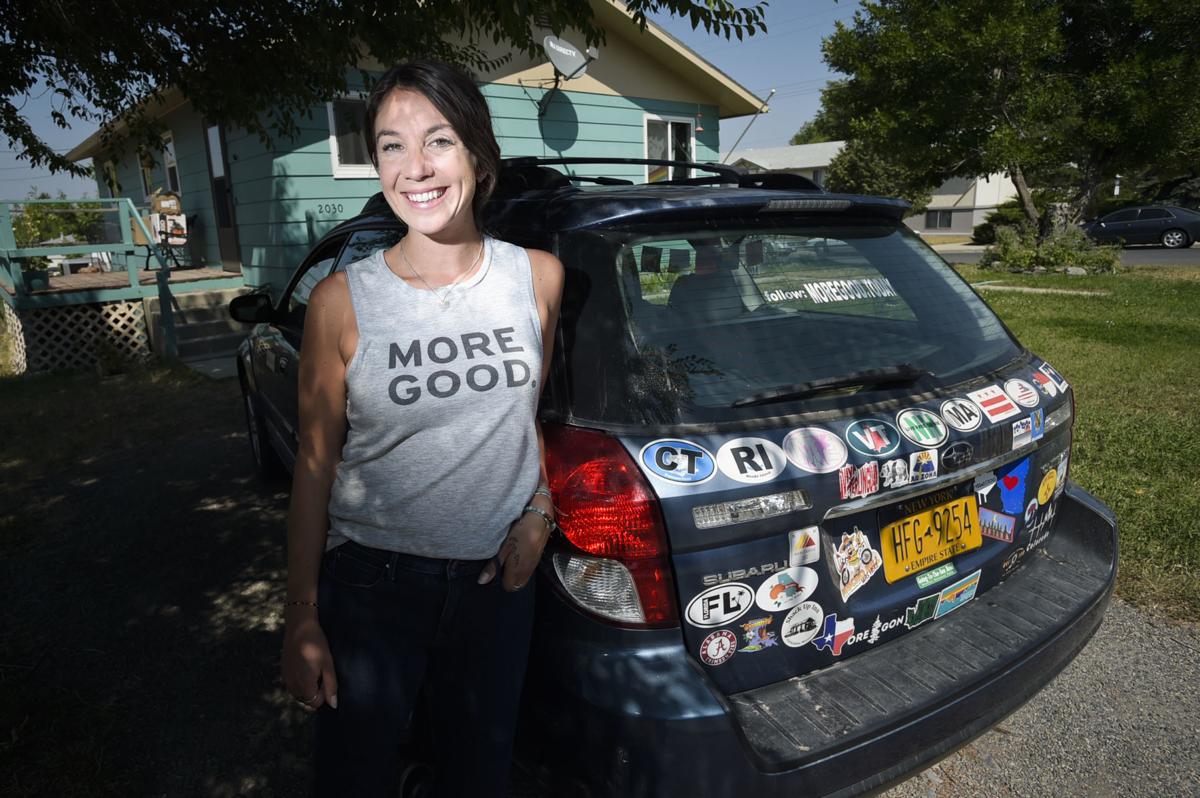 Mary Latham arrived in Helena on Monday evening in search of more good.
The New York native is nearly two years and 26,000 miles into her More Good Project, traveling the country in her late-mother's car and connecting with people and communities to chronicle stories of kindness big and small. She hopes to visit all 50 states and compile the stories into a book to be placed in hospital waiting rooms.
"I think it's just a place that needs hope," she said of the waiting rooms.
Latham's journey began a few years ago while working in a law office in Manhattan. There, she sat at her computer reading breaking news about the Sandy Hook Elementary shooting in Newtown, Connecticut, where 20 children and six teachers died in a tragic school shooting.
As she read, a coworker came by carrying a cup of Starbuck's coffee, and said she should've joined him. She couldn't afford it, she replied, half ignoring him as she continued reading. That's when he told her the coffee was free, as someone buying Christmas gift cards handed the cashier $100 to buy coffee for the line behind him.
"He had gone through a separation with his wife, his mom had passed away, and he was having back surgery the following week and he was 31, so it was really a bad year for him," she said of her coworker. "His face, I can still remember his face that day. He was so excited about this free $4 coffee."
Latham called her mother, who was battling her second round of cancer, and told her first about the coffee. She then started relaying the news of Sandy Hook, and the natural reaction of how such a terrible event could happen.
"She kind of politely interrupted me and was like, 'Mary you've got to focus on that coffee story, like what a cool thing that guy would do that. There'll always be tragedies and terrible things that will happen in our lives, it's inevitable, but still there's more good out there, you just have to look for it.'"
"I decided I wanted to highlight these stories as I heard about them more and more," she said.
Latham started The GrAttitude Project, a Facebook page asking readers to submit stories of kindness. The project had only launched for a short time when her mother went in for surgery. Facing a dim prognosis, Latham gathered with her family. She needed to inform her work and opened up her email to let them know she wouldn't be in.
"I wasn't thinking about the project at this point at all, but someone had sent me a story," Latham said. "It was this really beautiful story about someone who had done something for them, and the person who sent it was a girl that had lost both her parents already. To read that story at that time in that moment, and just know she'd already been through this as I'm about to go through it was huge."
Latham's mother passed away after a week in the hospital and she realized that everyone in that hospital faced similar heartbreak.
"I decided that when I was ready I was going to pack up her car and drive to every state in the country and look for the good that's out there, and put it all together in a book," she said.
Latham has now been to 29 states and the host home in Helena is the 106th opened to her. People hear about the project, offer her places to stay and contacts for other places to stay as she travels from location to location. She lives simply, raises funds and accepts acts of kindness to keep her journey alive.
"The home I'm in right now is a total stranger, a connection of a person I don't even know," she said. "She just opened up her door and made me a huge delicious dinner last night and has been helping me connect with the community."
Latham will stay in Helena until Thursday, followed by Billings and then off to North Dakota. People email her their stories and she enjoys meeting up in person. While many stories are those such as the coffee purchase, others go far deeper. They can be stories of good coming from loss, a neighbor donating a kidney, or a scholarship program borne from the loss of a child.
"It's definitely been a bit of an emotional challenge, but it's really beautiful to see because I think everyone needs to talk right now," she said. "Sometimes, even if it's not exactly a simple little story of an act of kindness, maybe they needed to meet you, they needed to hear some stories, they needed to know there's a lot of good out there."
Reporter Tom Kuglin can be reached at 447-4076 @IR_TomKuglin