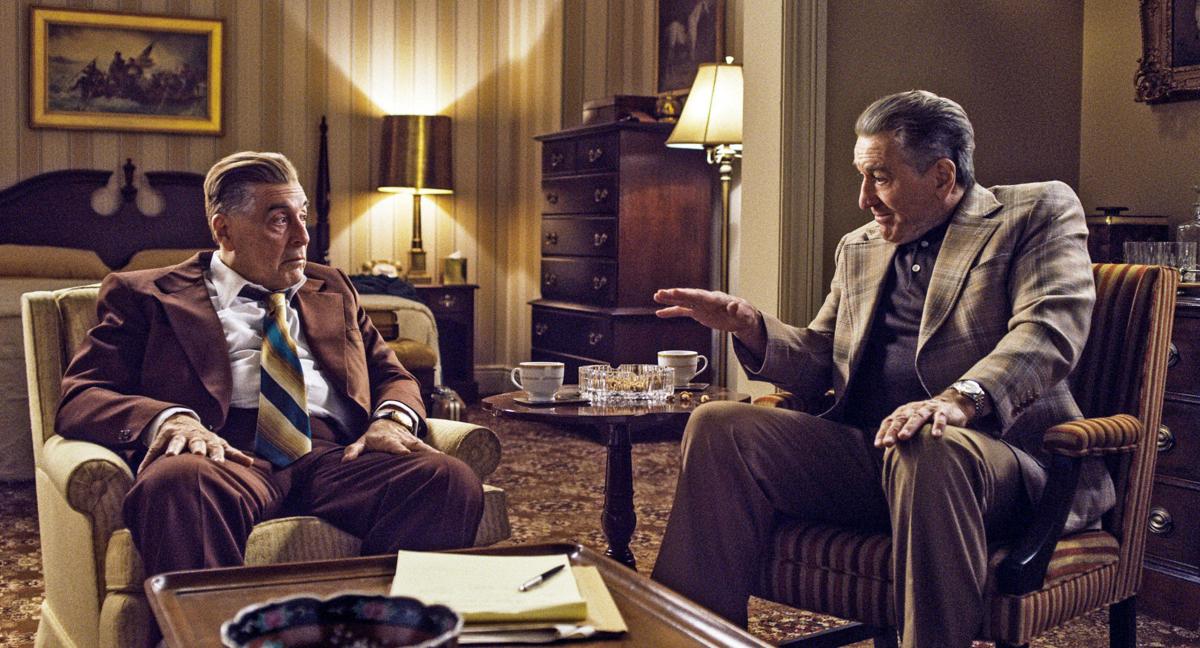 The Irishman
(R)
If a generous friend offered us free tickets to see Sir Simon Rattle conduct the Berlin Philharmonic with Hilary Hahn as the soloist would we even bother to ask what they're playing? Maybe, but be it Brahms or Beatlejuice, we're going! Sue would have dragged me.
That's how I felt going to see Martin Scorsese direct Robert DeNiro, Al Pacino and Joe Pesci in "The Irishman." I got lucky. I was in Baltimore for a convention when the film was playing during its short theatrical run.
Like many people, I wasn't entirely happy with the 210-minute running time – not long enough!
Yes, both "Godfather" and "Godfather II" may be better sustained stories, but "The Irishman" has a sweeping epic flow coupled with some very provocative and even tender insights into complex moral beings. This is the ninth time DeNiro and Scorsese have teamed up. I'm sure Scorsese can say any two words and DeNiro will finish the sentence – and the scene.
This is, of course, a family film – weddings, christenings and relatives helping each other out. The bond is born at a gas station where blue collar Frank's truck breaks down and mob boss Russell wanders over and gets it going.
Russell likes Frank. Frank likes Russell. Whaddya say? Shall we paint some houses together?
Frank is a hitman, who has so many notches in his belt that his pants are barely held up. Frank loves his daughter Peggy so very much. Frank's friend Jimmy Hoffa liked to treat little Peggy to ice cream sundaes – when he wasn't wielding his union power like samurai swords.
As for mob king Russell Bufalino, he is unconditionally loyal to those who are unconditionally loyal. He offers Frank a job, "painting houses," and a lifelong friendship, painted in splattered shades of red, is born.
Let me assure you, it's not violence that draws this Quaker critic into this tale. It's the juxtaposition of gentleness and compassion with ruthlessness and greed. Perhaps our morality is a puzzling patchwork quilt of the good, the bad and the ugly?
Some have found this film boring, because it's slower than the Corleone tales. I was mesmerized.
Why do I love "The Irishman?" Let me count the ways.
First, it's a thoughtful study of a Faustian bargain in which a good hard-working man sells his soul to a mob boss. Frank repays Russell's faith in him by doing anything he's asked to do. On a few occasions we see Frank try to refuse, because he does not want to harm someone. But, in the end, Frank will finally nod and silently tuck the gun into his back pocket. Frank's hesitations suggest still waters running deep.
In one chilling scene, Frank's asked to kill Hoffa, whom Frank's daughter loves. Frank balks, but eventually nods. A drive. A flight. A little house painting. Time for dinner.
"We had no choice," says Russell softly, as Frank nods sadly.
Time and again we see Frank's conscience speaking to him, but loyalty always wins out. DeNiro shows Frank's conscience through his eyes. The performance is deep, penetrating, puzzling, contradictory.
Frank asks for a priest after picking out a coffin that won't make death seem "so final." "Holy Mary in the hour of our death," says Frank softly. "Not bad for being away so long, eh?"
"Do you feel anything, remorse, for what you have done?" the priest asks.
Frank's offers something less than a confession.
"Well, it's water under the bridge. But maybe talking to you is an attempt?"
Despite the virtuoso performances by DeNiro, Pacino and Pesci – who delivers the best performance of his life – the two actresses who play Frank's daughter Peggy are every bit as powerful.
Young Peggy (Lucy Gallina) watches her dad mercilessly beat up a shopkeeper who pushed Peggy when she knocked over something on his shelves. Peggy never trusts her dad again. Peggy has only seven lines of dialogue in the whole film, yet she dominates the narrative.
When Jimmy Hoffa dies, Peggy (Anna Paquin) stares into her dad's soul, ripping him apart. Frank wants his daughter to love him, and can't understand her distance. How can one man love gently and kill callously? Is there room in a soul for both?
Peggy is the Irishman's conscience. She won't be at his side when he dies.
Finally, there were many times in "The Irishman" when I didn't care what was happening. I just wanted to watch Scorsese paint houses.
As Frank days run out, he asks the priest "to leave the door open just a little."
Scorsese's long final shot peeks through that opening.
Frank is sitting in his wheelchair – missing his daughter, water still running under his bridge.
A truly chilling final moment – in a life and in a movie.
Get local news delivered to your inbox!
Subscribe to our Daily Headlines newsletter.