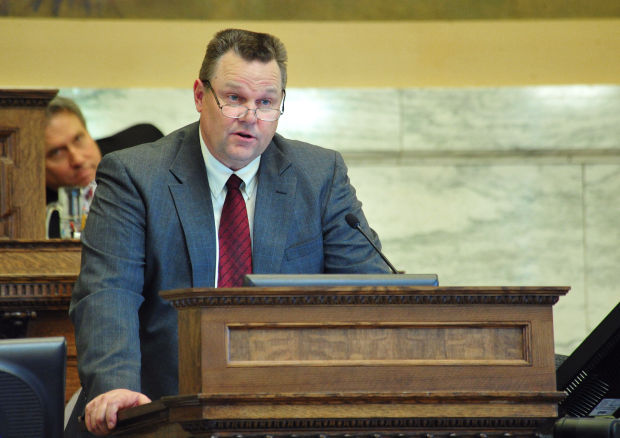 Montana's Sen. Jon Tester on Tuesday proposed an amendment to the U.S. Constitution that says corporations don't have constitutional rights — an attempt to restrict corporate campaign spending and overturn a landmark 2010 court ruling that expanded such spending.
Tester, in an interview, said his amendment is part of a multi-front effort to restrict corporate and other money that's flooding American politics, stemming largely from a series of court decisions striking down prior restrictions.
"The real question is, who controls elections?" said Tester, a Democrat. "Should corporations have the same say as people? Elections should be controlled by people and not the corporate money that flows in."
Tester's bill is one of several before Congress attempting to restore restrictions on campaign spending or require more public disclosure of who's raising and spending the money.
"If we could get the best of all of them, to get across the finish line, that would be the best of all worlds," he said. "The point is, it's about awareness."
Yet Tester acknowledged that any constitutional amendment is the longest of long shots, because of the high hurdle it must clear for passage.
Constitutional amendments first must be approved by two-thirds of both the U.S. House and U.S. Senate, after which they need approval by state legislatures in at least 38 states.
Sen. Max Baucus, D-Mont., has introduced a proposed constitutional amendment addressing the issue every year since 2010. His latest version, which was introduced in January and says Congress and the states have the power to regulate corporate expenditures that influence an election, has yet to see any action in committee.
"It's going to take all of us working together to get a solution passed that puts elections back in the hands of the people once and for all," Baucus said in a statement Tuesday. "The more bills out there we have to build support behind us the better."
Sen. Tom Udall, D-N.M., also introduced a constitutional amendment on Tuesday, saying Congress and the states have the power to regulate any "raising and spending" of campaign money.
Udall and Tester held a joint news conference in Washington, D.C., to unveil their proposals.
Tester said his amendment responds to Montana's Initiative 166, an advisory ballot measure passed by nearly 75 percent of Montana voters last year.
I-166 directs Montana's congressional delegation to introduce a constitutional amendment saying corporations don't have the same rights as people.
U.S. Rep. Steve Daines, R-Mont. — the third member of Montana's congressional delegation — has concerns about Tester's approach, said his spokeswoman, Alee Lockman.
Lockman said Tuesday that Daines is worried about corporations such as family farms or other incorporated organizations losing their constitutional rights, such as the right to privacy, property rights or due process of law.
Tester's amendment, if passed, essentially overrides the U.S. Supreme Court's 2010 decision in the Citizens United case, when it struck down restrictions on corporate spending on campaigns.