A temporary traffic circle erected on Beattie Street by Bike Walk Montana last month came down Monday morning with new traffic data for the city to consider.
Doug Haberman, the executive director of Bike Walk Montana, said the month-long project was a collaboration between the neighborhood, city engineering and his nonprofit.
"The materials were paid for by an AARP grant," Haberman said. The Beattie and State streets "pop-up" traffic circle, made with tires, cones, sandbags and reflective signage, mimics a concrete traffic circle that is supposed to slow vehicle travel.
Much of the data will be gathered from an online survey — the URL was posted all over the traffic circle — and a speed measurement.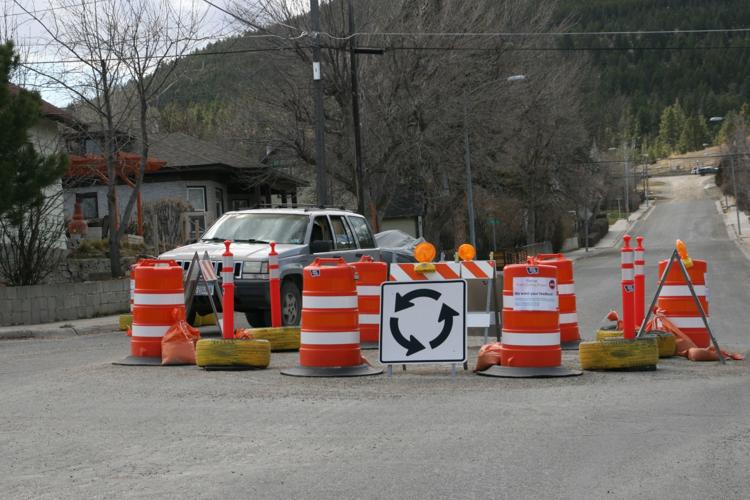 "Right now it's about 50-50," Haberman said about positive and negative feedback. "Some people are complaining that they can't get their trailers through."
Haberman explained the pop-up circle is mobile. It can be transported and used anywhere in the state to collect new data for municipal governments. 
City engineer Ryan Leland said he hopes the pop-up would provide good speed data.
"We take that information and analyze how much of a drop we're seeing," Leland said. "A mile an hour? Ten miles an hour? I don't know, but it's good information to look at."
Leland and Haberman expect the speed data and other feedback to be collated by the middle of May.
The parking lot will be part of the new Beattie Street trailhead, which has not yet been budgeted for by the city.
"The city commission is checking to see if they could fund it this year or next, but as of right now, they don't have anything planned or scheduled for traffic calming or the trailhead," Leland said.
And if the neighborhood wants a traffic circle or other traffic calming device, Leland said residents can fund it themselves. 
"That's how it works, in a nutshell," he said.