It was a humbling experience for Conor Coutts when he was chosen by his fellow Carroll College graduates to speak at graduation last Saturday.
The Enumclaw, Washington, native had 14 members of his family in town to watch him receive his degree in political science with minors in philosophy and theology. His speech was finalized with a mix of wisdom, encouragement and personal trials and triumph. And he would start his day in one of his favorite places: as an alter server at baccalaureate mass at the Cathedral of St. Helena.
But during the homily, Coutts began to feel ill and the words started failing to make sense. He exited to the hall, sat on a stool and put his head between his legs. His memory fades at that point, as he collapsed on the floor and started convulsing.
"It was probably a seizure — the paramedics came quickly and I don't remember a lot of that," he said a few days later. "That must've been just a few hours before I was supposed to give my speech."
Coutts' words to the Carroll community were meant to cap off a trying semester on a positive note. Earlier in the year while in Washington with the Talking Saints debate team, he suffered a brain abscess and underwent two brain surgeries in Seattle. That experience, and especially the support of Carroll professor Brent Northup, who stayed with him for a week in the hospital, was one of the cornerstones of his speech.
"It was very recent and very personal, and this was really a semester defined" by medical events, he said. "It also really summed up the service and love that Carroll exemplifies, especially with Brent being there with me."
When asked what brought him to Carroll, Coutts replied, "the Holy Spirit." He initially wanted to pursue nursing at a small, Catholic liberal arts college, and a personal call from a professor convinced him his path was in Helena.
His strong interest in political science dates back to his elementary school days and memorizing every member of the Senate in fourth grade. His passion for politics and especially Montana politics spurred his degree choice, which included work at the Montana Legislature through the Montana Catholic Conference.
Seizures are not uncommon following brain surgery, Coutts learned, but doctors hope his first will be his last. With graduation approaching, stress levels naturally ran high, and his sleep could have been better, he added.
"It sounds like this is an isolated thing and I don't expect to have another seizure," he said Wednesday. "I'm on antiseizure medication and doing fine now."
Following the seizure, Coutts was taken to the hospital for tests and recovery. With the graduation slated for midafternoon, he still hoped to deliver the speech.
"I'd been trying to memorize it for the last few days. … I said maybe I could read it," he said. "I thought, I'm here, I'm alive, even if it was a little rocky in my mind. I was wanting to read it and not let it hinder me."
Coutts describes himself as a bit of a "nonmedical interventionist" — when undergoing surgeries in Seattle he asked when he could leave — but acknowledges he was probably in rougher shape than he realized on Saturday. Finally, following medical advice, he asked Northup to read his speech for him.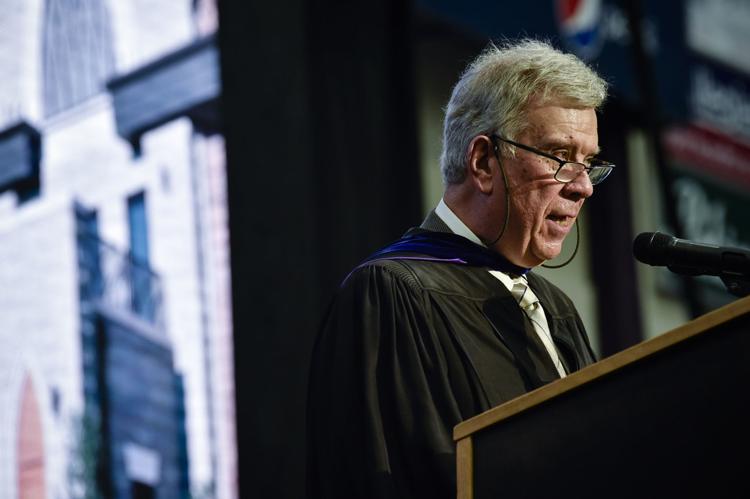 Northup told the graduation crowd that Coutts' instructions were "to not change a word," and to carry the message of thanks to his class for choosing him.
"I am honored," Northup said, and then described Coutts as a man of faith who not only talks the talk but walks the walk of his convictions. The choice to hand over the speech was a difficult one, Northup said, but he joked that Coutts also needed to save up strength for his graduation party.
Northup followed the instructions and read Coutts' words, describing the highs and lows of the college experience along with the achievement of graduating.
"The suffering we experienced at Carroll made us better people because they ended in the accomplishment of something, and prepare us for the much tougher and intense opportunities in the future where we will have to sacrifice greater and love more deeply," he wrote.
When Coutts was discharged from the hospital later that evening, Northup said in an interview he was able to track down a cap and gown for photos. By the next day, Coutts was busy again, even attending Sunday mass.
"It was a really nice time and we had a lot of people here," Coutts said. Since then, he has been approached or received calls from a number of people praising the speech and wishing him well on recovery.
Coutts plans to stay in Helena for the time being and take a teaching job at St. Andrew School.
"What I'm going to miss at Carroll is the community, the routine of being with friends and working diligently in school," he said. "College life in a way is challenging but also has its conveniences and I've really become accustomed to professors as friends."
Coutts says he wants to teach for a year or two before pursuing more schooling.