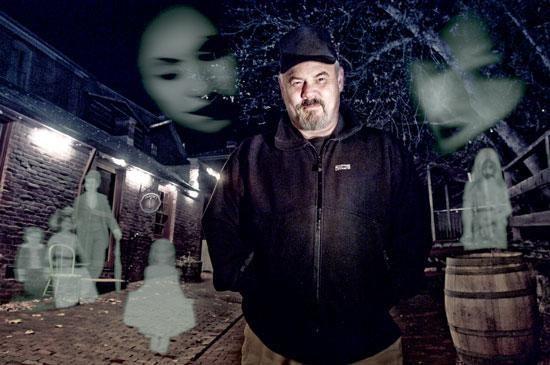 Helena has hundreds of ghost stories.
There's the tale of John Denn, the 19th century shopkeeper on Last Chance Gulch. Folks still see him from time to time, roaming the Gulch near the library -- complete with the three gaping holes in his face left by his murderer.
There's the cell in the county jail that numerous inmates have insisted they be removed from. It seems they had a cellmate they weren't bargaining for -- an American Indian man hanging by his neck.
Then there is the Reeder's Alley unit where several years ago a shop owner said she was pushed into a closet by an unseen force and locked there. She spent a whole weekend locked in that closet. When she got out, she immediately packed her things up for her native California, never to return.
Lance Foster knows most of them. He's investigated some of them. He's even seen or heard evidence of a few first hand.
And he's glad to tell anyone who'll listen about the spooky, creepy details of all of them.
Foster runs Paranormal Montana, an organization that investigates hauntings in the Helena area.
In addition, he leads a tour of dozens of downtown's most notorious purported hauntings, dubbed Helena's Ghost Walk, taking visitors on an hour-and-a-half stroll down Last Chance Gulch, up Reeder's Alley and up to the area known as Catholic Hill south of Broadway along Ewing Street.
"Places have memories," Foster tells a group of 28 souls tagging along on a ghost walk one recent Friday night. One theory on hauntings, he says, is that stone buildings, being made up of much the same material as computer chips, actually store the sounds and images of things that happened there.
That would explain why places where ritual activity takes place -- such as churches -- often are associated with hauntings.
This tour isn't a fright show. There's no one waiting behind any corners with a chain saw trying to scare people out of their shoes. Foster spins his tales like he's sitting beside a campfire telling ghost stories.
But that doesn't stop some from getting a little edgy when he tells the crowd to walk down a dark stairway to a basement on the Gulch where some people say they've seen a shadowy figurewalk down and disappear through a locked door.
"I'll stay up here," says one young girl who looks like she is right around Foster's minimum age requirement for taking the tour.
Foster says he's a natural skeptic. When people tell him they think a house or business is haunted, he automatically assumes it isn't.
But he has no doubt that there are verifiable things people have seen and heard that can't be understood.
"I'm Roman Catholic, so I believe there's eternal life," he says. "I'm also Native American, and we believe everything has a spirit."
He says 90 percent of the things people think are hauntings is explainable -- wind, creaking floorboards, maybe a dream someone had as they were waking up.
"But there's 10 percent that seem to be unexplainable by conventional means."
Most of those, Foster says, seem to be residual energy of a place. But some seem to be intelligent forces that know people are around and try to interact with them.
A Helena native, Foster has master's degrees in anthropology and landscape architecture.
A member of the Ioway Tribe, he grew up hearing stories of American Indian folklore and was fascinated by the many stories of Helena hauntings.
But it wasn't until recently, when working in his last job as director of native rights in Hawaii, that he thought about pursuing ghost hunting. Part of that job included taking care of cultural sites, including burial sites.
"When you're involved in something like that, it makes you think about your place in the universe and want to continue to understand the world we're going to face one day (after death)," he said.
At that same time, he started becoming interested in ghost hunter programs he'd seen.
"I started thinking about lots of things I knew about in Helena," he said. "I thought, wouldn't that be fun to take another look at ghost stories, rebuild Helena's mythology?"
Foster said he's been involved in enough haunting investigations by now that they have become mundane and not the least bit frightening to him.
But some of the stories he has heard, he says, are especially disturbing.
One of those stories came from Jim McFadden, who worked for Foster's father's painting business.
One day, McFadden was painting in a building that used to be a group home for kids. A closet door kept clicking open after he had shut it. Eventually, he wedged the door shut -- only to hear scratching noises on the door.
Foster's father talked to the people who ran those group homes. They told him that years before a child had been playing with plastic dry cleaning bags in that closet.
"He suffocated and died in there," Foster said. "That one disturbed me."
Foster said there has been a surge of interest in paranormal investigations in recent years, and there are several organizations around Montana that do the same type of investigations Foster does.
Foster said one of his ghost-chasing colleagues, Helena attorney Mike Uda, sums paranormal investigations like this:
"Most of the time (investigating hauntings) is like being an unpaid night watchman. It's usually long, boring sleepless nights."