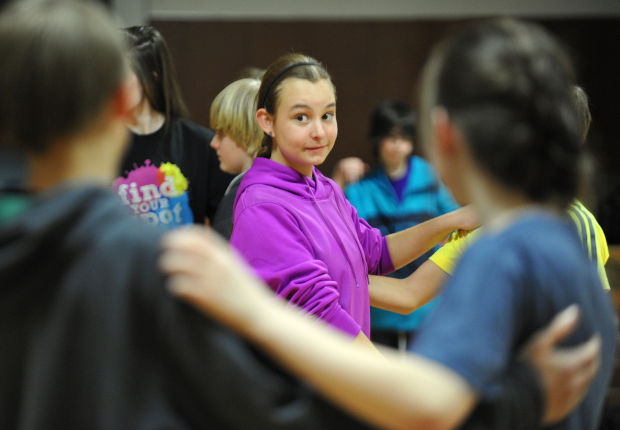 A group of middle and high school students has been learning to dance, and now they want you to "get up" and join them.
Actually, they've been learning much more. The eighth through 10th graders in the district's PEAK gifted and talented program have organized a trio of events they hope will showcase the power of ballroom dancing to the community.
At the center of those events is a free "Community Ball" that will take place Saturday evening at the Windsor Ballroom and features live music by the Queen City Swing Band.
They're also bringing in New York City-based dance instructor Rodney Lopez to host some of the weekend activities, including a two-hour ballroom dance lesson before the ball. Lopez is the national program director for Dancing Classrooms, a nonprofit effort that brings social dance programs into schools.
The program's work in New York City public schools was featured in the acclaimed 2005 documentary "Mad Hot Ballroom." Helenans will have a chance to watch the documentary and meet Lopez at a free screening on Friday evening at Helena College.
Aside from learning steps to the foxtrot, salsa and swing, the students said the two days of dance are an experiment in fostering community connections.
"It's part of this big picture project that we're doing throughout the year on civic engagement," student Willa Fossum said.
Student Michael Fuller, a dancer himself, said ballroom dancing has a way of bringing people together.
"Dancing is this art form that involves everyone, whether you're young, old, small or tall," he said.
Michael's brother, Josh, explained that it also encourages personal growth by making participants take a few steps out of their "comfort zone."
They said that's particularly true for 24 students themselves, many of whom don't have experience with formal dancing. Over the past several weeks, they've learned the basics by dancing with each other — and with their teacher, Julie Mitchell.
"I think it's definitely nerve-wracking for some students," Fossum said.
Elliott Pryor, an eighth grader, admitted his practices have been "awkward, really awkward," but said they have been becoming less so over time.
Practicing with peers has also changed the way the classmates relate to each other, they said. Fossum said it has helped the partners see one another in a new light.
"I guess I've been surprised by people," she said.
Michael Fuller said he's found it hard not to like those he's danced with. "You're both laughing and blushing at the fact that you're dancing together," he said.
"You can't bully someone you dance with," Pryor added.
It's an experience that occurs perhaps less frequently among their generation, the students mused, as dancing styles change and young people communicate in new ways.
Fossum said those changes are neither better nor worse, "It's just a different culture."
Still, she said, "I think it's very important to have things like dance to connect us face-to-face as people."
They noted that other students will also get an introduction to the ballroom this week, as Lopez will be visiting fifth graders at Central-Linc and eighth grade classrooms at Helena Middle School on Friday.
Student Elaina Colussi said organizing the events has required patience and hard work, particularly as the students encounter new logistical "hoops," though she added that strong community support has helped.
"The community is there holding the hoop so you can jump through it," Colussi said.
Earlier this year the class earned a grant from the Helena Education Foundation to help fund the events. They said they've also received support from the Holter Museum of Art, Millennium Real Estate, Sanders Bed and Breakfast and the Queen City Swing Band.
The students — who meet in class for just 90 minutes each week — said throwing the ball has taken a heavy dose of teamwork as well.
"It's really cool being able to do this as a group together," Josh Fuller said.