As part of a new class at Helena's Project for Alternative Learning, students are creating podcasts that will highlight the sometimes gut-wrenching stories of their own lives. 
The "Podcast of Our Lives" class opened at the alternative high school last fall. Jeri Rittel, a teacher at PAL, built the idea out of media projects she has worked on in the past, with funding from the Helena Education Foundation.
Working alongside Clay Scott, an Emmy-winning journalist, the pair began working with PAL students on some basic fundamentals of communication and interviewing. 
The students are instructed to interview one another, telling what Rittel described as dark but "epic" stories that will be cut into podcasts and released online. 
PAL serves a variety of at-risk students, whether they are on the homeless spectrum or come from abusive or broken homes. Many of the students in the class are taken aback that there is a potential audience for their stories.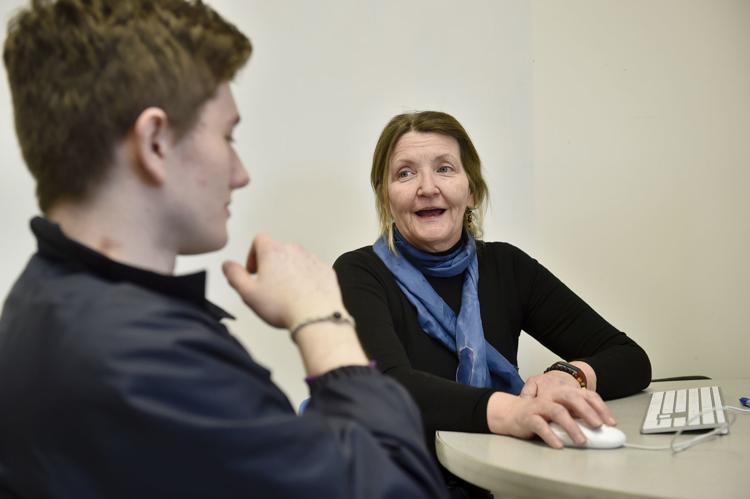 Collin "Duffie" McDuffie, 18, has been a student at PAL for three years. He came to the center as a sophomore in high school. Duffie said he was pressured into playing sports and eventually wound up being injured, and further frustration led to poor grades in the traditional school system. He is set to graduate from PAL this spring. 
Duffie got into the class as a way to obtain fine arts credits. "People always tell me I'm a talker and that I'm good at communicating with people," he said.
He initially took the class in the fall and returned for another round this spring. Duffie said he was surprised when he first signed up and found out he would get to make podcasts. 
Duffie's project has been about asking others about their biggest regrets, framing it as if that person could go back and change something.
"A big struggle with this is knowing some of these regrets and not knowing how the person will respond or what they will want to discuss," he said. Many portions of the interviews are redacted. 
Throughout the project, Duffie has interviewed around 17 different people. His interviewees have shared stories of parental abuse and relationship struggles, and he even had a trusted adult talk about how a DUI changed his life forever. 
"Sometimes people forget that the microphone is even there," Duffie said. 
Tyler Colson, 17, is a former Capital High School student who was referred to PAL after missing a significant number of classes. He said he was struggling to fit in at Capital and it drove him away from school. 
One thing Colson loved from Capital was his broadcasting class. "I really enjoyed it. I was already into video and audio editing," he said. The podcasting class was a natural fit for Colson at PAL. 
Colson said he has learned a lot from everyone he interviewed. "It provided insight into their lives and what they go through," he said. "And they did the same for me." 
One person Colson interviewed talked about a particularly traumatizing incident. 
"It really impacted that person socially, and they don't see their mother anymore," he said. "This person is a really quiet but smart individual who opened up during the interview."
Colson said he believes he is the only person who knows about that trauma for now, and he wasn't eager to speak on that person's behalf. 
"It's always interesting to hear people let their emotions out to you," Colson said. "Especially when you're the first to hear it." 
The goal of the project isn't to change the lives of the students, but to provide a cathartic experience for them. Letting them tell their stories and having someone truly listen can be almost therapeutic for students who have experienced trauma. 
Rittel has been very impressed by her students. "They're really good about it. They're kind to each other," she said. 
The project was funded by the Helena Education Foundation's Great Ideas Grant. Grants are given out twice a year and a committee of volunteers award the grant, up to $20,000 per cycle. 
Lisa Cordingly, executive director of the foundation, said projects are chosen after being graded via a scoring rubric. This particular project was sponsored by Cordillera Communications.
Cordingly said much of the equipment for the class, such as recording gear, was purchased for PAL around six years ago. 
"The element that stood out to the committee was the ability of the students to work with a professional like Scott," Cordingly said. "And the idea that all stories matter."