Diesel engines revved and waned as heavy machinery moved dirt above what was once a steep bank along Prickly Pear Creek in the Helena Valley.
Allen McNeal emerged from the creek in hip waders and a worn Carhartt jacket, rolling up his tape measure and using his hands to show the shape of the bottom of the creek, and where water will go after the work is done.
"A meandering stream needs an active flood plain," he said, "and this stream is not healthy at all."
Prickly Pear Creek flows from Jefferson County, through East Helena and the central valley and into Lake Helena. Historic drainage of wetlands, water diversion and reshaping of the stream channel has led to a number of issues now with sedimentation and water quality.
"Normally high water will come out of the channel, and that's where the sand goes," McNeal said. "That sand that's on the bottom is a barrier to fish eggs, and these 90-degree turns, the water just slams into those banks."
McNeal was hired to design a new flood plain and reshape about a mile of the creek to a more natural flow. To do so, contractor Stream Works will narrow the channel and slope the edges. That will allow flooding waters to exit the creek rather than continue to cut into the valley floor as it has for several feet in some places. Rock, wood and willow shoots go in to stabilize the bank. In some areas, material is added to actually raise the elevation of the creek to a more natural "drop" as water heads down the valley.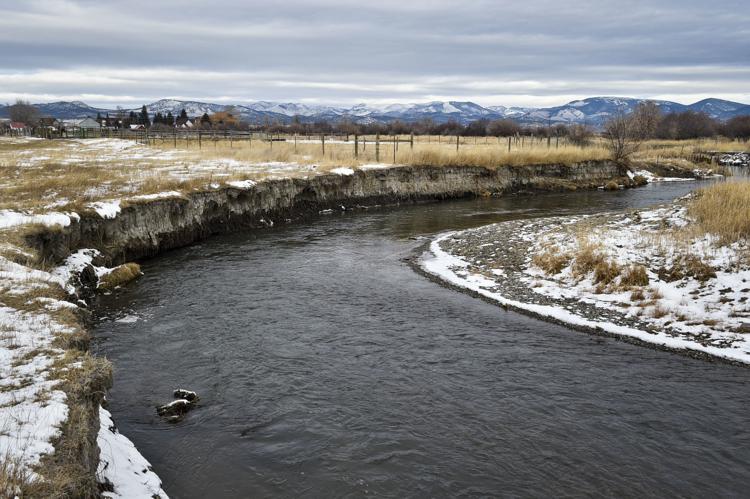 "Ideally this is self-sustaining," he said.
Constructing a working stream is a costly proposition for a number of reasons, but McNeal says his goal is to have landowners pay zero out of pocket for stream improvements.
The Prickly Pear project, which includes three private landowners, has an estimated cost of $350,000. It is sponsored by the Lewis and Clark County Water Quality Protection District and the Lewis and Clark Conservation District and received funding through the DEQ NPS 319, Lake Helena Watershed Group, the water quality district and NorthWestern Energy.
Jeff Ryan with the conservation district joined McNeal on-site and noted that the 319 funding has been a critical source for restoration projects on Prickly Pear and other area streams. The funds, which begin at the EPA and are distributed by DEQ, were nearly eliminated in the recent federal budget.
"Future funding for the grant program is questionable and the loss of this funding source would be a severe blow to stream restoration projects," he said. "Fortunately, NorthWestern funding is secure for the future."
The project was about four years in the making and went through a number of regulatory hurdles. Ryan has been outspoken about the process of securing a permit to work in the mapped flood plain. All projects require an expensive engineering analysis, and while he is supportive of the analysis for construction projects, he believes that restoration projects deserve some flexibility in permit requirements.
"The costs of that permit involving the required engineering analysis amounted to tens of thousands of dollars," he said. "It is unfortunate that an intensive costly engineering analysis is required for restoration projects that intuitively will improve the flood plain by creating larger flood plains and stabilizing eroding banks.
"Statewide, these flood plain permit costs have caused reductions in stream restoration scope of work and, in some cases, caused folks to abandon projects."
The conservation district is working with state and federal agencies on proposals to reduce some of those engineering costs, Ryan added.
Getting the project to the point of moving dirt meant transporting rock, wood, gravel and willows to the site. Volunteers cut approximately 5,000 willow shoots near the Helena Valley Regulating Reservoir for use at the site and gravel came from the county — all important aspects to the funding, which requires matching funds or in-kind donations.
Along with projects to improve stream quality, a major project to keep water in the stream by irrigators has led to a much healthier fish population in Prickly Pear Creek in the last decade. In its most recent survey in 2016, biologists noted 127 rainbow and 105 brown trout per mile between Canyon Ferry and York roads, according to Helena-area biologist Adam Strainer.