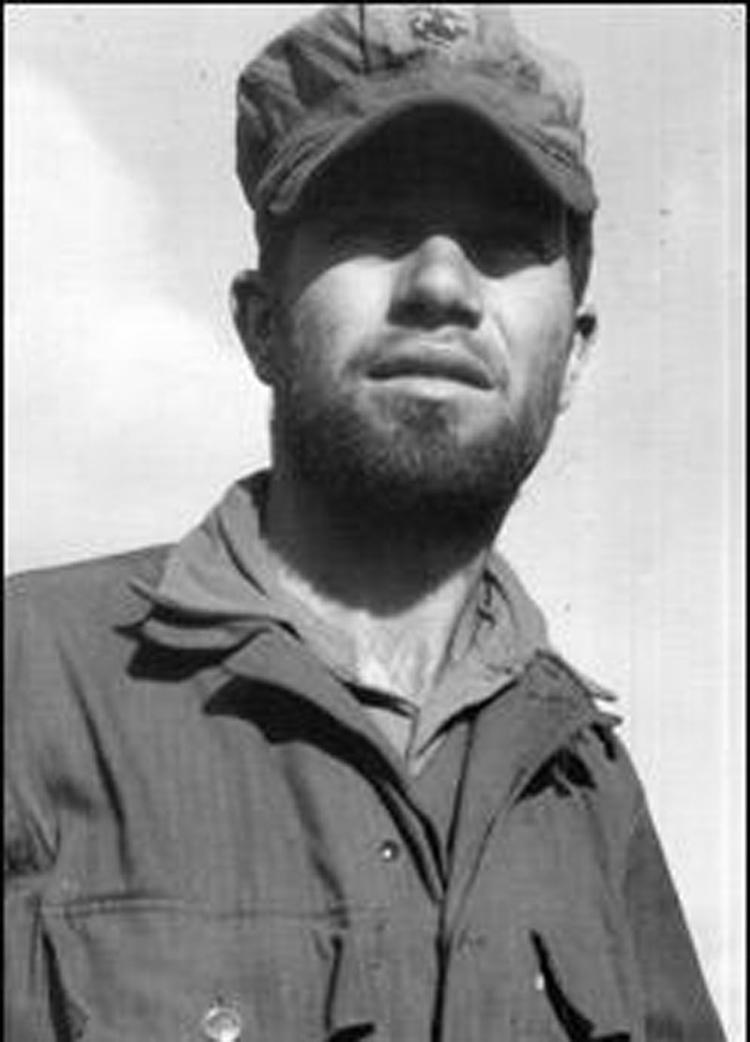 World War II Admiral Chester Nimitz once said, "Uncommon valor was a common virtue on Iwo Jima."
On Feb. 19, 1945, about 100,000 U.S. Marines landed on that tiny volcanic island in the South Pacific. The allied invasion of Iwo Jima ranks among the most intense battles in world history, and afterwards, 27 men received the Congressional Medal of Honor, the most for a single battle during the war.
The 3rd, 4th and 5th Divisions, of the 5th Marine Amphibious Corps, hit the beaches of the Sulphur Island to secure the landing strips. Despite the extreme bombing to soften up the Imperial forces, the Marines faced murderous fire on D-Day.
On the third day, the U.S. flag was raised on Mt. Suribachi, a scene that became one of the most famous photos of the war.
For 36 days, the Americans took on an enemy entrenched in underground tunnels and spider-caves, in non-stop, close-range fighting. Over 6,800 Marines, sailors and soldiers, were killed in action, while more than 20,000 Japanese lost their lives.
One of those with "uncommon valor" was Harold Pedersen, who recently passed away in Helena at 96 years of age.
Pedersen had been a three-sport athlete in Valley City, North Dakota. He was a state champion in the mile as a junior, before enlisting in the Marine Corps. As a "5th Raiders" machine gunner — 5th Division, E Company, 2nd Battalion, 27th Marines Regiment — Pedersen celebrated his 22nd birthday the day of the invasion.
"I was there from the first day through the last day, and I don't think I slept for longer than two hours the whole time," Pedersen told this reporter in a 2005 interview. "There was no such thing as a safe area."
You have free articles remaining.
Of the 245 guys of Company E with whom Pedersen landed, by March 25, there were only 19 original members left, the remainder having been killed or wounded.
"When we first landed, we had to climb up three terraces of black sand," he recalled.
As the Leathernecks scrambled up in the face of withering fire, Pedersen noticed that one of the dead was a former prep hoops rival, whom he had visited with the night before.
"We could see them coming at us," Pedersen of the Japanese round mortars with no fins, "and if it was spinning, we'd get down, knowing it would explode. But if it wobbled, we knew it wouldn't detonate."
During one assault, they were led by Baylor's All-American Jack Lummus. Advancing toward a pillbox, Lummus stepped on a land mine, losing most of both legs and part of his groin.
"He refused to be taken back and just propped himself up against a bunker and directed the rest of the assault," recounted Pedersen. "He lost a lot of blood, and his last words were, 'The New York Giants just lost a great end.'"
Lummus was posthumously awarded the Medal of Honor.
After the atomic bombs, Pedersen's outfit occupied Japan in the post-war era. He went on to a long and storied coaching career in North Dakota, where one of his hoopsters at Williston High was future NBA coach Phil Jackson.
Pedersen and his late wife Genevieve, moved to Helena in 1985, to be closer to their son Tom and his family. Harold's eardrums were punctured on Iwo Jima, but he never asked for compensation, out of consideration for his fellow soldiers who did not come back at all.