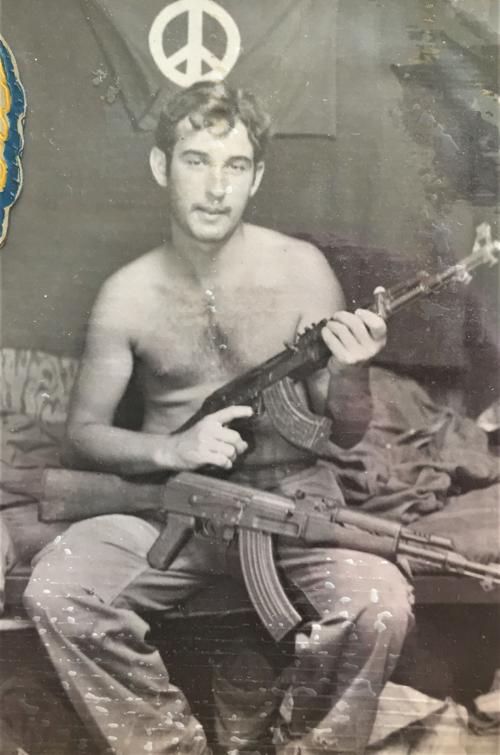 U.S. Army veteran Dal Smilie, who was shot at his first day in Vietnam, served at "Long Binh Junction" during the war's 1972 April Easter Offensive.
Smilie grew up on a farm near Parris, Illinois, and up until the family moved into town with his grandparents, they cooked on a pot belly stove and their bathroom facilities consisted of an outhouse. His childhood years involved hard work, including bucking bales and delivering papers.
He graduated high school in 1966, and then attended Eastern Illinois University, where he majored in American history.
After finishing college, Smilie recalled being "glued to the TV" during the 1970 draft lottery.
Didn't know big airliners could do that
"I received the low number of 133, and reported for induction into the service in Chicago on December 7, 1970, a day which will live in infamy," Smilie, now 72, said with a grin.
He attended basic training in Fort Lewis, Washington, where two-thirds of the company were from Montana or Wyoming, with the remainder being an eclectic mixture of Chicago south siders and Illinois farm boys.
"One of the guys was Rick Berg, a rancher from near where Lennop (Montana) used to be, who I also went through Infantry Advanced Individual Training with," Smilie said, "and our C.O. was a logger from Neihardt.
"There was an epidemic of spinal meningitis going through many of the military boot camps at the time, and when the medic warned us to take it easy, I thought to myself, 'tell that to the D.I.'"
Smilie described how quite a few guys had gone to ROTC or OCS to better control their future service, and he was encouraged to do the same. But that also meant signing up for more time and that didn't appeal to him.
Upon basic training he was among several in his company that were sent across the post for infantry training, with "almost all" of those graduates guaranteed a free ticket to Vietnam.
In early October of 1971, Smilie boarded a "stretch" DC-9 contracted from Flying Tiger Airlines with seats reconfigured to hold the most troops. Before they took off, it was announced that approximately 13 or 14 of them would not be returning from Vietnam, which Smilie felt was "disconcerting at best."
They refueled in Alaska and Japan, before dropping into Cam Ranh Bay in an incredibly steep and tight spiral ("I didn't know big airliners could do that," he thought) in order to avoid rocket and ground fire. Upon deplaning they were met with a wall of hot humidity.
Welcome to Vietnam
While waiting for transport to their permanent units, they were put on work details, and Smilie said they were shot at the very first day.
"I was on a flat-bed truck hauling some laundry, we hadn't even been issued guns yet, and we took some small arms fire," he recounted. "That was quite an eye-opener."
Smilie went over as Specialist 4, and because he was infantry trained, was assigned to the 90th replacement battalion.
He was sent to a compound near the Bien Hoa Air Force Base, close to the big Long Binh Post.
"Long Binh Post is a former U.S. Army base located in Long Bình, Đồng Nai between Biên Hòa and Saigon," according to Wikipedia. "The base functioned as a U.S. Army base, logistics center, and major command headquarters for USARV.
"Long Binh Post was also unofficially known as 'Long Binh Junction,' influenced by the widely used initials of President Lyndon B. Johnson."
His unit had a permanent group to guard their perimeter and two fire teams for emergencies. As leader of Fire Team B, Smilie was assigned an "Acting Jack" and the Sergeant E-5.
"We were situated in between the ordinance unit and the ammo bunkers, and had our own reactionary combat force," he explained, "and could pull a fire team together when need be."
The guard post would take nightly "desultory small arms" fire around midnight from the nearby village Bien Hoa. Nothing serious, he said, just a couple shots as a reminder they weren't welcome there.
They also felt bombing concussions almost every night, usually all night long.
"When the B-52s struck 25 miles away, we really felt it, and that was often," Smile recounted. "We worried about the occasional B-40 rockets, they'd shake everything and rock you out of bed. We had flares up around our perimeter much of the night.
"We lost at least six guys while I was there."
April Easter Offensive
Smilie noted that "things really picked up" during the April Easter Offensive.
According to Wikipedia, the Easter Offensive, also known as the 1972 spring–summer offensive by North Vietnam, or the red fiery summer as romanticized in South Vietnamese literature, was a military campaign conducted by the People's Army of Vietnam (regular army of North Vietnam) against the Army of the Republic of Vietnam (South Vietnam's regular army) and the U.S. military between March 30 and October 22, 1972.
"The largest invasion since 300,000 Chinese troops had crossed the Yalu River into North Korea during the Korean War, this was a radical departure from previous North Vietnamese offensives."
The offensive was designed to achieve a decisive victory, which even if it didn't lead to the collapse of South Vietnam, would greatly improve the North's negotiating position at the Paris Peace Accords.
Smilie explained that the Vietnamese nationals working in their compound let them know when to be more worried.
"Whenever they didn't show up for work we really knew to lock down," he said. "When I see that segment on Ken Burns' Vietnam series now it makes me wonder why I wasn't even more worried then...youth."
Toward the end of his tour, and as the forces in VN were drawing down, his unit relocated to Camp Alpha, the Army compound located adjacent to the Hotel 3 heliport and next to Tan Son Nhut AFB near Saigon.
Among his memories from this time, were the "Jolly Green Giant" Sikorsky transport helicopters constantly taking small arms fire on the runway, and how the Air Force had the luxury of flushing toilets.
In many ways, not that long ago
Due to Smilie's infantry training, he had not been allowed to go on R and R (Rest and Relaxation) because he'd been deemed "critical to the mission." But when he did leave Vietnam in July 1972, it was on a newer United airliner.
And as it took off, it climbed "steeper and faster than I could believe" as to clear ground fire, which was perfectly acceptable with the departing GIs. He remembered how John Denver's hit song "Leaving on a Jet Plane" being especially popular in RVN.
Smilie described how quite a few of the guys were processed out in Oakland, and that a special treat was a steak dinner in the middle of the night.
Once back home in Illinois, Smilie remembered "cruising the strip with my high school buddies in mid-summer, and them wearing T-shirts while I wore a field jacket. I hadn't re-acclimated from the heat and humidity I'd just left."
He also noted that lots of friends hardly noticed they'd been gone and didn't really know where they'd been.
Smilie has lived in Helena since 1976 and volunteered at the Willis Cruse House for a time. His lifelong sport was motorcycle MX racing, at which he is a 4-time national champion. 
"We lost three in my high school graduating class in RVN," he said, in concluding his military experience in Southeast Asia, from six decades earlier. "It was a long time ago in many ways, and in others not at all."
Curt Synness, a Navy veteran, can be reached at 406-594-2878 or curt52synness@gmail.com. He's also on Twitter @curtsynness_IR