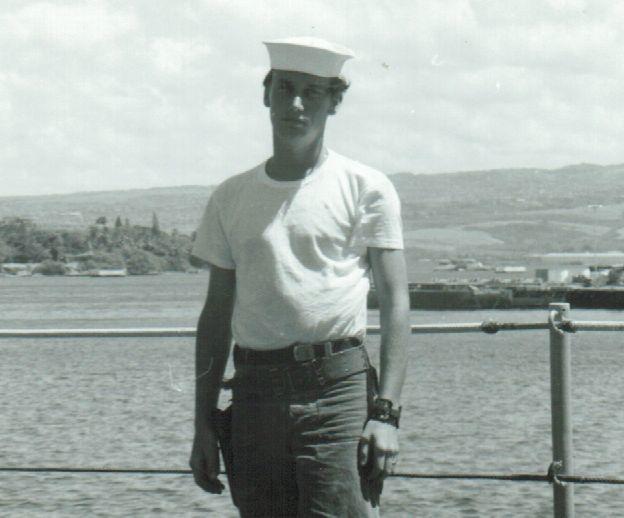 Helena's Jim Clark, a Navy veteran of four tours in Vietnam, attended Crescenta Valley High, near Los Angeles, California, where he was a member of the school band.
After graduating high school in 1968, Clark enlisted in the U.S. Navy. He completed basic training and Sonar Technician school, and was assigned to the USS Gurke, DD-783, a gearing-class destroyer. 
Clark departed on his first WestPac on the Gerke from Pearl Harbor with the USS Enterprise and USS Dale. They joined Task Group 17.3, becoming part of the U.S. 7th Fleet. Reported for duty at Yankee Station – "Which means chasing Carriers and picking up downed pilots," according to Clark – in the Gulf of Tonkin on March 29.
They also performed plane guard and screening duty, and provided Naval Fire interdiction and harassment fire support for III Corps, in Vung Tau.
On May 25, 1969, the Gerke rescued Air Force Lt. Dennis Stafford, at sea, after his F-100 jet was shot down.
Additionally, the Gerke assumed Piraz Station duties.
"It was called the 'picket line' between the carrier group and the shore," Clark explained. "We watched for Vietnamese fishing boats, used as torpedo boats – they'd just push 'em over the side."
After regrouping in Pearl Harbor, the destroyer's next WestPac took place from March to October 1970, again off the coastal waters of Vietnam. For the second year in a row, the ship and crew garnered the White "Battle Efficiency E" award, for Desron 15.    
Next came a six-month gig on the Naval Reserve ship USS Shields, DD-596.
"We took the Reserves out, got 'em seasick on a cruise and then brought 'em back," Clark said.
You have free articles remaining.
His third tour in Vietnam started out on a flight to Japan, where he caught the Kitty Hawk in Yaskawa.
"Next, in the South China Sea, I was heloed over to the Cruiser Newport News, which then high-lined me across to the Hull," recounted Clark.
He described that action as a cable strung between the two ships, and an ensuing "tug of war" of three transfers; two men to the Destroyer USS Hull, DD-945, and another back to the Newport News.
Clark recalled "riding the Hull for a couple months" before returning to San Diego in September 1971.
Then came his final WestPac, from April to October 1972. This tour consisted of over 130 days on the gun line during the second battle of Quang Tri, interrupted by a "two-beer liberty."
"After 90-plus days on station, we got shipboard liberty," Clark related. "They loaded 10 of us up at a time in the motor whale boat, and we went into a cove on the coast of North Vietnam, where were allowed to have two beers apiece. 
"It took all day to rotate the entire crew through leave, but it sure improved morale after 90 days on the gun line."
Following that brief respite, "We did another 45 days on the gunline before we went back to P.I. for liberty."  
STG-2 Clark was discharged in March 1973.
After graduating from the University of Southern California, where he majored in electronics engineering, he began a 37-year career with IBM. His family relocated to Helena in 1988, where Clark retired in 2014.
Jim and wife Marla have two daughters, Shawna and Tawnee, the latter being a retired U.S. Marine. He remains connected to the armed forces by serving on the Lewis & Clark Veterans Council Guard, which honors all military funerals.