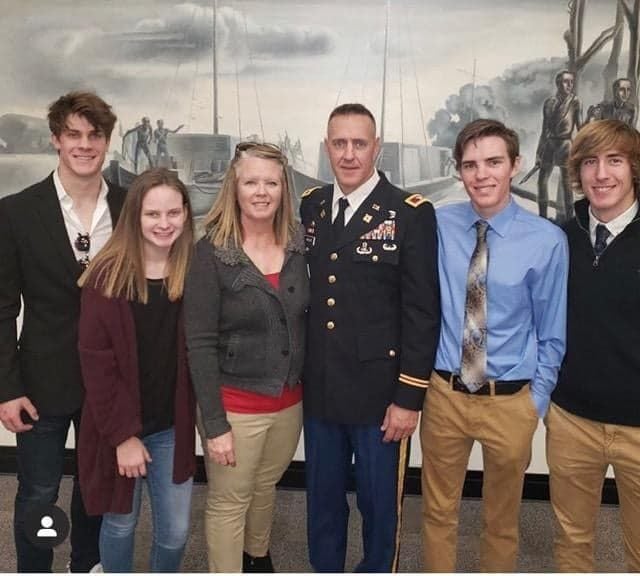 East Helena native Col. Gregory Hirschey has experienced many highlights during his 26-year military career.
From his graduation from officer candidate school, to graduating explosive ordnance disposal (EOD) school -- which "is very difficult and the attrition rate was very high" -- to his selection for command as a battalion commander.
"Other highlights include coming home from deployments from Bosnia, Iraq and Afghanistan," Col. Hirschey wrote in an email over Memorial Day weekend from Fort Campbell, Kentucky. "Also, my oldest son was born while I was deployed to Bosnia and I missed his birth. So it was a real cool moment seeing him for the first time when he was over 3 months old."
And later this week, he will obtain another milestone. On Wednesday, June 3, Col. Hirshey will be promoted to group commander colonel of 52nd Ordnance Group.
Hirschey, 51, graduated from Helena High in 1986, where he played football as a hard-nosed defensive back for the Bengals. He was a member of the University of Montana and Montana State University's cheer squads, and graduated from MSU.
In February of 1994, Hirschey enlisted as a counter-intelligence special agent and then went to OCS in May 1997. He said his role models for serving were everyone who had served before him, and mostly his father, John Hirschey.
"He served in the infantry overseas during the Cold War and I always enjoyed looking through his old photos," Hirschey recalled. "He also connected me to all those 'old timers' who had served during WWII, Korea and Vietnam."
His special training included tactical interrogation, air assault school and EOD school and training.
His first station took place in Hawaii as a military intelligence professional, then to Fort Carson in 1997, where he served as a platoon leader, assistant operations officer and troop executive officer. As a first lieutenant, he deployed to Bosnia in 1999 with the 3rd Armored Cavalry Regiment.
In 2002, Captain Hirschey attended EODS, and in 2004 he was assigned to Fort Campbell as an EOD company commander. He then deployed the unit to Iraq and after returning in 2006, Hirschey permanently changed station to Fort Sam Houston, Texas, (U.S. Army North as an operations officer) where he was promoted to major.
"I PCSed to Fort Leavenworth, Kansas, in 2009, attending the Command and General Staff College," he wrote. "Next came Fort Riley, Kansas, serving as the Operations Officer for the 84th EOD Battalion. I served as the Battalion Executive Officer and deployed to Afghanistan with the battalion in 2012."
Upon his return, Hirschey moved to Charlottesville, Virginia, and was assigned to the Defense Intelligence Agency and was promoted to lieutenant colonel. He then PCSed back to Fort Riley in 2015 and served as the 84th EOD BN commander and inactivated the unit in 2016.
Next came Fort Carson, Colorado, where Hirschey served as the acting commander of the 71st EOD Group.
"In 2018, I was selected to attend the War College and PCSed to Fort Leavenworth," he recounted. "After graduating from the Senior Service College in 2019, I served as an instructor at the School of Advanced Military Studies (SAMS)."
Several weeks ago full bird Col. Hirschey transferred back to Fort Campbell, and is waiting to take command of the 52nd Ordnance Group (EOD).
He has been married to Mistee Castleberry Hirschey, of East Helena, for 27 years.
"She's the best Army wife ever," he boasted. "We have four beautiful children, Hayden (20), Jake (18) Zac (16) and Maddison (12). All the kids love sports. Jacob was selected Kansas 6A All-State honorable mention football and Zac hopes to follow in his footsteps. Maddison loves volleyball and devotes her time playing for school and traveling teams."
Hirschey's decorations include the Bronze Star with two oak leave clusters (Iraq and Afghanistan), the Defense Meritorious Medal, Meritorious Service Medal with five oak leave clusters, a Meritorious Unit Citation, and what he considers the most important achievement, the Valorous Unit Award.
"The Valorous Unit Award is for our deployment in Iraq from 2005-06. A really tough tour and an incredible accomplishment on behalf of the brave men of the 'Baghdad Bomb Squad,'" Hirschey said. "We were the Fightin' 717th, nicknamed by some as the dirty dozen."
They deployed with 21 men and inherited 12 Navy EOD operators, and 12 Air Force EOD Operators.
"The unit was credited with completing 2,178 EOD response missions; a feat that was never accomplished by any unit up to that time and still stands today as the most missions by one unit over that period of time in Iraq or Afghanistan."
Another career benchmark will take place this Wednesday at Fort Campbell, when the 52nd Ordnance Group change of command takes place between outgoing commander, Col. Daniel J. Duncan, and the incoming commander, Col. Hirschey.
Curt Synness, a Navy veteran, can be reached at 594-2878, or curt52synness@gmail.com. He's also on Twitter @curtsynness_IR
Get local news delivered to your inbox!
Subscribe to our Daily Headlines newsletter.