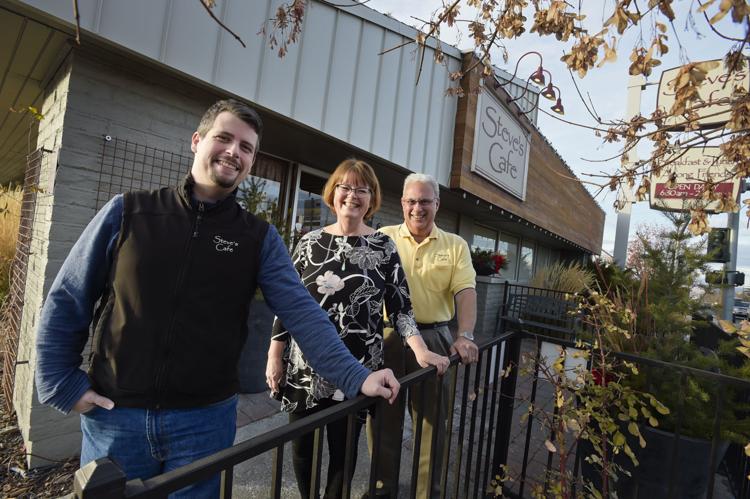 Steve's Café in Helena has sold. However, longtime regulars have nothing to worry about as it's being kept in the family. The new owner is Steven Vincelli, son to founders Steve and Penny Vincelli.
"I don't see any reason to make changes," Steven said. "Maybe little tweaks here and there to improve things, but nothing else."
Steve and Penny aren't going anywhere, except for a planned vacation to Hawaii and a mission trip to Africa.
"But they have to come back," Steven said. "It wouldn't be a family business without them."
The Vincelli family has been in the Helena restaurant industry since 1999, when they opened the Montana City Grill. They sold that after eight years and opened the first Steve's Café on Custer Avenue in 2009. A second one followed in Meridian, Idaho, which was run by Steven, and a third opened in 2013 back in Helena on Montana Avenue.
Steven ran the café in Idaho for five years, when it was purchased by an employee in Helena. Three years ago he returned to Helena to help his parents.
"It's time," he said of his parents' retirement. "They keep talking about Hawaii."
While Steven took over Nov. 26, he doesn't want his parents to step away and go "cold turkey." He said running the café is more than a business. Staff and patrons are part of the family.
Penny does the books and paperwork and will continue for a time assisting the new hire who will take on those duties. She enjoys mingling in the cafe and has relationships with many regulars. Steve has been responsible for a bit of everything.
"He's always looking for ways to do better and to improve," Steven said of his father. "Now I'm looking forward to do those things with him and putting his ideas into action. He will be my sounding board."
You have free articles remaining.
Steven learned most of the business, from washing dishes on up, at the Montana City Grill. While it may be in his blood to run the restaurant, it hasn't been his only focus. Steven has a degree in elementary education and taught fifth-grade for about four years in Idaho. He said he occasionally misses being in the classroom but looks forward to carrying on the family business.
"He is very capable," Steve said of his son. "He's the boss now."
The recipes at the café truly belong to the Vincelli family. Eating there is a lot like eating in their kitchen, Steven said.
"The Italian sausage is my grandpa's recipe," he said. "Mom is German and is the baker and Dad is the one who comes up with the fancy and creative recipes."
The unique and favored food items, including huckleberry stuffed French toast, slow-roasted corned beef hash and the house made sausages, will remain on the menu.
"We're not changing any of that," Steven said. "We will continue what has made us successful. Our motto is high-quality food in a relaxing and comfortable atmosphere among friends and family."
Steve and Penny are grandparents to nine children, ages 6 to 15. They are very involved in their lives; Penny teaches the girls how to sew and cook and Steve takes the boys hunting and spends a lot of time in the woodshop creating "sawdust" with them.
"I would like to thank the town, Helena, for all the support for these last 10 years," Steve said.
Now, said he is looking forward to sitting in the restaurant and reading the paper, without being concerned about an empty plate sitting on a table or a patron's coffee cup getting too low.
Penny said, "The business is just, business. The most important part is the guests and employees."
Both agreed they have been blessed by very good staff. Steven is looking forward to continuing to lead the same way his parents have before him.