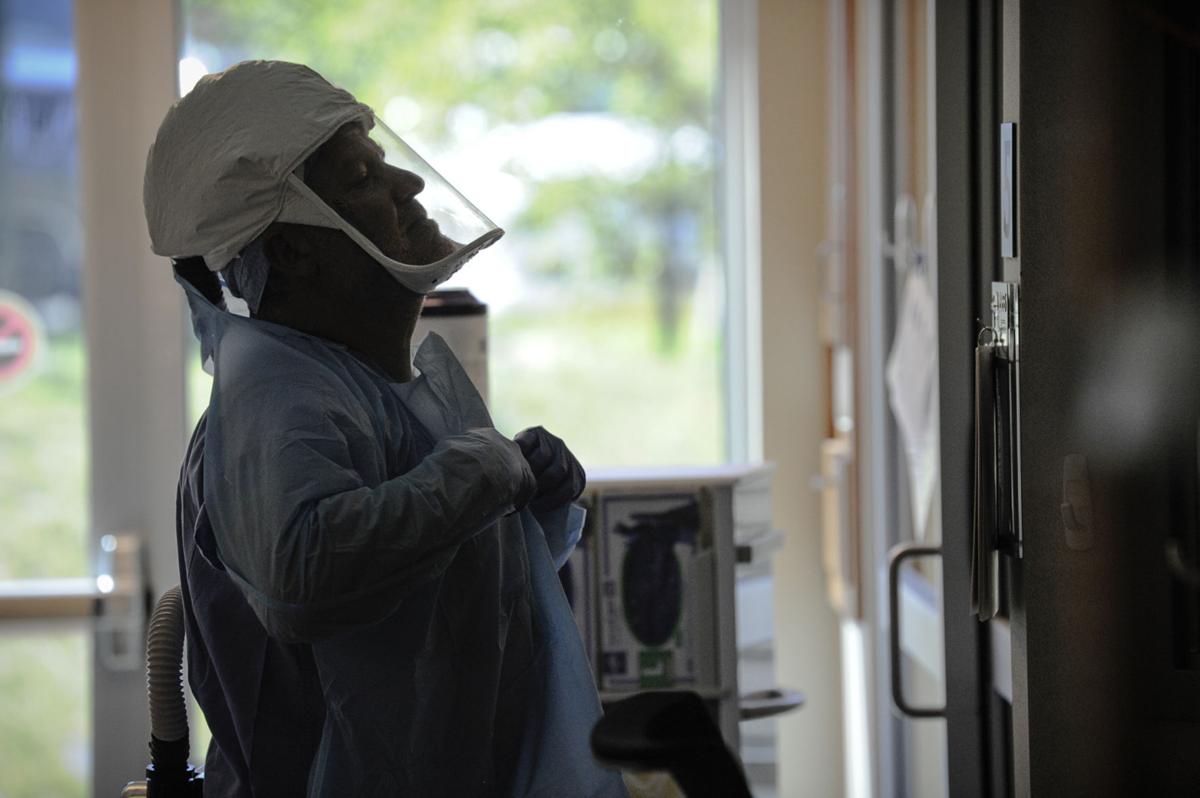 St. Peter's Health leadership announced Thursday the hospital is transitioning to crisis standards of care as both its intensive care unit and advanced medical unit are full with the onslaught of new COVID-19 patients.
"We are now seeing volume and resource constraints that require St. Peter's to shift to crisis standards of care, a situation that we don't take lightly in health care," St. Peter's Health Chief Medical Officer and President of the Regional Medical Center Dr. Shelly Harkins said during a press conference. "For the first time in my career, we are at the point where not every patient in need will get the care that we might wish we could give."
With that, Harkins said "true emergencies" will always receive priority and cautioned people not to put off necessary hospital visits.
Hospitals across the country, including Helena's, are in a "far worse position than we ever were," Harkins said, citing the delta variant, which is much more transmissible and results in more severe illness.
"This surge is different," she said. "We are having to tell patients 'you aren't going to get what you need.'"
Kathryn Gallagher, hospital spokeswoman, said in a text message Thursday there was "a number of discharges" in recent days.
At one point Thursday, though the situation can change by the minute, 50% of ICU beds and 20% of the hospital's medical beds, excluding those reserved for labor and delivery, were occupied by people experiencing complications from COVID-19.
The figures represent a snapshot of the day and have likely changed, she said.
Gallagher said two COVID-19 patients were admitted Thursday.
Operating within the crisis care model, medical personnel have been given permission to make decisions on moving scarce hospital resources to patients with a higher likelihood of survival.
Those scarce resources include beds, staff, oxygen and COVID-19 medications such as monoclonal antibodies, of which the hospital receives only a certain allocation.
Harkins said in previous weeks, SPH has had only enough of the medications she called MABS for one full course of treatment for one patient, and that the decision was made to distribute only partial treatments to multiple patients.
The hospital can receive an increase in its allocation of the medications if it can demonstrate an increase in need. Harkins said staff is doing all it can to accomplish that.
The hospital's morgue is also full.
"On Sunday, I received a phone call from our administer of the day, 'Our morgue is full. What do we do with the next body?'" Harkins said, recalling the conversation. "For the first time in this pandemic, we face the reality that we're going to have to bring in morgue support. And what that actually means is a freezer truck in the parking lot."
A staffing shortage is also playing a big role in the situation with the hospital dealing with 200 open positions, ranging from custodial services and food delivery to medical professionals, according to Harkins.
She said the hospital is hiring travel nurses as they become available.
The going pay for travel nurses has skyrocketed since the onset of COVID and bringing such nurses onboard to do the same job as longtime SPH nurses at much higher pay is putting a strain on the staff, Harkins said.
Increasing salaries across the board to match what travel nurses are bringing in is not feasible, according to Harkins.
The hospital has formally requested relief from the National Guard, but Harkins said she is doubtful that help will come as the National Guard is also stretched thin.
The already beleaguered SPH nurses are having to work double and triple duty, cleaning rooms and ordering patients' food, in addition to bedside care.
"Our staff is tired, grieving and frustrated," she said.
To make matters worse, visitors to SPH unhappy with mask requirements and visitation restrictions have taken it out on the hospital personnel.
"We hope that some of you are shocked to hear that everyday that staff that I just told you are stepping up and doing the unthinkable, the true heroes, they are verbally assaulted and sometimes physically assaulted every day," Harkins said. "They are yelled at, cussed at, spat at. They have things thrown at them all because they don't want to wear masks or they don't agree with our visitor limitations."
As they have been saying for months, the medical team at SPH urged those who have yet to receive a vaccination to do so.
"The vaccination remains our No. 1 best tool in the fight against this virus," Harkins said. "Please get vaccinated."
She also highlighted the continued importance of wearing a mask indoors in public regardless of vaccination status.
"The community hasn't gotten the memo on this one," she said. "Please, we need your help."