Worker rights, missing and murdered indigenous women, health care, access to firearms and climate change highlighted the annual Women's Rally for Democracy in Helena on Saturday.
More than 250 ralliers convened at Women's Park, voicing support for a multitude of progressive policies with speakers encouraging attendees to advocate for upcoming legislation on issues ranging from Medicaid expansion to firearms to trapping.
"Whether you support equal pay, or equal rights, public lands or public schools, higher wages or higher education, freedom of the press or the freedom to love and marry who you chose, you want to end domestic violence or gun violence in our schools, or whether you want to end the shutdown or keep families together, no matter what brought you here today, we must rise together Montana," emcee Andy Shirtliff told the crowd.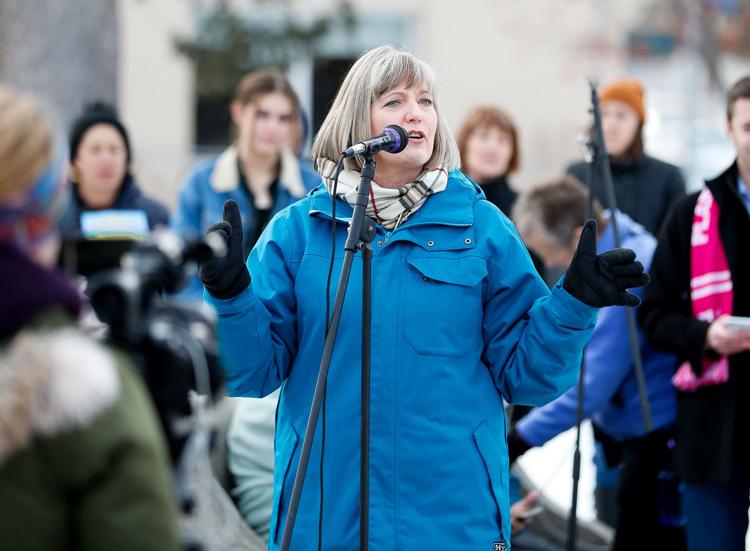 Sen. Jill Cohenour, D-East Helena, voiced her encouragement at Saturday's turnout.
"I'm so glad to see so many of you out today supporting women and the fact that our democracy depends on activating and engaging women in every community in the state of Montana," she said.
Cohenour shared her story of coming into politics. As a union representative, she felt she could better represent the interests of her community than many of the candidates seeking union endorsements.
"What I found out is maybe I could do that, maybe I could step in, because I felt like my voice could be bigger and my ability to articulate the needs of our community could be bigger if I had the voices of my union brothers and sisters behind me and supporting me," she said.
Cohenour closed by encouraging vigilance for worker rights and continuing support for unions, pointing to a three-month lockout of union workers at Imerys Talc in Three Forks and Lee Enterprises' closing of the Missoula Independent after employees there unionized. Lee owns the Missoulian, Independent Record, Billings Gazette, Montana Standard and Ravalli Republic, and purchased the Independent in 2017 before shuttering it last year, citing financial losses.
Rep. Mary Ann Dunwell, D-East Helena, told the crowd she follows the recitation of the Pledge of Allegiance's "with liberty and justice for all," with one additional word, "someday." Her speech covered multiple instances where she sees injustice, including access to health care, inadequate response to murdered and missing indigenous women, increasing tuition at universities and low wages.
Dunwell plans to bring two bills aimed at preventing youth suicide during the legislative session, and encouraged attendees Saturday to show up.
"We're No. 1 in the nation in so many things, and also suicide," she said. "We cannot lose one more life to suicide."
You have free articles remaining.
Dunwell also advocated for bills to end the statute of limitations on child sex crimes and an ambitious bill to curb climate change by reducing carbon emissions and pushing transition to renewable energy.
Newly appointed Helena City Commissioner Kali Wicks shared a story from her hometown of Chester, where in 2012 a domestic abuser shot his wife before turning the gun on himself. Citing statistics, she called for legislation to allow removal of firearms in cases where someone has been deemed a danger to themselves or others.
"The reality is we're here in Montana, and here in Montana we respect the Second Amendment," she said. "Most Montanans are responsible gun owners who use our guns for hunting and recreation, but that does not mean we in Montana cannot take sensible steps to develop smart gun policy."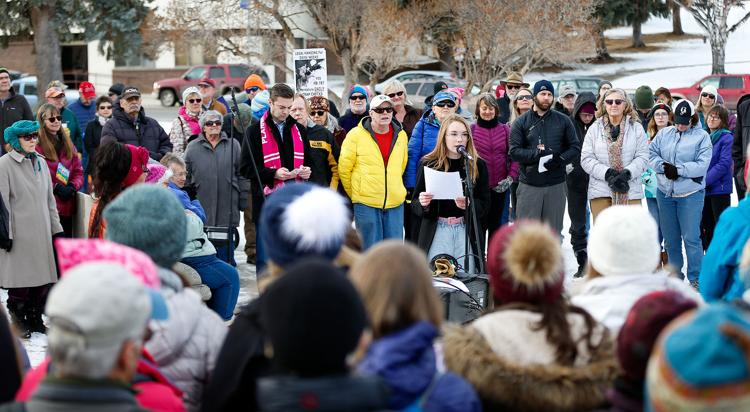 Following Wicks was Aase Hahn with Helena Youth Against Gun Violence, who wants to see legislation passed that would penalize a gun owner if that gun is not secured and is used by someone else in a violent crime. Hahn cited other strong women as her inspiration to step into the public eye and take a stand.
"In my one wild and precious life, I plan to stand with my community, my neighbors and my classmates in creating change that propels us into an era in which responsible gun ownership and common sense public policies addressing gun violence make us all safer," she told the crowd.
Anne Hedges with the Montana Environmental Information Center emphatically implored attendees to take action on climate change.
"We have to believe in science because it's not a belief system, it's a fact, it's science, and climate change is science and it's real and it's happening and it's dire," she said. "It's never been more urgent that we deal with this issue and deal with it affirmatively and strongly and immediately than right now."
KC York with Trap Free Montana Public Lands was the final speaker and spoke out in favor of upcoming legislation which would require traps to be checked daily. Montana currently requires bobcat trappers in designated Canada lynx zones and wolf trappers to check every 48 hours, and recommends all traps be checked every 48 hours.
"This bill isn't about banning trapping, it's about ending the prolonged suffering of trapped animals and protected species," she said. "Thirty-five other states, actually I think 36, have daily or 24-hour trap checks. Montana can get on board with that."
More than 250 people convened at Women's Park for the annual Women's Rally for Democracy on Saturday, voicing support for a multitude of progr…