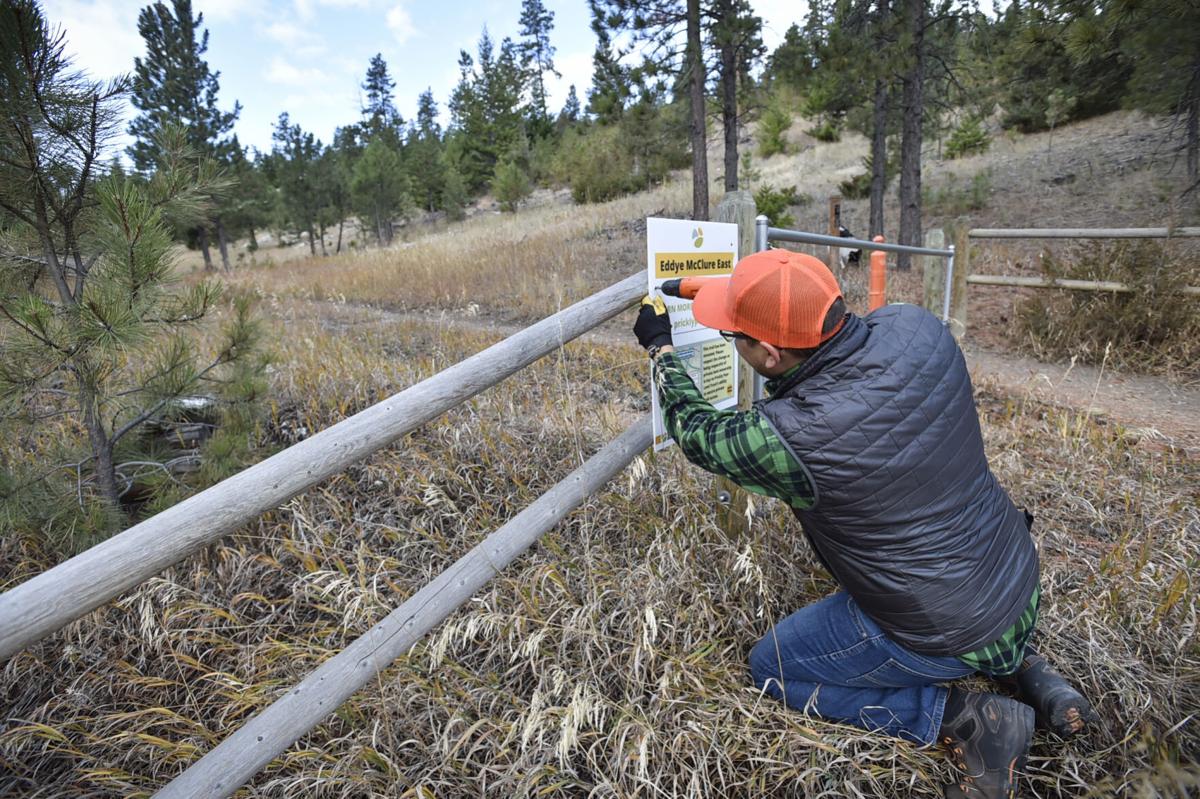 After closing to the public in July, Montana City's primary access to the South Hills Trail System has reopened with an easement that will keep it public forever.
"It's a really, really big deal," Prickly Pear Land Trust Executive Director Mary Hollow said. "It secured forever public access on one of the most popular trails in the system."
Hollow said a portion of the Eddye McClure East trail was built on private property at least a decade ago with permission from the landowner at the time, but a "No Trespassing" sign was posted at the nearby Martinez Gulch parking area after the land was sold over the summer.
Mike Dowling said he purchased the property with his two daughters and their husbands. Dowling said they posted the signs at the recommendation of their attorney, who warned that they could be liable if someone were to get hurt on their land.
However, Dowling said the easement resolves this issue by protecting the landowners from liability and keeping the trail open to the public, which has been their goal all along.
"When we all were looking at that piece of property, we all agreed without hesitation that we wanted to maintain access to the trail system," he said.
Trail users may notice the area looks a little different than before. The trailhead is located a little further south and the parking spots have been removed, and about 700 yards of the trail itself were reconfigured to meet the needs of the new landowners.
Hollow said the Montana Conservation Corps helped clear the corridor, and Phat Trak Trail Co. used a machine to cut the new section of trail last week. She said the company donated most of its services, and it would have taken several weeks to build the trail by hand.
"We did our best to build something awesome," she said. "It's not quite as awesome as it once was, but it's perpetual and it's done, so it's a really great outcome for the community."
Hollow also said the new landowners have fenced off their property boundary, and she encourages everyone to stay on the trail and respect the land.
"This was donated, and we need to be really respectful of that private property," she said. " … They didn't have to do this. It's generous what they did."
This is just one of many South Hills trails that crosses private property. Although handshake agreements with the landowners may have worked well in the past, Hollow said PPLT has been working for years to secure legal easements so the public does not lose access to any trails when private property is sold.
"I think it's a good reminder for us and all trail users that the South Hills are really a patchwork of ownership," she said.
Editor Jesse Chaney can be reached at 406-447-4074, or find him on Twitter: @IR_JesseChaney.