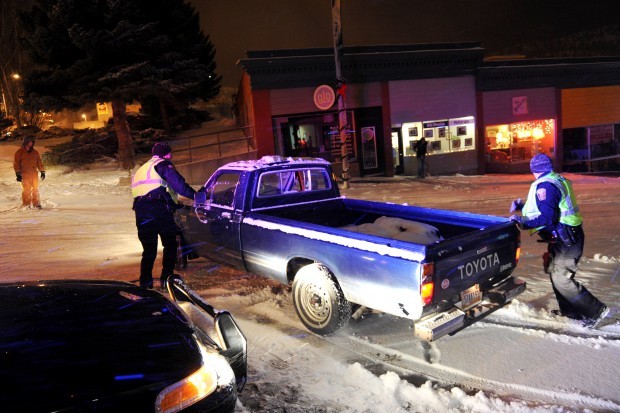 After reports of more than 100 vehicle accidents in the wake of Tuesday's snowstorm in Helena, some residents are upset about the way the city handled the snow and extremely slick roads.
"In my opinion, most of the wrecks that occurred could have been averted had the city done its job laying sand and gravel," said an email from Allie Wines, a Helena-area resident. "If the city is not going to use our tax money to provide the services we need when we need them, we should get a refund. At the very least, the city should pick up the tab for the repairs on its citizens' vehicles, bypassing insurance company involvement."
A number of others also contacted the newspaper to voice displeasure with the road conditions.
Reports of accidents came from all over the city, but many were concentrated on the hilly streets leading in and out of downtown Helena. Several of the streets were closed for a time before sanding could make them passable.
At the intersection of Sixth Avenue and Cruse, near the Independent Record, a Helena police cruiser attempting to warn and direct drivers was hit six times by sliding vehicles in a roughly one-hour period.
The city Public Works Director John Rundquist said because Tuesday's storm hit later in the day than forecast, street crews had already gone home. However, they returned and got back on the plows and on the streets, where they worked most of the night.
Rundquist said by Wednesday afternoon he'd received one complaint and one compliment regarding how they handled Tuesday evening's snow.  There are more than 200 miles of road in Helena and city crews focus first on clearing and sanding the emergency snow routes, which are marked with signs. 
"Once those are taken care of, they start moving onto local streets and areas, depending on where the needs are," Rundquist said.
He pointed out that several of the city's most traveled streets, including Montana Avenue, 11th Avenue, Prospect Avenue,  Euclid and Lyndale, are state-owned and maintenance is the responsibility of the Montana Department of Transportation.
Rundquist said that the city, which has around 10 plows and sanders manned by a staff of about 12, will address specific areas if individuals call and alert street crews.
"We do respond to complaints or issues that customers have," he said. "We'll get to those things as fast as possible."
---