Prized pigs brought home a pretty penny for Deaton Show Pigs of Helena over the weekend.
Deaton hosted its seventh annual spring show pig auction at the Lewis and Clark Fairgrounds Sunday. According to Jay Deaton, owner of Deaton Show Pigs, he sold 99 pigs in the span of two hours. 
These pigs came at a high price. A sister of last year's Montana State Fair winner sold for $4,500, the highest at the auction. The remainder of that litter sold for around $4,000 per pig. 
"It was a massive success," Deaton said. "We averaged about $200 more per head than last year."
Visitors came from Washington, Idaho, Oregon and Wyoming for a chance to bid on Deaton's highly coveted stock. Deaton said he believes this is due to his good reputation within the show pig community.
You have free articles remaining.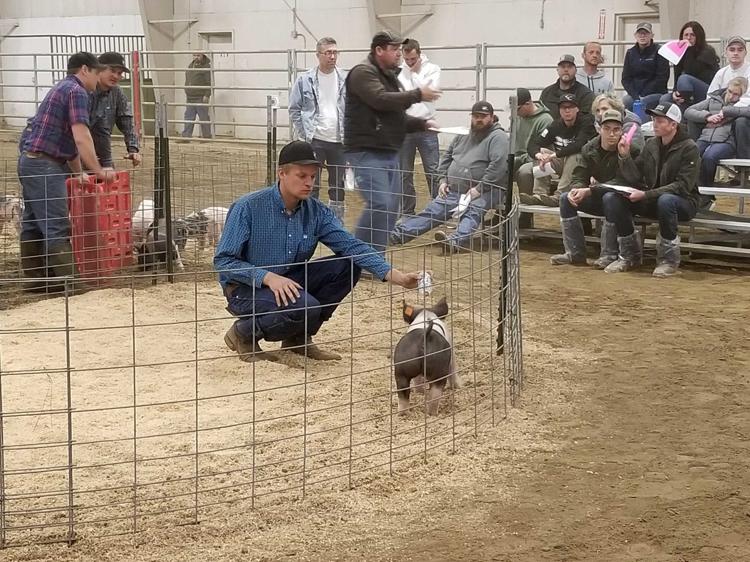 Last year, Deaton produced more than 30 grand and reserve champions. They also produced four of the top five entries at last year's Montana State Fair. High quality stock that compete in 4-H and state fair competitions are a staple of Deaton's business.
Deaton Show Pigs is a Helena-based business that has raised purebred show pigs since 2011. For the past seven years, the company has held a spring auction where its premier livestock is up for bid. 
Looking forward, Deaton is hoping for his best year yet.
"We got some really good pigs into some good families," Deaton said. "We are really excited for the summer."