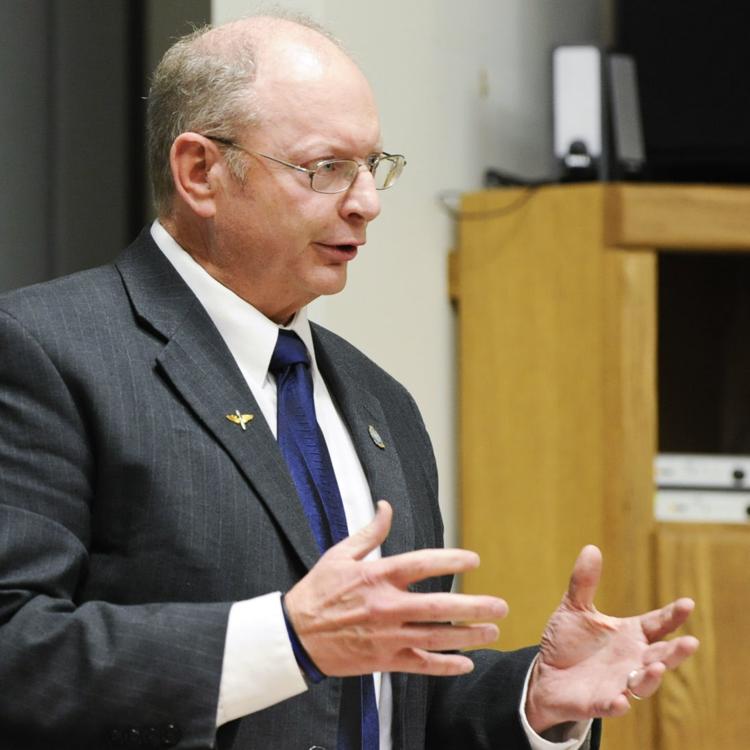 Lewis and Clark County Sheriff Leo Dutton said he hopes his dedication to safety, service and trust will earn him another term in office. 
The Democratic candidate for the county's new combined sheriff/coroner position, Dutton was appointed to fulfill a partial term as sheriff in 2008 and then was elected to the position in 2010 and 2014. 
From Sand Springs, Dutton has worked for the last 34 years as a reserve deputy, deputy and then sheriff, all with the Lewis and Clark County Sheriff's Office.
As sheriff, Dutton is in charge of 84 employees. He also oversees the detention center, is the fire warden for the county, supervises Lewis and Clark Search and Rescue and has a long list of training and awards.
According to an Independent Record candidate survey, his top priorities are to combat a growing crime rate caused by drug use, to ensure deputies have up-to-date training to address mental health issues, domestic violence and sexual assault, to ensure the transition to the new law enforcement center goes smoothly, which will involve hiring 33 new detention centers; and to carry out the coroner's duties in an "expert, compassionate manner."
If he is elected, Dutton said, the county's current Coroner Bryan Backeberg and Deputy Coroner Tim Wong will become deputy coroners in the new sheriff/coroner office. They will not have law enforcement duties, he said. 
As for the transition itself, Dutton said, "You won't really see it."
"The budget has been worked out, the operation of who's on-call has been worked out; we have a plan for it," he said, adding that he would like to have deputy coroners based in Lincoln and Augusta to decrease what could otherwise be wait times of up to two hours. 
Dutton also said plans are in place to combine the evidence lockers of the current sheriff and coroner to avoid interruptions for whoever takes over the new combined role. 
When asked about Lewis and Clark County's rising crime rate, Dutton said he would never campaign on eliminating crime.
"It's like saying if you elect me I'll get rid of sin," Dutton said. "Violent crime is up, so is property crimes. If you look at the Board of Crime Control statistics, we are similar to other counties in Montana and the western United States. ... If you look at the genesis of it, we have an overwhelming demand for drugs."
Dutton said legislation had done a good job of removing meth production from Montana.
"We have taken bites of the apple," Dutton said. "This is all an evolving issue."
Dutton said Lewis and Clark County has also attempted to change how its incarceration system works.
"We've readjusted to focus on mental health," he said. 
Putting all funds toward law enforcement would be detrimental to the other work that the sheriff's office does, Dutton said, including running the detention center, animal control and patrols.
"It's easy to get wrapped up in the 'crime is up,'" Dutton said, noting that partnerships with federal law enforcement and community organizations helps provide better service for Lewis and Clark County. 
Issues
In 2011, detective Cory Olson accused Dutton and the sheriff's office of political discrimination in a complaint filed with the Montana Human Rights Bureau. Dutton said the county's insurance provider opted to settle the case instead of fighting the allegations, but he does not know how much Olson received through the agreement.
The Independent Record filed a public records request for the settlement agreement earlier this week but has not yet received it from the county. Olson told the Independent Record he wanted to discuss the matter with his attorney before speaking about it publicly. 
Dutton said he was never given a chance to plead his case in front of the Human Rights Bureau, and he would have preferred to fight the allegations. "I was following the path set through HR," he said.
Olsen went on to unsuccessfully challenge Dutton in the 2014 sheriff election. 
In 2017, a racial discrimination complaint against both the sheriff's office and the county attorney's office was dismissed after being found without merit by both the Montana Human Rights Bureau and the Human Rights commission. 
Dutton also acknowledged that several of his employees have been charged with crimes during his time as sheriff.
Former county deputy Phillip Jay Clark pleaded guilty to two charges of negligent endangerment in 2016, after being arrested for pointing a loaded gun at several people and hitting a man in the groin while intoxicated at a party. Dutton also said two detention officers were dismissed after being placed on probation through the Peace Officer Standing and Training offices.
Dutton's involvement in implementing the voter-approved bond and levy has also emerged as an issue in the race for sheriff/coroner. Though the Lewis and Clark County Commission is primarily responsible for the project, the sheriff has been involved.
As part of the project, the county will renovate all three floors of the detention center into jail space and move the city and county law enforcement offices into a different building. Dutton acknowledged that the downtown office building recently purchased by the county was offered at no cost before voters approved the bond, but county officials denied the offer because they were unsure whether they would have the funding needed to pay for upkeep. 
"You're paying for the building, not knowing how much it is, paying for those utilities. ... If somebody gave you a house and you couldn't pay for it, would you take it?" Dutton said. 
Dutton said there is no way to predict whether the project will be completed within the county's budget.