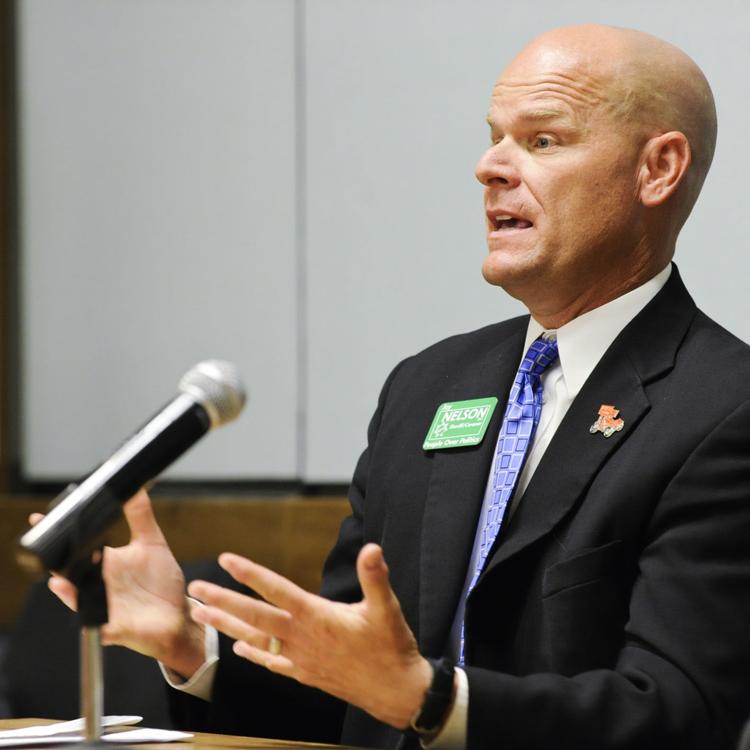 Republican Jay Nelson's decision to run for Lewis and Clark County sheriff/coroner was influenced by both his law enforcement background and his father, longtime Lewis and Clark County Coroner M.E. "Mickey" Nelson.
A Helena native, Sgt. Nelson attended Carroll College before becoming a Montana Highway Patrol trooper, a position he has held for the past 20 years. His father was the county coroner for 42 years before his death in 2016. 
Nelson is the special operations commander for the Montana Highway Patrol, which means he plans MHP responses to diverse incidents, including pipeline protests, VIP responses and other major events. Nelson is also the chairman of the Lewis and Clark County DUI Task Force, a county-appointed board dedicated to decreasing DUIs in Lewis and Clark County. 
Nelson said he doesn't agree with the county commission's decision to combine the elected offices of sheriff and coroner beginning in 2019. 
"Our founding fathers separated government for a reason," Nelson said. "I look at the more offices we combine, the more power we give one entity, concerns me as a citizen. But if I can't give it back the day of the election I have to embrace it."
"If it was a split position, I would not be running for the coroner's office," Nelson added.
Nelson said that being a coroner means to "truly investigate death ... a professional position that needs to be truly cared for."
"People need to have training. In today's world of lawyers and lawsuits we need to ensure the public that we are investigating every death appropriately," Nelson said. "From watching my dad for 42 years, we need to have that compassion for our citizens in their darkest hours."
Nelson said he would have to look at the budget before making decisions about how to combine the offices of sheriff and coroner. He would also seek legal advice about whether current Coroner Bryan Backeberg and his employees could remain on staff in the new combined office, he said. 
"Can we keep coroners that are not deputies? Can there be a split there? That would be something that I would have to sit down with the county attorney to make sure, but as is now the offices are combined," Nelson said. "If it can happen I'm going to have to look at all the personnel and see who wants to stay with the office because the office will change and they haven't experienced it yet."
If elected, Nelson said he would attack a "crime rate that has skyrocketed over the last 10 years in Lewis and Clark County." Nelson wants to add more deputies to the Missouri River Drug Task Force, expand the K-9 program and educate and train deputies to better halt drug trafficking in Lewis and Clark County.
"If people start to steer away from Lewis and Clark County, I guarantee you will see a lowering in crimes against property and a lowering in crimes against people," Nelson said.
Nelson also hopes to change the way deputies interact with the public.
"They're public faces, leaders," Nelson said.
Deputies in Fergus County sometimes hand out raffle tickets for a new bicycle to children at the county fair, Nelson said. This is one way for law enforcement to engage in positive community interaction while "strengthening the sheriff's office's role in the community," and making leadership a central part of a deputy's duty, he said. 
Issues
Nelson acknowledged that he was disciplined in 2010 while working as an MHP sergeant in Billings. According to Montana Department of Justice records obtained by the Billings Gazette at that time, Nelson was suspended for a week without pay for a "pattern of apparent overtime abuse."
While working in his off-duty capacity in private security, the documents state, Nelson claimed a total of 103 hours of regular patrol time and 10 hours of Family Medical Leave sick time for a total of 113 hours over 22 days. The documents state this "clearly violates" the staff time provision of the policy that prohibits the use of state time or equipment for non MHP-related duties. 
When asked about the violations, Nelson told the Independent Record his supervisors dating back to 2002 told him he was allowed to perform MHP duties while working a secondary job.
"The reason I worked a secondary job, to be honest, is while in law enforcement, if you have a family, you need extra money," Nelson said. 
After the allegations of overtime abuse came up, Nelson said, a prior supervisor advised him to just say he did it and move on. 
"I faced it, I moved on, and I never let it define me or defeat me," Nelson said.
Under the U.S. Supreme Court's decision in Brady v. Maryland, prosecutors are required to notify defendants and their attorneys when an officer involved in their case has been dishonest in an official capacity. Nelson said the rule has been brought up in court, but it has never prevented him from testifying. 
"It was eight years ago," Nelson said. "Do you know how many times I've been in trial? A lot. ... Every time it's come up it's been settled before the courtroom because it doesn't apply."