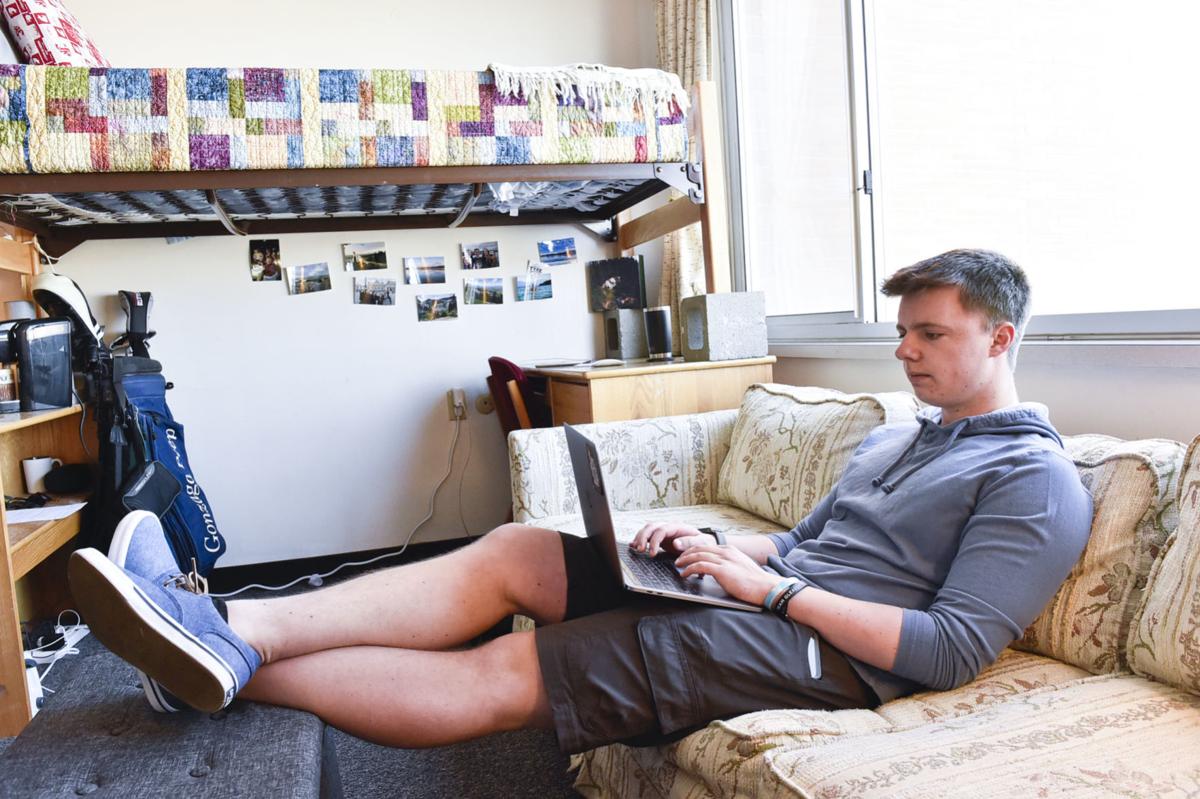 Carroll College sophomore Jovan Sljivancanin sits in his dorm room on campus.
He attends class through Zoom conferencing and, in his free time, he plays video games, board games and tries to keep active by working out in the dorm or going on a run.
"It's definitely hard, for sure," said Sljivancanin, who is a business student and plays on the men's basketball team. "International students like myself really have no place to go."
After Gov. Steve Bullock issued a stay-at-home order that took effect March 28 to try to help slow down the coronavirus pandemic, many Carroll College students decided to leave the residence halls to be with family.
But some students have no choice but to remain on campus.
Sljivancanin and the rest of Carroll College's international student population, which makes up roughly 2% of the entire student body, are unable to leave due to limits on international travel.
Sljivancanin thinks about his family, particularly his mom, in his hometown of Belgrade, Serbia.
"It's tough. I try to talk to my mom as much as I can," Sljivancanin said. "It would help her a lot if I was there, but she understands the situation."
Earlier this week, Serbia had 2,200 cases of COVID-19 and 58 deaths. Only one commercial flight per day is allowed from Washington, D.C., to Belgrade, and the country has implemented mandatory curfews after 5 p.m. with the exception of medical emergencies.
Sljivancanin said he does not know whether he will be able to get back home to Serbia by the summer, so he might stay with his cousin who lives in Las Vegas or even remain in Helena and get a job.
Carroll College Vice President of Enrollment Managing and Marketing Chato Hazelbaker said Sljivancanin is just one of the close to 190 students who are still living in the residence halls.
The on-campus residences are made up of four halls that include single, double, triple and quad-occupancy rooms for freshmen and sophomores, while juniors and seniors are eligible to be housed in 18 unfurnished apartments.
The university also moved students and staff working in Borromeo Hall, and are keeping it empty to be utilized as a self-quarantine center if needed.
At this time, Carroll College is unaware of any students who have been diagnosed with COVID-19.
"We have been working very closely with public heath officials and the director of our medical center, if and when we have a case diagnosed," Hazelbaker said.
Some students have chosen to stay because they believe it is safer than going home where the pandemic could be more dangerous.
Jacob Manfred is a business student from Spokane, Washington.
With 219 confirmed coronavirus cases in Spokane County, Manfred knew he had to weigh the risks of returning home.
"I'm pretty happy staying here where it's not as widespread," he said.
After talking it over with his parents, they all came to the conclusion that staying on campus would be the best decision for Manfred's education.
"I still have good access to food and work over here, I can function pretty well," Manfred said. "Not much has changed aside from the online classes."
Manfred is finishing up his semester in Zoom meetings, just like his classmates.
"It's quite a shock to a lot of people," Manfred said. "It was difficult at first, because a lot of my classes are topical and conversation-based. We had to make the switch in a matter of three days to fully online, but it was really great to see us come together and figure everything out."
With all of Carroll's curriculum now switched to distance learning, Hazelbaker said another reason the university has kept the residence halls open was to give students the technology available to complete their work online.
"Even though we have gone to remote learning, not every student would have the technology to access (their classes and school work) if they were to go home," Hazelbaker said. "The Wi-Fi access here is really strong, and students may not have the bandwidth they need to successfully complete their courses."
Hazelbaker said that though the university's library is closed to the general public during this time, students are allowed to go into the library and use a computer if needed.
Other guidelines the university has set for students living in the residence halls during the pandemic include closing down workout and athletic facilities, using the dining hall to pick up food only, practicing social distancing, and not permitting outside guests in the living quarters.
"They are now being asked only to have guests in their specific resident halls," Hazelbaker said. "If you live in Guadalupe Hall, you used to be able to get into Trinity Hall, for example. That has stopped.
"Our first goal is to ensure the health and safety of our students, and we felt like we can do that with the measures we put in place."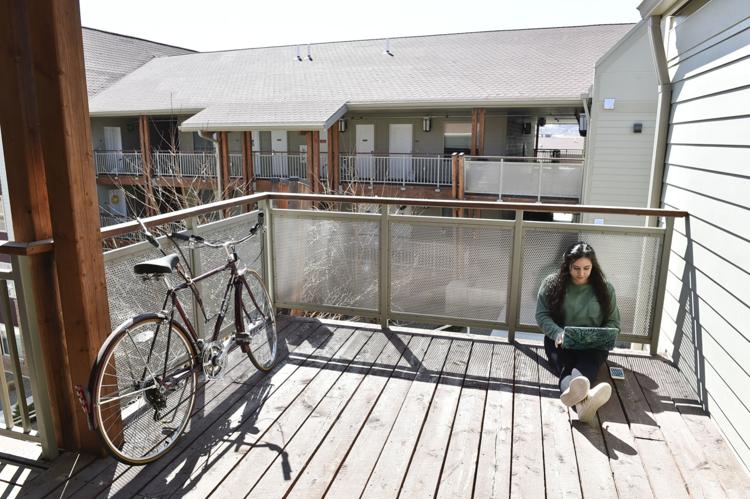 Krysten Abboud's family lives in Seattle. She is living in the on-campus apartments while she finishes up her last year at Carroll.
Not only did she want to keep herself and her family safe, but she also decided to stay because she wanted to enjoy her final year in college.
"At least as much as I could," she said. "My parents would support my decision as long as I was safe and happy."
She can cook and clean and she doesn't need the on-campus dining amenities. But with Bullock's stay-at-home order and one of her two roommates already moving out and the other staying with family for a few weeks, social isolation has been difficult.
"I wanted to stay because my friends were staying," Abboud said. "Social distancing has been hard. I just want to be normal and maintain my routine."
She has school to keep her busy with all of her classes being taught online, but she also takes daily walks and schedules daily Zoom parties where they all get together and see how everyone is holding up.
The spring semester has been far from the traditional college experience for students at Carroll, but the few who have stayed are doing their best to make the most out of their on-campus situation.
"They have taken pretty good care of us," Manfred said. "We are pretty lucky from that standpoint."
Concerned about COVID-19?
Sign up now to get the most recent coronavirus headlines and other important local and national news sent to your email inbox daily.