A second golden retriever has joined the ranks of the St. Peter's Health staff, doubling the capacity of the health system's facility dog program. 
Mocha, a 3-year-old retriever, joined the staff approximately six weeks ago. She now works alongside and independently of Blue Bonnet, a 5-year-old golden retriever who has been at St. Peter's since this spring.
Both dogs come from Canine Assistants, an Atlanta, Georgia-based nonprofit that raises and places many different retrievers with hospitals and patients. For 30 years, the organization has placed dogs through its hospital program or with individuals for things such as seizure detection. 
Though the organization doesn't charge for the animals, it does request a donation for the hospital placements. According to St. Peter's chaplain Kim Pepper, Mocha's handler, the hospital, its employees and members of the community raised around $25,000 to donate when receiving Mocha. Pepper said the Helena community basically funded an individual placement with their generosity. 
St. Peter's has long wanted a facility dog program, according to Jacque Tescher, public relations specialist at St. Peter's. For years, volunteers would bring in their therapy dogs to visit with patients. It wasn't until April of this year that the long-awaited facility dog program was able to get paws on the ground.
Chaplain Trish Dick and her companion Blue Bonnet joined the team in spring 2021. Tescher said everything really just lined up to work out perfectly this year.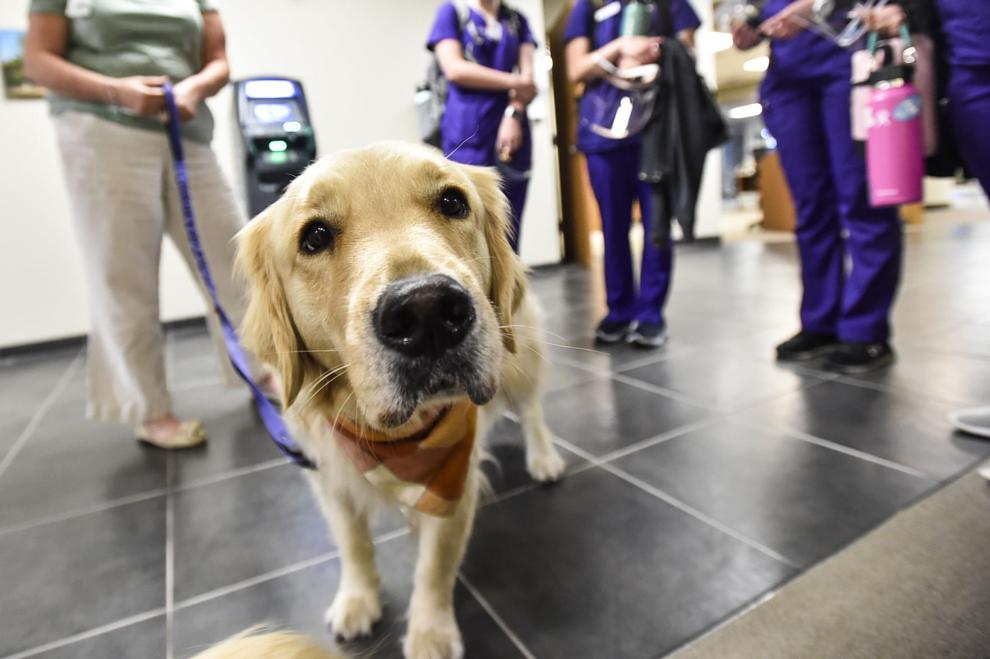 "We add an extra layer to ministry and care for the patients that they sometimes really need," Dick said. "It's really a delight to have patients respond to Blue. For instance, we had an Alzheimer's patient that wasn't responding to the staff at all, but they responded to Blue when spending time with her." 
Prior to working at St. Peter's, Blue and Dick served at Shodair Children's Hospital in some capacity. 
According to Pepper, the facility dogs don't just help with the hospital patients, but also the staff. The dogs visit the ICU, accounting, IT and many other departments across the hospital facility in a day. They can typically go anywhere in the hospital but do avoid the labor and delivery area. The hospital's infectious disease specialist helped craft the policy on the facility dog program to ensure safety at all times. 
"They respond really well to it as well," Pepper said. "I really provides them their own time where they can decompress. Now they all want their own dedicated dogs." 
The dogs are well trained at Canine Assistants, working approximately 3,000 hours in a hospital before being placed. This ensures the dogs are accustomed to life in the hospital, which can be chaotic and hectic at times. These dogs don't typically react to things like ambulance sirens or intercom announcements. 
"They're kind of like the SWAT team of dogs," Dick said. "They have to be adaptable. They don't typically react to chaos and noise." 
The dogs are also very good at intuiting a situation, according to Pepper. She shared a story about a time when Mocha could tell something was wrong with a family who had experienced a loss. Mocha very calmly worked her way into the family to where they could all pet her. This worked so well that the family immediately wanted to make a donation to the facility dog program, said Pepper. 
"There is a diversity of religion here at St. Peter's. Maybe not everybody wants to talk with a chaplain," Pepper said. "But most people always want to see and pet a dog. And some people say no, but most appreciate the option."
However, the dogs are subject to their own stresses of the job. Pepper said they as handlers do have to pay attention to what the dogs are telling them. Canine Assistants told them it's important to to be patient with the dogs as they adjust to the facility. The dogs also get their own breaks, and there have been days when Pepper or Dick left them at home because they had a hard day previously. 
Most weeks though, the dogs work five days. 
At the end of each day, the dogs go home with Dick and Pepper. Dick said they have their own care routine that includes regular brushing of both teeth and fur and regular baths. They also regularly report the weight of the dogs to Canine Assistants to ensure they are not being overfed. 
Dick said Canine Assistants really takes a bonding approach to these animals as they are placed. For the first 30 days the dog and handler don't separate at all to help them form a solid bond. Even after that, Pepper and Mocha don't separate for too long.
According to Dick, the dogs also bond with others at the facility. As part of their daily routine, the dogs will often take their handlers to visit with other staff members with whom they have formed bonds.