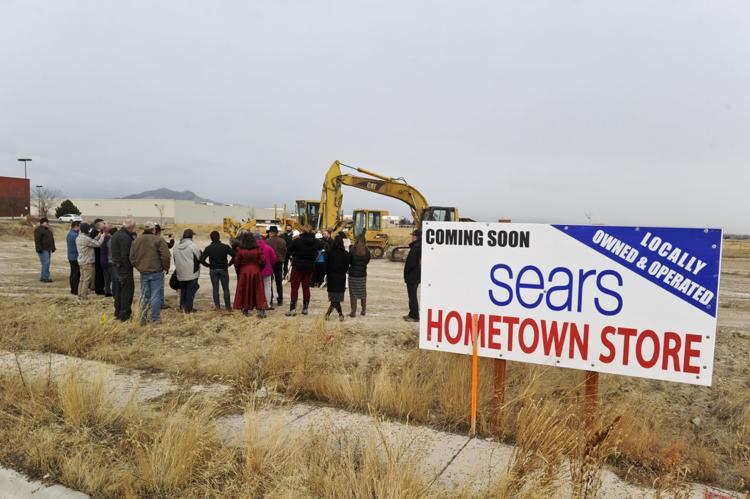 Walter Deege and Sandra Kokoruda, new owners of the Sears Hometown store on Dredge Drive, broke ground last week for a new, bigger location on Market Street by Sherwin Williams.
This will be twice the size of the original store and in a much better location, Deege said.
Deege admitted he didn't know where the Sears store was before he made the purchase because it was in such a secluded location.
Deege and Kokoruda purchased the business in September and have been working with the city on permit approval for the new location.
The two have worked together on real estate transactions for about four years and going in together on the Sears business seemed a natural step. Kokoruda, a Realtor with Uncommon Ground, has helped Deege buy and sell property, including his own home.
Deege said the Sears store fits in nicely with his other businesses, which include Original Digital, office supply and print design; and Deege Associates, home building.
"Sears is a good store," Deege said. "This opportunity came up and just came together."
You have free articles remaining.
Sears Corporate and Sears Hometown are two different companies. Sears Hometown stores are locally owned and operated and sell primarily appliances, lawn and garden, tools, mattresses, etc. Sears Hometown is its own independent publicly traded company.
Kokoruda said the nice thing about Sears Hometown is shopping in the store offers that nice "old-school" touch. You can feel the appliances and ask questions, she said. More space will provide the opportunity to expand in-store products.
"It's nice to have options and work with local people," Kokoruda said. "People want to shop local and this is a locally-owned store.
Support of the people in this town is fantastic and their enthusiasm is fantastic, Deege said.
Plans for the new building were drawn by Slate Architecture, construction is underway by Sussex Construction Inc. Sussex expects to finish the project sometime mid-May.
"This has all been well timed," Kokruda said. "We are digging now before the ground freezes."
While Deege owns a construction company, he only does residential construction. However, he said, he will be keeping an eye on Sussex's progress.
Back at the current store, changes in anticipation of the new space already are underway. A service center has opened that offers small engine repairs. This will move to the new location.
The original store will not close until the new store is ready for business. Employees will be a part of the transition and current expectations are to keep the same staff.
"Our employees are under tremendous pressure," Deege said. "I'd like to thank them for struggling through the transition with us. We couldn't do all this without them."