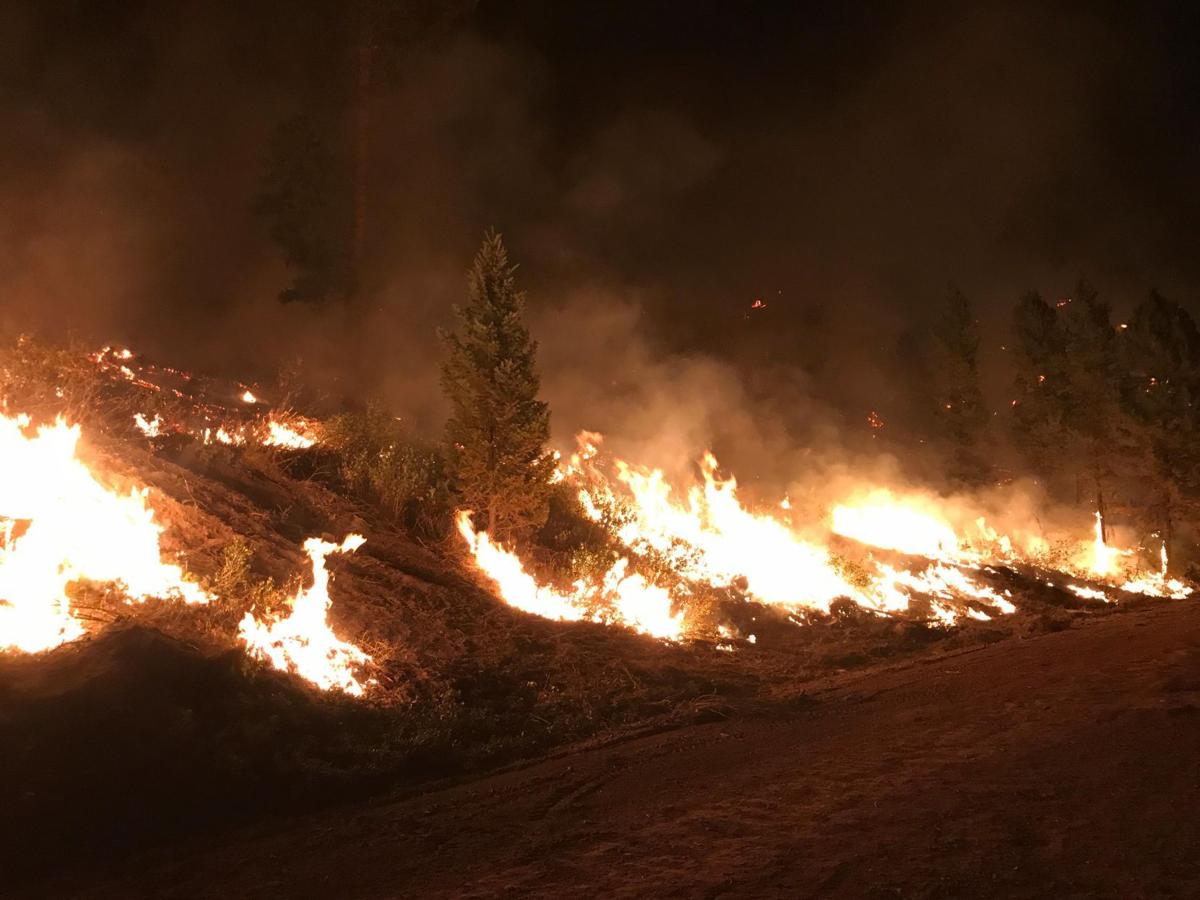 In the midst of a summer dominated by wildfires and smoky skies, Helenans packed the Myrna Loy Center Tuesday evening to hear from one researcher about changes to forests and what experts expect in future fire seasons.
Paul Hessburg, a research ecologist with the Forest Service's Pacific Northwest Research Station, presented "The Era of Megafire," a multimedia presentation and lecture inspired by wildfires near his hometown of Wenatchee, Washington.
The talk, presented by Tri-County FireSafe Working Group, centered on the role of fire in natural ecosystems, modern human influences on wildfire, the effectiveness of mitigation and predicted impacts of climate change.
Hessburg defined a "megafire" as one exceeding 100,000 acres and argued that forest and climactic conditions are ripe for more large fires. Wildfire is an expensive reality that people must change their thinking about and learn to live with, he said.
"As a father and now as a scientist, I'm deeply concerned about what we're leaving behind for our kids. I would suggest there is a lot at stake here," he said. "It's time that we confront some tough truths about wildfire and come to understand that we can learn to better live with it. And we can change how many of them come to our forests, our homes and our cities."
With the image of a dense conifer forest behind him, Hessburg brought up a second photo of the same landscape from the 1930s. That second photo showed a sparser tree density and multiple openings that he said correlated with historic small fires.
"The different forest types, the environments they occur in and fire severity, they all work together to create these patchworks I'm talking about," he said, "and there was so much power in this patchwork it actually provided a natural mechanism to prevent fire's spread across the landscape."
Over thousands of years, native plants and animals adapted to fire with many species, such as ponderosa pine, needing fire as part of its life cycle. The many small fires coupled with occasional large fires burned a large amount of acreage, but typically in the case of the smaller fires, burned at a lower intensity.
As European settlers moved west, grazing, roads, train tracks and timber production began to change the landscape and interrupt many of the small, patchwork-creating fires, Hessburg said.
The wildfires of 1910, called "The Great Burn," saw 3 million acres charred and triggered a shift in thinking about fires. The U.S. Forest Service began a war on wildfire and has succeeded in putting out 95-98 percent of fires. Hessburg pointed to that success and logging of large trees as factors in the present density of forests, which he calls the "epidemic of trees."
"So fires were unintentionally blocked by roads and railroads, cattle ate the grasses, then comes fire suppression and the harvest of these large trees," he said. "Collectively these factors created what I like to call the current epidemic of trees, more trees than the landscape can support."
Decisions by communities and homeowners of where and how to build responsibly for wildfires is becoming increasingly important, as evidenced by the loss of structures to fire. Construction in the "wildland-urban interface," describing forested or other natural areas where wildfire can spread rapidly near communities, has been a major concern in the West.
"As you might imagine firefighter and citizen safety is always going to be job No. 1, but we continue to build homes where they're most difficult to defend," Hessburg said, while emphasizing the importance of fire resistant landscaping and building materials and working with neighbors.
Scientists predict a warming climate is and will continue to bring hotter and drier weather, and more fire over longer seasons.
"Well this more severe fire weather is having a huge effect on megafires, and it's critical that we understand that these effects will not just continue, they'll continue to worsen," Hessburg said. "The contribution of a hotter, drier and often windier climate, it's real. And even the most conservative forecasts for the future, they're dire."
While emphasizing the predicted impacts of climate change, Hessburg did not venture into suggesting that climate action be part of the plan to curb the impacts of wildfire. His suggestions were focused at the forest and community levels: using prescribed fire, managed wildfire, and thinning and clearing projects.
"We have options and tools that we can apply," he said. "Fire severity is often driven by the dead fuels and the density and the layering of the forest canopy. If we deal with these fuels in a manner that is consistent with the natural fire regime, we can actually influence the severity of many of these fires."
Hessburg advocated for the increased use of prescribed fire and managed wildfire, but said societal barriers stand in the way. Concerns and regulation of smoke, apprehension about historical logging practices and fear of the inevitable small percentage of fires that will get away have made society largely gunshy, he said.
"The trouble is that no matter how well we fight fire each year, some of them are uncontrollable. They burn under hot, dry and often pretty windy conditions," Hessburg said.
"The simple fact is that fire suppression all by itself is an incomplete solution. What is needed is a cultural shift by us from being purely reactive to being primarily proactive."
While answering questions from the crowd, Hessburg said that mitigation measures are not one-size-fits-all, noting "there is solid evidence" supporting thinning and burning, and prescribed burning if implemented correctly. When asked after the talk to clarify the comments, Hessburg said that logging alone, without additional slash or broadcast burning, is not supported by research as effective and can exacerbate wildfire if woody debris is left on the ground.