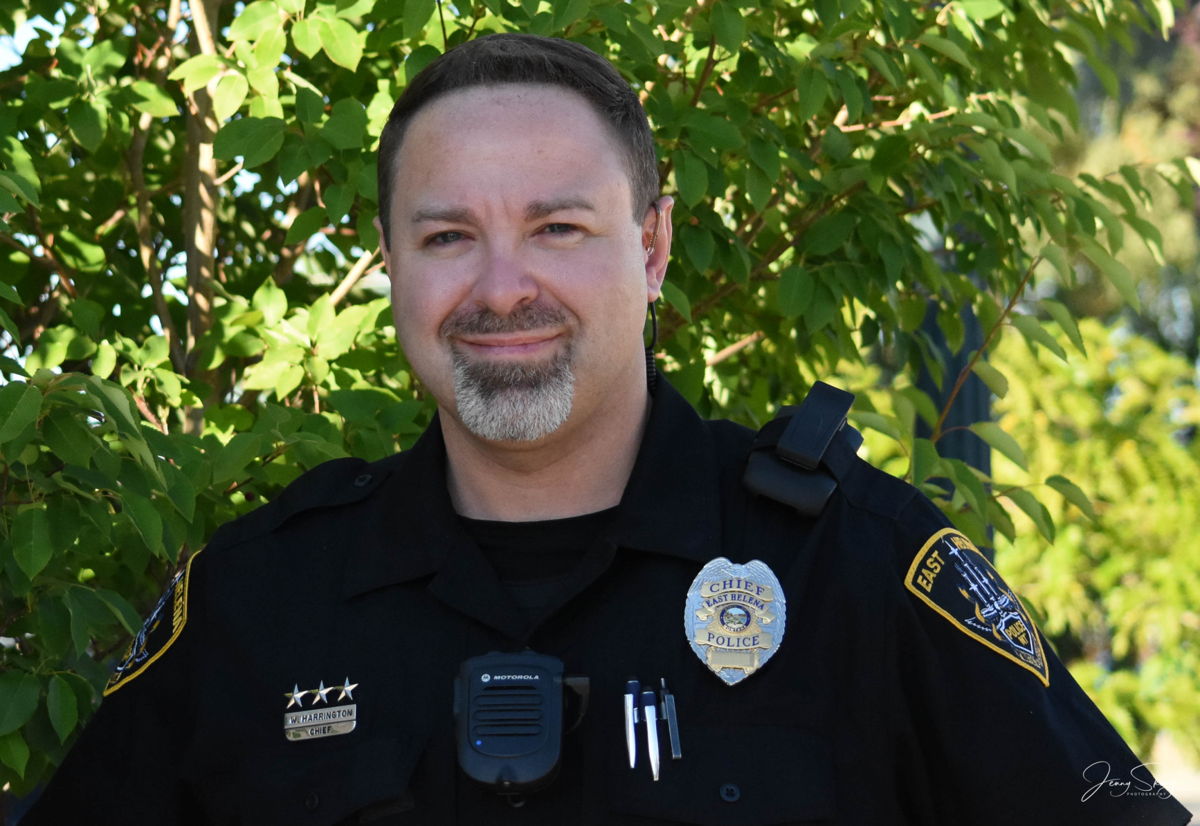 A report filed by a Great Falls attorney tasked with investigating workplace culture within the East Helena Police Department details an environment of isolation, stress, burnout and inappropriate surveillance of employees.
The investigation comes after the resignation of the department's chief William Harrington, who has been accused of sexual assault and charged with distributing child pornography.
Attorney Jordan Crosby of Great Falls firm Ugrin Alexander Zadick, P.C., filed the report May 11. East Helena staff provided a heavily redacted copy of the report Thursday, in response to a public records request.
Crosby was hired to investigate not only the workplace culture established by Harrington, but also the circumstances involving the sexual assault claim against him.
The entire section of the report pertaining to the sexual assault allegation is redacted. City Attorney Peter Elverum said in an email, "The redactions within this portion of the report are again intended to protect the right to privacy of the alleged victim."
Harrington had about 17 years of experience in law enforcement and spent the last 12 years with the East Helena Police Department, working his way up to deputy chief and then interim chief before being tapped to run the force in April 2019.
The Crosby report states "Harrington's tenure with the EHPD did nothing to address these problems (inadequate management and oversight; the failure to define roles and responsibilities; lack of training; outdated policies and procedures; burnout and stress) and in fact seemed to only worsen many of the issues.
Voluntary understaffing
Common concerns raised by those interviewed by Crosby included the long hours worked within the department.
Understaffing is certainly to blame for much of that, but some interviewed also pointed to Harrington.
City payroll records indicate that in 2020, Harrington reported working more than 4,200 regular hours and nearly 500 hours of overtime, meaning by Harrington's account, he averaged more than 81 hours of work a week.
Harrington, an hourly employee of the city, grossed $134,890 in wages last year. By comparison, the chief of police position in Great Falls was recently posted at $120,000 annually.
"As (Harrington was) an exempt employee, I question why this position would not be salaried," Crosby said in her report.
Department pay records and time sheets show numerous days when more than 24 hours per day were being reported between multiple officers.
The report says that communication between changing shifts, training, court attendance and administrative duties do necessitate some overlap among officers, yet on multiple occasions in November and December more than 35 hours were reported in one day. In December alone, 15 days had 35 or more hours being reported.
Yet multiple officers told investigators that call volume is not significant. Several stated that depending on the time and day, they may receive no calls the entire shift.
Harrington claimed the long shifts were the result of empty positions within the department. Officers and East Helena Mayor James Schell claimed to have confronted Harrington about why hiring for the open positions was not moving forward, and Harrington claimed he was not receiving qualified applicants.
After Harrington resigned and his office and desk were cleaned out, more than 20 job applications were discovered.
"I am at a loss for why Harrington would have been sitting on these applications and it is clear EHPD hiring policies were not being followed," Crosby states in her report.
An environment of isolation
The Crosby report details Harrington's meticulous efforts to isolate members of his department from everyone else, including neighboring law enforcement agencies, human resources staff and even each other.
Those interviewed said Harrington would often speak poorly about other employees, calling into question their work, in what the report describes as "an attempt to turn them against each other."
The report says he also cast doubt on other law enforcement agencies and city employees, "causing his staff to be cautious in trusting or working with these individuals," the report states.
Harrington had everything go through him, the report states. Employees were not communicating with others, facilitating the isolation.
Harrington also reportedly engaged in questionable surveillance of his employees. He installed cameras in the department that he could monitor remotely and installed GPS devices in each patrol car set up to alert him when the vehicles engaged in various actions.
"(Department employees) noted he would often make comments about the things they had done in the office, which he would only have been aware of if he was watching them on video," the Crosby report states.
In December 2019, the department hired a part-time administrative support specialist. That part-time employee was laid off three months later for reasons related to the COVID-19 pandemic with no apparent involvement of human resource staff.
Schell said he inquired multiple times with Harrington when the individual would return to work, and Harrington reportedly said the individual was afraid to return to the office because of COVID-19. That individual told investigators they never requested to be out on leave due to concerns over the virus, and human resources staff expressed frustration for not having any input in the leave, according to the report.
"What became apparent from my investigation was Harrington was successful, unbeknownst to the officers, in creating an isolated environment in the EHPD in which he strove to alienate employees from other city employees and their own co-workers," Crosby states in her report.
Outdated policies, lack of training
The Crosby report noted that the beleaguered police department is suffering from severely outdated and unorganized policies and procedures, many of which were drafted more than 15 years ago and were taken straight from larger police departments that look entirely different from East Helena's.
Furthermore, it is unclear if the numerous unsigned, undated department directives given out were even implemented.
For example, the department's "Firearms - Directive" was lifted from the Annapolis Police Department and still had an "Annapolis Police Department Off-Duty Firearms Request" form and "Annapolis Police Department Approved A.S.E.T. Firearms" list attached to it.
"Effort need to immediately be undertaken to update the department's policies and procedures to make certain they are crafted specific to the needs of the EHPD and East Helena community," Crosby recommends in her report.
In addition to outdated policies and procedures, the department apparently lacks meaningful training opportunities for its officers.
One individual interviewed described the department as the "blind leading the blind," and several individuals expressed the feeling that they lacked sufficient training before being required to patrol on their own, leaving them feeling unsafe.
The department purchased a software suite designed to assist in field training, but it is unclear if it is being used or implemented in any way.
Officers interviewed stated they had requested training assistance from neighboring law enforcement agencies, but that Harrington ignored the requests.
With the department without a chief and field training duties placed in the lap of an officer who "only recently graduated from the Montana Law Enforcement Academy," the report states that the situation is even more concerning.
A breakdown in leadership
According to Montana law, supervision of any police department is the responsibility of the mayor, who appoints all members and officers. These appointments are made by the mayor and confirmed by the city council.
These appointments cannot be made until the applicant is given the thumbs up by a police commission, an oversight panel required by state law in all cities with an organized police department with three or more full-time law enforcement officials.
In interviews with current and former East Helena police officers, Crosby determined there is a "complete lack of presence of a police commission" within East Helena. Officers interviewed said they "had no knowledge who is on the police commission, or even if one exists," the report states.
Schell told investigators that the police commission has historically not been heavily involved in the department's hiring process.
"This is surprising because not only is a police commission involvement statutorily required, it also specifically provided for in the EHPD's own policies," Crosby states in her report.
The report also determined exit interviews of outgoing officers while conducted by city staff, "appear perfunctory at best."
A former EHPD officer whose name was redacted from the report told an investigator they submitted a four-page letter addressing "relevant and concerning reasons for (their) departure," the report states.
"My investigation demonstrates that much of the behavior (the former officer) objected to has yet to be addressed, which would lead me to conclude that no investigation or follow up of the issues (the former officer) raised was conducted," Crosby wrote in her report.
She states the letter was also shared with Harrington, who shared it with the rest of the department, a move out of step with standard human resources practices.
Schell conceded to investigators that he "trusted Harrington too much."
"Of course, while trust is necessary and micromanaging is never recommended, it is my opinion that necessary management oversight by the Mayor was lacking here," Crosby reported. "It is frankly surprising that the City did not address the significant financial resources that were being expended by the department."
Stalled negotiations
According to the Crosby report, East Helena engaged in negotiations with the Lewis and Clark County Sheriff's Office to provide law enforcement services in the city for a three-year period, which would give the city time to shore up its force and hire a new chief.
The agreement would have provided full-time staffing and leadership within EHPD, including the addition of a sheriff's deputy and sergeant to its ranks. The sergeant would have acted as an interim chief.
The agreement would also have provided shift coverage within the city limits.
It also called for the establishment of a public safety committee that would be used to address potential disputes under the agreement that the sheriff and mayor could not resolve.
Those negotiations have stalled, according to Crosby and Lewis and Clark County Sheriff Leo Dutton. It is unknown how the city intends to proceed with staffing its police department.
Officers within EHPD told investigators they welcome such an arrangement, and that the sheriff's office could help them to get the necessary training they need.
"I would encourage the city to re-engage the LCSO regarding the agreement," Crosby stated in her report. "Having several years to focus on development and stabilization of the department would be a benefit to not only the city, but the citizens of East Helena."
Corsby's investigation lasted about a month and cost the city $13,963.67.
Schell released a statement regarding the report late Thursday afternoon.
"I take these very important outside investigations extremely seriously as I know the City Council and residents do," Schell's statement reads. "I also take full responsibility for any shortcomings in my leadership that led us to this point and will concentrate my efforts on working with the staff and Council to review and implement the recommendations of those investigations into the City's policies and procedures moving forward in an honest and transparent fashion. As is the city staff and City Council, I am committed to building on the existing Police Department members and providing the community with an ethical, well respected East Helena Police Department."