A replica of a world-record bighorn sheep ram skull found in Montana was presented to Gov. Steve Bullock this week to display in the governor's office permanently. 
The sculpture is based on the skull found on Wild Horse Island on Flathead Lake in November 2016. Montana Fish, Wildlife & Parks officials retrieved the skull, which weighs some 48 pounds, and submitted it to Boone and Crockett to be measured. In 2018, Boone and Crockett declared the found skull to be the world record.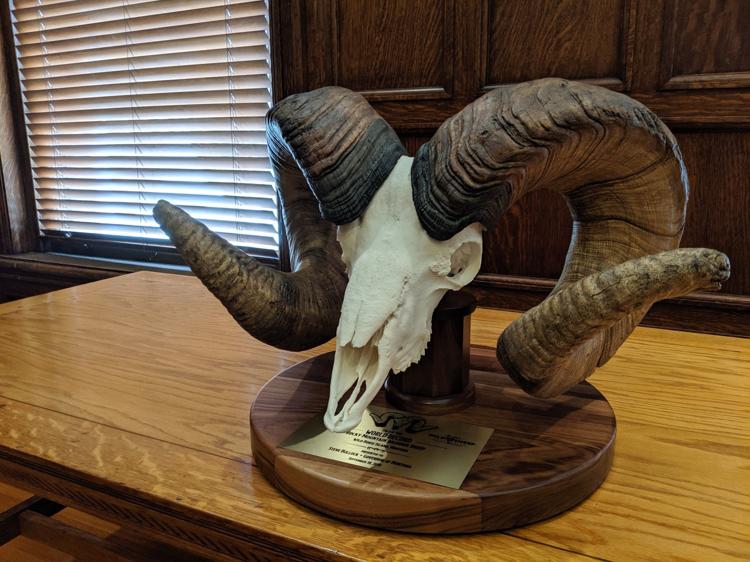 With a curl length of 216 3/8 inches, the skull beat the previous record by over six inches. The previous record ram was also a found skull, from a bighorn sheep that was hit by a car in Alberta in 2010. 
Gray Thornton, president and CEO of the Montana-based Wild Sheep Foundation, presented the replica to Bullock. The Wild Sheep Foundation is an 8,200-member group focused on conserving wild sheep habitat and aims to put and keep wild sheep in the mountains.
"When this ram, a pick up from Wild Horse Island, was certified by the Boone and Crockett Club as the new world record at 216 3/8 inches ... our fine governor was there at WSF HQ to celebrate this ram and the conservation success of the North American wildlife conservation model," Thornton said.
Bighorn sheep aren't native to the 2,000-acre island that reportedly got its name from Kootenai Indians using it to keep their horses safe there from raiding Blackfeet.
You have free articles remaining.
The first record of bighorn sheep on the island dates back to 1939, when a ram and a ewe were ferried across the water to its shore. In 1947, two rams and two ewes from the Rocky Mountain Front's Sun River herd were released on the island.
The bighorn sheep herd is kept at somewhere between 100 and 125 animals but has provided over 500 animals for research and to augment herds in the wild throughout the state.
The skull replica was the centerpiece of the day's ceremony, but the Wild Sheep Foundation also announced they had sold the other replica skulls in auctions throughout the United States to raise $36,000 for Montana State Parks and Wild Horse Island. 
Bullock said he was proud to receive the gift from the Wild Sheep Foundation.
"It's a reminder of conservation efforts in this state and the legacy of North American wildlife conservation model of hunting and wildlife preservation," Bullock said.
The replica skull will become a permanent fixture in the governor's office, although the display placement has not yet been confirmed. 
Brian Solan, executive director of the Wild Sheep Foundation, joked that if a governor from Montana ends up in the White House, another replica could be made for the Lincoln Bedroom.