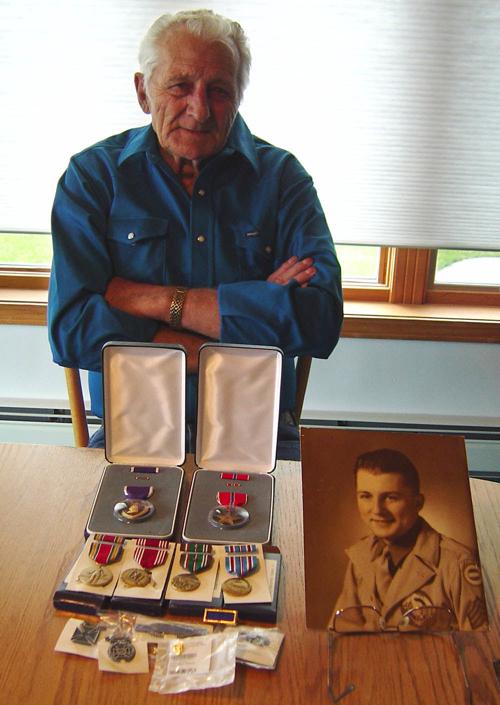 Today marks the 76th anniversary of the D-Day Invasion of Normandy. On June 6, 1944, the largest military operation in world history — about 175,000 American, English and Canadian troops — were involved in the assault. Approximately 7,500 Allies lost their lives in the first hour of the attack.
One of the first guys to get involved with the D-Day invasion was Helena's own Wayne Tuttle (1921-2011). A paratrooper with the 101st Airborne, his C-47 airplane actually left England at 1000 hours the night before, on June 5, and a couple hours later he was on the ground, about 20 miles behind enemy lines.
On June 12, 1944, Tuttle, who had been severely injured by machine-gun fire and weakened by six days without food, crawled back into the sanctuary of the Normandy beaches then occupied by the Allies. After six days of combat, for all intents and purposes, the war was over for Sgt. Tuttle.
Tuttle was born in Zillah, Washington. The family soon relocated to Pendleton, Oregon, where Wayne grew up as a cowboy, working the spread on horseback and living in a tent up in the eastern Oregon mountains every summer.
Since his mother passed away about a month before the Japanese attack on Pearl Harbor on Dec. 7, 1941, he was eligible for a deferment to help out with the family. "But I wanted to serve, so I enlisted in the U.S. Army's Air Force, volunteering for the paratroopers," Tuttle related during an interview in 2004.
He went to basic training and jump school at Camp Toccoa and Fort Benning, and then on to Camp McCall for infantry training. Tuttle cadred-out with the 506th Regiment, 101st Airborne. Although he admitted to being a little out of his element at first — a cowboy jumping out of an airplane — he got used to it pretty quick and went on to perform a total of 109 parachute jumps.
Tuttle was reissued to casual company in Camp Shanks, New York, where he was on the verge of being discharged to go back home and help with his dad's ranch when a lieutenant asked the fateful question: Are there any jumpers here?
"I made the mistake of saying yes," Tuttle recalled, and the next thing he knew he was on a ship headed for England with nothing but his fatigues, not even a duffle bag. Forty-four days later he landed in England, a member of the 502nd Regiment.
Although Tuttle joked that while in England the guys did "most of our training at the Oxford Arms Bar," the paratroopers from the 101st were in phenomenal condition from their intense combat workouts.
In the book "Band of Brothers," which chronicled the exploits of E Company, 506th Regiment, 101st Airborne, Stephen Ambrose writes, "…the Department of the Army had Strayer's 2nd battalion take a standard physical fitness test. The battalion scored 97 percent. As this was the highest score ever recorded for a battalion in the army, a Col. Jablonski from Washington thought Strayer had rigged the score. The 2nd ran the test again — officers, men, service personnel, cooks, everybody — and scored a 98 percent."
The night before the D-Day assault, as part of the Regimental S-2 Intelligence section, second battalion, division G2, Sgt. Tuttle lifted-off for France. Their assignment consisted of jumping behind enemy lines to gather information, capture and knockout the Nazi coastal guns, and delay the Germans from getting to the coast.
Tuttle was aboard one of the first three planes to reach Normandy, where they encountered heavy anti-aircraft flak. Their jump zone was supposed to be between a reserve Nazi division and Ste. Mere-Eglese, but the C-47 was off-course enough that the 18 men actually landed in the German's bivouac zone, missing the target area by about two miles.
A couple nights later, on June 7, Tuttle was first scout as the 10-man squad worked its way back to the beach, when they were surprised by a Nazi machine gun roadblock at 2 a.m.
Eight of the 10, including their lieutenant, were killed instantly. Tuttle was struck in the leg by a round, but managed to crawl about 100 yards from the attack, where he became sick and then hid out until it was safe to try and get back to the Allies.
The machine gun bullet had hit the paratrooper in the calf, ricocheted off his shinbone and traveled down his leg, tearing up flesh and muscle. For the next five days, Tuttle crawled the 10 miles back to the French coastline on one leg, traveling only at night and hiding out all day in the hedgerows.
The Germans had literally flooded the area, the result being that most of his painful journey passed through cold water in the dark.
"I could only think of one thing," Tuttle related, 60 years later, "to get Mrs. Tuttle's little boy Wayne back to the coast."
With no food - "I threw the three tins of K-rations they gave us away as soon as we landed. I knew I wasn't going have time to eat" - he recalled every once in a while he would encounter a Frenchman, who would provide him with gulps of Cognac or Calvados.
On D-Day plus 6, the tough Oregon cowboy finally reached the American lines. He was sent to the hospital in England, where the doctors wanted to amputate his leg, which was afflicted with gangrene and was black from his toes to his knee.
"But I told them no. Let the tail go with hide," Tuttle said. The limb was spared, although leaving a horrible scar that ran the full length of his lower leg.
The wound would not stop draining and he sustained three operations over the next six months. During his hospital stay, he went several months without pay. After a brief investigation, he was told that the reason he wasn't being paid was because he had been reported absent without leave.
Apparently there had been a snafu in the paperwork after Camp Shanks, but things got worked out and Tuttle soon started getting his paychecks.
"Here I almost got killed, and they thought I was AWOL," he laughed.
He was shipped stateside and after recovering enough to walk after four more months in the hospital in Vancouver, Washington, he returned to service, training parachute jumpers until his discharge in October 1945.
Tuttle was awarded the Bronze Star, the Purple Heart, the Presidential Unit Citation, the Combat Infantry badge, the World War II medal, the American Theatre of Operations badge, the European African Middle Eastern Campaign citation, the Good Conduct Medal (which he said he doesn't think he deserved), Parachute Wings and the Rifleman (Carbine) badge.
Returning to Oregon, he worked several jobs, including for the Forest Service and as a state policeman. He then operated a sheep and cattle ranch near Umatilla, Oregon, before coming to Montana.
Prior to retirement and moving to Helena, Tuttle was employed as a tool-pusher and a drill foreman in the oil fields in Montana, Colorado, Wyoming and Alaska.
"I still don't know how I survived, other than the cognac and prune brandy the French gave me," said Tuttle in 2004, reflecting back to 1944. "And I was disappointed that I couldn't get back into the fight after I got out of the hospital. I wanted to help my buddies win the war."
There were at least 33 other guys from the Helena area, or who moved here after World War II, involved with the D-Day invasion, including Tim Babcock, Don Beaudette, Charles Brown, Frank Brownback, Edwin Clark, William Coldiron, Emmett Colley, Gene Fehlig, Bill Geghart, Ed Gilleran, Peter Hamper, Cort Harrington, John Harrison, Ralph Henry, Jerry Homstad, John Horton, Bill Hunt, Don Jenkins, Lowell Johnson, Willis Kroll, Lloyd Lamb, Dan McCarthy, Bill Plank, Ludwig Rigler, Milt Rudio, Frank Sasek, Charles Scott, Dick Stafford, Lloyd Tilton, Dave Warn, Ray Wertz, Ken Yahvah and Hartzell Young.
This article first appeared in the IR in 2004.
Curt Synness, a Navy veteran, can be reached at 594-2878 or curt52synness@gmail.com. He's also on Twitter @curtsynness_IR
Get local news delivered to your inbox!
Subscribe to our Daily Headlines newsletter.