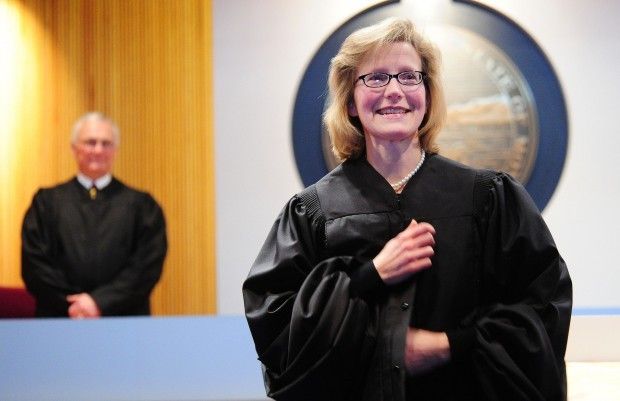 Montana citizens have had the right to counsel in criminal cases for decades, but not in civil cases -- until now.
The Montana Supreme Court ruling in the Matter of the Adoption of A.W.S. and K.R.S. on Dec. 2 decided "state constitutionally equal protection" guaranteed the right to counsel of an indigent mother in a private termination-of-parental rights proceeding.
Lewis and Clark District Judge James Reynolds said the ruling means parents now have a constitutional right to an appointed attorney to represent them in private cases involving adoption or termination of parental rights.
"The district court judges constantly talk about how many people come here without lawyers. It makes us nervous," said Reynolds, who had a private practice for more than three decades before becoming a judge four years ago. "People ought to have a lawyer when they go to court. I would never try to take out my own appendix."
Montana Supreme Court Justice Beth Baker said parents subject to state-initiated termination of parental rights — regarding abuse and neglect proceedings — have had a state statutory right to counsel, but parents subject to adoption or private termination of parental rights have not.
Baker said people have had the right to counsel in criminal cases, but not in civil cases.
The U.S. Supreme Court, in the 1963 case of Gideon v. Wainwright, said individuals charged with serious crimes must have a right to counsel. The court later expanded the right to juveniles and people charged with misdemeanors.
Reynolds said he recently presided over a case, involving a mother wanting to terminate the right of her child's birth father. The mother obtained a lawyer through the Montana Legal Services Association, but the father was unable to use the services since he had been "incarcerated" or in a prerelease center.
"Parents have a fundamental right to raise their kids, and kids and a fundamental right to be raised by their parents," said Reynolds, who helped the father get a pro bono lawyer before the Montana Supreme Court ruling. "Everyone should be on equal footing. I want an even playing field."
Erin Farris-Olsen, the former administrator of the Montana Supreme Court Court-Help Program and current equal justice coordinator for the State Bar of Montana, said she's interested in the ramifications of appointed counsel for civil cases.
"This is a step in the direction of meeting the unmet civil needs in Montana," Farris-Olsen said. "How can we implement this? The public defender's office is busy. Who will step up to do cases pro bono?"
Many low-income people can't afford an attorney for civil cases, and the pro bono legal aid is often understaffed, said Reynolds, who thinks he will use the legal services referral listing in the district until other options appear.