How healthy are the young people of Lewis and Clark County? It's important to know, since healthy habits are most likely to last if we learn them early in life. Bad habits, on the other hand, can cause lifelong harm.
One way we at Lewis and Clark Public Health track the health of our high school students is through the Montana Youth Risk Behavior Survey (YRBS). This survey is offered every two years by the state Office of Public Instruction in schools that agree to participate. The survey asks students to report anonymously about their physical activity; nutrition; sleep habits; drug, alcohol, and tobacco use; driver safety; sexual behavior; and experiences with violence.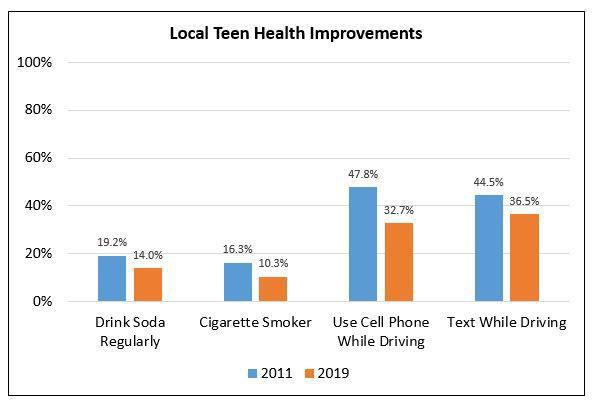 We in the health department rely on data from the YRBS survey to establish where we most need to focus our efforts to improve the health of our youth. Fortunately, our local high schools have participated for several years, so we can see trends as they develop.
Recently, we pulled together data from 2011 to 2019 to get a picture of how our high school students are doing when it comes to risky health behaviors. We were pleased to find that youth are making some positive changes: teens are drinking a bit less soda, smoking fewer cigarettes, and using their cellphones less often to text or talk while driving. These are behaviors we should encourage them to continue.
Unfortunately, we saw some trends that were far less hopeful. It will take a community-wide commitment to turn these around.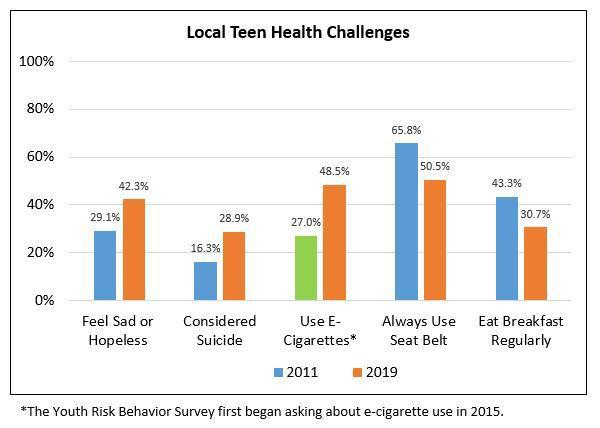 Depression and suicide
One of the most disturbing trends we saw was in the number of youth who felt depressed and suicidal. Forty-two percent of teens in 2019 said they felt so sad or hopeless almost every day for two weeks or more in a row that they stopped doing their usual activities. That compares to 29 percent in 2011. Almost 30 percent said they seriously considered attempting suicide, almost double the 2011 statistic.
The percentage who actually attempted suicide remained stable, at about 13-14 percent. Of course, that's still more than we can bear.
Untreated depression in adolescence has been associated with a variety of problems in adulthood, including lower educational attainment and poorer physical health. But depression can be hard to diagnose in teens because adults often expect them to be moody as part of normal adolescent development.
To learn more about recognizing depression in teens and what to do if you suspect it, sign up for a Teen Mental Health First Aid training offered through the Lewis and Clark Suicide Prevention Coalition. The next class is scheduled for Sept. 13 and 14. To learn more, visit https://lcsuicideprevention.org/upcoming-training-opportunities or contact Jess Hegstrom, suicide prevention coordinator at Lewis and Clark Public Health, 457-8970.
E-Cigarettes and vaping
You have free articles remaining.
Another shocking statistic was the number of teens who use electronic cigarettes or other vaping products. Nearly half reported that they use these devices, compared to 27 percent in 2015, when YRBS first asked the question. On the other hand, the use of cigarettes and smokeless tobacco is gradually declining. Unfortunately, it appears that youth are just replacing one harmful tobacco product with another.
While research on the effects of e-cigarettes is ongoing, the Centers for Disease Control and Prevention (CDC) say this is the "bottom line:" their use is unsafe for kids, teens, and young adults. Along with other harmful substances, most e-cigarettes contain nicotine, which is highly addictive. It can harm adolescent brain development.
Seat belt use
While local teens seem to be getting the message about the potentially deadly consequences of distracted driving, they're often not bothering to buckle their seat belt. Only half of the high school students surveyed in 2019 reported buckling up every time they drove, compared to two-thirds in 2011.
Motor vehicle crashes are the leading cause of death for U.S. teens, according to the CDC. Seat belt use is one of the most effective ways to save lives and reduce injuries in crashes.
Research shows that teens whose parents set rules and monitor their driving are twice as likely to wear a seat belt as teens with less involved parents.
Nutrition
The 2019 survey indicates that more local high school students are dashing off to class without breakfast. This year, almost 70 percent said they had not eaten breakfast in the past week, compared to 57 percent in 2011.
Healthy eating in childhood and adolescence is important for proper growth and development and to prevent various health conditions. Eating a healthy breakfast has been associated with improved memory and other brain function, reduced absences from school, and improved mood, according to the CDC. Studies have shown that eating breakfast may also help to prevent type 2 diabetes.
Every parent wishes for a healthy child. The value of the YRBS survey is that it suggests where we can put our time and effort to get the biggest bang for our buck.