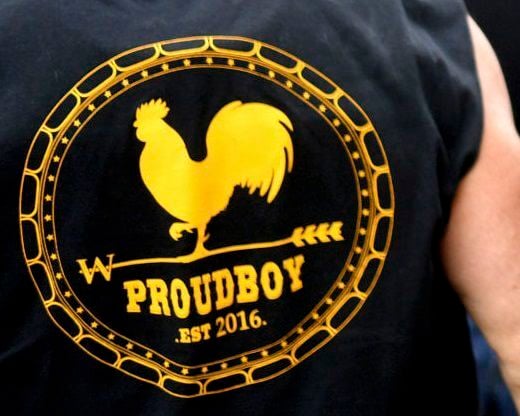 A Proud Boys member said he will strip the group's name from a flyer advertising a July 24 poker run to benefit an East Helena veterans organization, which has objected to being associated with the event.
Tommy Reeder of the Proud Boys said he still hopes to donate proceeds from the event to VFW Post 10010 in East Helena.
Jeff Schepp, the post commander, said he was unaware until he was contacted by the Helena Independent Record that the VFW was associated with the event sponsored by the far-right group that has made headlines for entering the fray in support of former President Donald Trump. The Proud Boys describes its members as "Western chauvinists" and has been identified as a hate group by the Southern Poverty Law Center.
"I feel like I am between a rock and hard place," Schepp said. "I know of the Proud Boys and that many people think of them as a hate or racist group."
He said he did not know that Montana had a local chapter or who from the post gave the group permission to put the VFW on the flyer. He said he planned to contact state VFW leadership to discuss the issue further.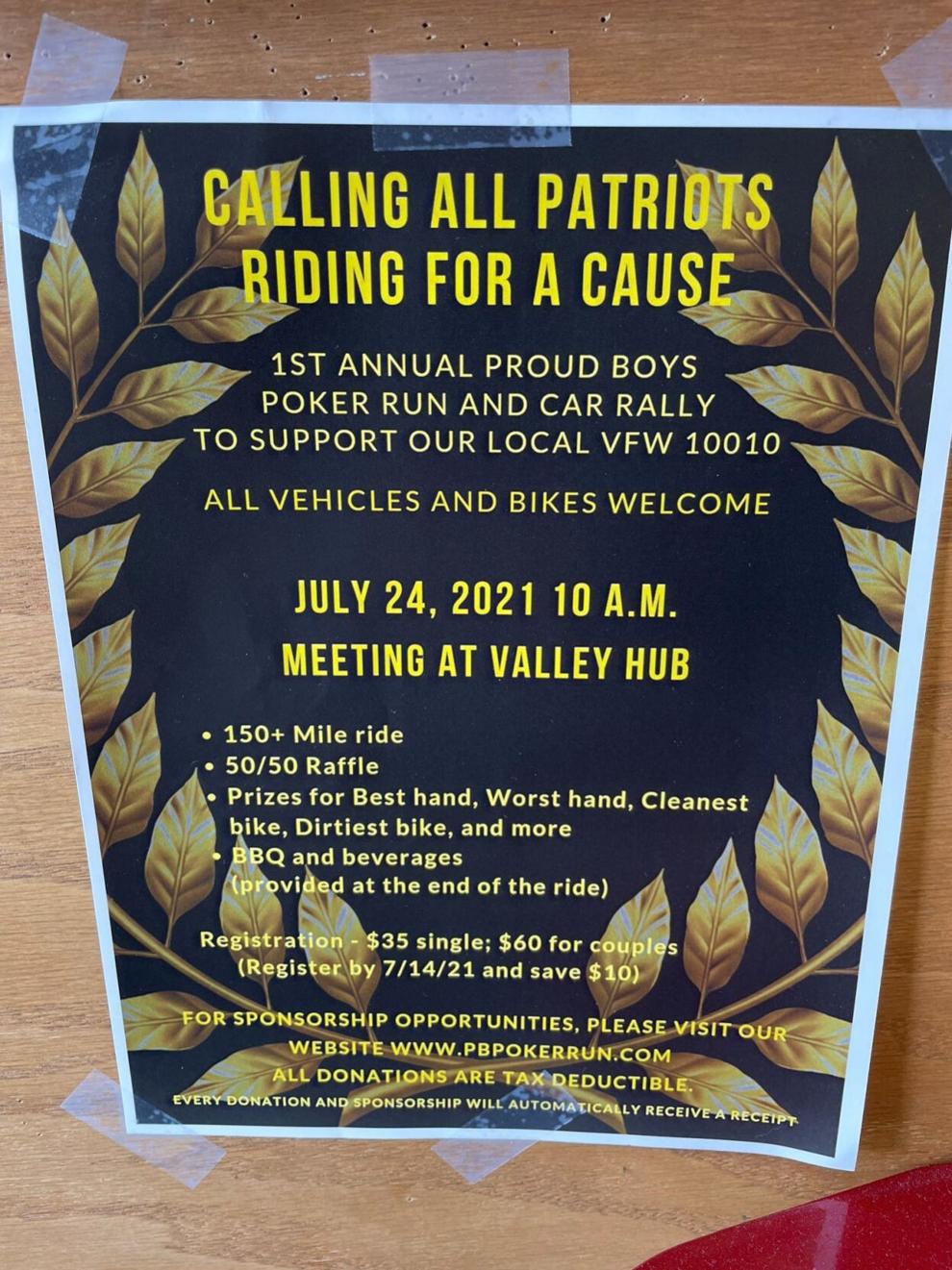 "Calling all Patriots Riding for a Cause," states a flyer that was posted at a Helena eatery. "1st Annual Proud Boys poker run and car rally to support our local VFW 10010."
The event includes a 150-plus mile ride, a 50/50 raffle, prizes, barbecue and beverages. Tickets are $25 per person or $60 for couples. It also encourages sponsorship opportunities at pbpokerrun.com. The website features a video of the American flag and the playing of the "Star-spangled Banner."
Reeder is a former Marine who said he found a brotherhood in the Proud Boys. "They saved me from myself in more ways than one," he writes on the pbpokerrun.com website.
He said the fundraiser was never officially a Proud Boys event, and he had approached national leadership and was told it was his decision as to whether to attach the Proud Boys name to it.
"Is it a Proud Boys event? Absolutely not," Reeder said.
"They left it up to me," he said. "They said you are your own man and you know the consequences. I know, but I know the benefits as well."
Reeder, who goes by "T. Gunz" on the website touting the poker run, said he thought the Proud Boys name could be a draw and estimated there are 50-75 Proud Boys members in Montana.
"We're not a huge organization," he said. "We are just guys who have the same beliefs in our country and where we'd like to see it go."
He said that if Trump had not befriended members of the group, so to speak, they would be heroes right now. Reeder said the mainstream media tried to derail Trump.
"He mentioned our name and we were done," he said.
"We are just like you," Reeder said. "We love our country, almost to a fault. If you befriend us and we befriend you, we will have your back to the bitter end."
"I took this bull by the horns and said I am going to do it. I love my veterans," he said, telling those who criticize the Proud Boys: "It's a free country, but please educate yourself before you slander."
He denied claims that Proud Boys is a racist organization, noting the ethnic diversity within national leadership. He also said the event was focused on helping heroes.
"Any time I can raise money for veterans I will try to do it," Reeder said.
He said he did not realize he had to approach the actual post commander. He said his wife approached a worker in the bar and they agreed. Reeder said he has since apologized profusely. He said he would like to have the poker run, remove the Proud Boys' name from the event, and make a donation to the VFW.
"This is not about the Proud Boys, it is about the veterans," Reeder said.
Schepp said the post's house committee will meet in July to discuss the issue.
"We're out to serve vets," he said, but he added the VFW did not want controversy with donations.
The Southern Poverty Law Center, which tracks and exposes the activities of hate groups and other domestic extremists, listed the Proud Boys as one of six hate groups in Montana.
They said the Proud Boys are "self-described 'Western chauvinists' who adamantly deny any connection to the racist 'alt-right.' They insist they are simply a fraternal group spreading an 'anti-political correctness' and 'anti-white guilt' agenda."
They came to the forefront in a 2020 debate with Democratic candidate Joe Biden, when Trump was asked by moderator Chris Wallace to disavow white supremacist and militia groups. The Proud Boys were specifically mentioned.
"Proud Boys: Stand back and stand by," Trump said. "But I tell you what, I'll tell you what, someone has to do something about Antifa and the Left, because this is not a right-wing problem ... this is a left-wing problem."
The New York Times has reported the Proud Boys are disavowing Trump, claiming he did nothing to help those in the group who face legal action for the Jan. 6 insurrection which resulted in violence at the Capitol.
The New York Times says the Proud Boys was founded By Gavin McInnes in 2016 as a club for men. McInnes was also a founder of the online publication Vice. Members describe themselves as "Western chauvinists" and appeared "eager to engage in violence and who frequently espoused anti-Muslim and anti-Semitic views," the Times reported. The Proud Boys had supported Trump since he took office.
Reeder disagreed with the allegations.
Two East Helena men have been arrested in connection with the Jan. 6 insurrection in Washington, D.C. Jerod and Joshua Hughes were allegedly among the first into the Capitol building. But their attorney argues the men went to Washington, D.C., on their own and are not affiliated with the Proud Boys or Oath Keepers.
"They did not egg people on, they are not members of the Proud Boys," Palmer Hoovestal said in February.
Travis McAdam of the Montana Human Rights Network said Proud Boys seems to be making its presence known in Montana. He said that for a while, members would go out of state to participate in activities.
"Over the past year and one half their numbers have grown where they seem interested in going out and doing things in the community," he said.
Adams said he has encountered people who say they have had contentious interactions with members in public places.
He said he was not surprised to see the Helena group is doing more.
"They have an organized chapter here and have been active in the real world," he said, adding the Proud Boys participation in the Jan. 6 insurrection on Washington, D.C., and action in the Pacific Northwest.
"It's definitely concerning," he said.
He said the poker run, from his perspective, is a "legitimizing tool they are trying to use. There is quite a bit of political baggage in being with Proud Boys. To say raising money for the VFW is to make it appear they are better than they really are," McAdam said. "I look at it more as a PR strategy that lets them frame themselves in a better light."
Other hate groups the Southern Poverty Law Center lists for Montana include Act for America, which is an anti-Muslim group based in Whitehall; the statewide group American Front, which is described as a racist skinhead organization; and the White nationalist groups American Freedom Party, International Conservative Community, and the Last Chance Patriots, which is anti-Muslim and based in Dayton.
Assistant editor Phil Drake can be reached at 406-231-9021.