On the walls just inside the Montana Historical Society hang 74 portraits of American Indians, each painted carefully and accurately by the hand of Joe Scheuerle.
"He is remarkable but not as well-known as other area artists," said Jennifer Bottomly-O'looney, senior curator at the Montana Historical Society.
The art is part of the Montana Historical Society's newest exhibit, Joe Scheuerle and his Remarkable Indian Gallery.
The artwork has two sides. One side, a gouache (opaque watercolor) portrait of a stoic American Indian dressed in festive regalia. The other side, a whimsical sketch, doodles and commentary that lend insight to what may have taken place before, during or after the sitting.
The art is part of the Montana Historical Society's newest show, Joe Scheuerle and his Remarkable Indian Gallery.
While painting Ragged Robe at Fort Belknap Reservation in 1914, Scheuerle wrote on the back about the heat, "all of men discarded most of their clothes, & sat around nearly naked." Except for himself, he was fully clothed struggling with the mosquitos and depicted himself in a hat covered with mosquito netting sitting at his easel.
While it is obvious that Scheuerle had playful insight and exchanges with his subjects, it never showed through in the portrait. It was his intent to capture the American Indian in a way that was, in his words, "all finished and done honestly and carefully from life and on the spot."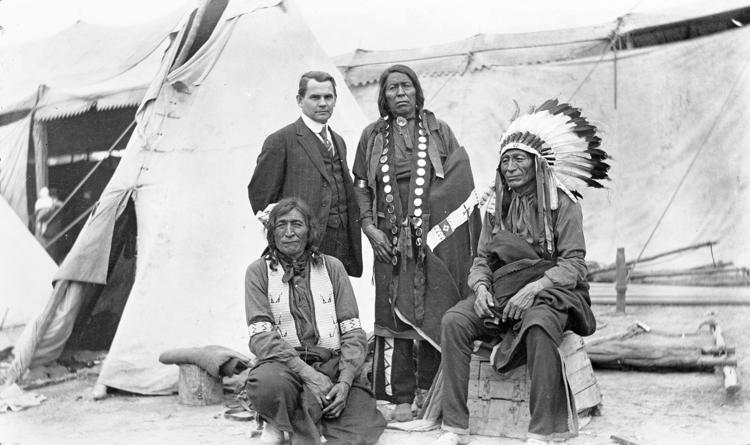 Times were tough for the American Indian, and Scheuerle may have seen it as his duty to help share their plight through his art. Bottomly-O'looney said the overall thought at that time was that the race was disappearing. Scheuerle wanted to preserve them.
His efforts were taken seriously and Scheuerle was invited into some of the sacred circles and allowed access to tribal leaders. On the back of the portrait of Chief Big Moon, he wrote that the chief made him a tribesman of the Blackfeet clan.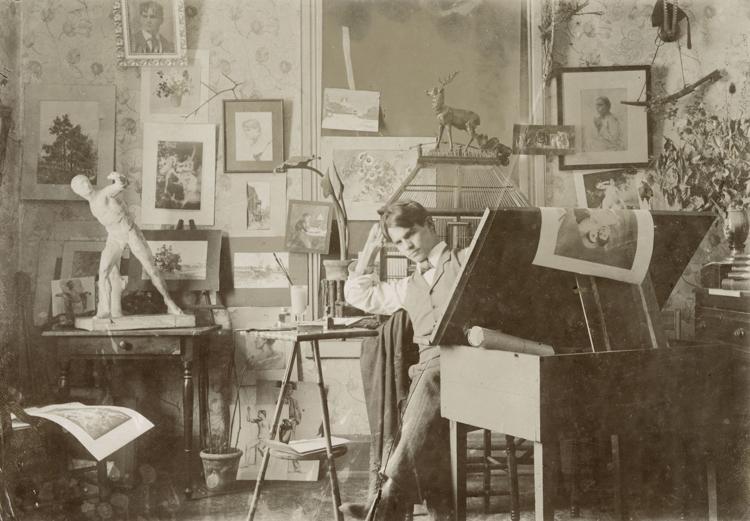 Painting the American Indian was a longtime dream for Scheuerle. He was born to German parents while on vacation to Vienna, Austria. When he was 10, the family moved to Cincinnati, where he was enrolled in school. However, Scheuerle didn't speak English.
"Teachers placed him in the back of the classroom," said Bottomly-O'looney. "They allowed him to spend most of his time dreaming and sketching the Wild West."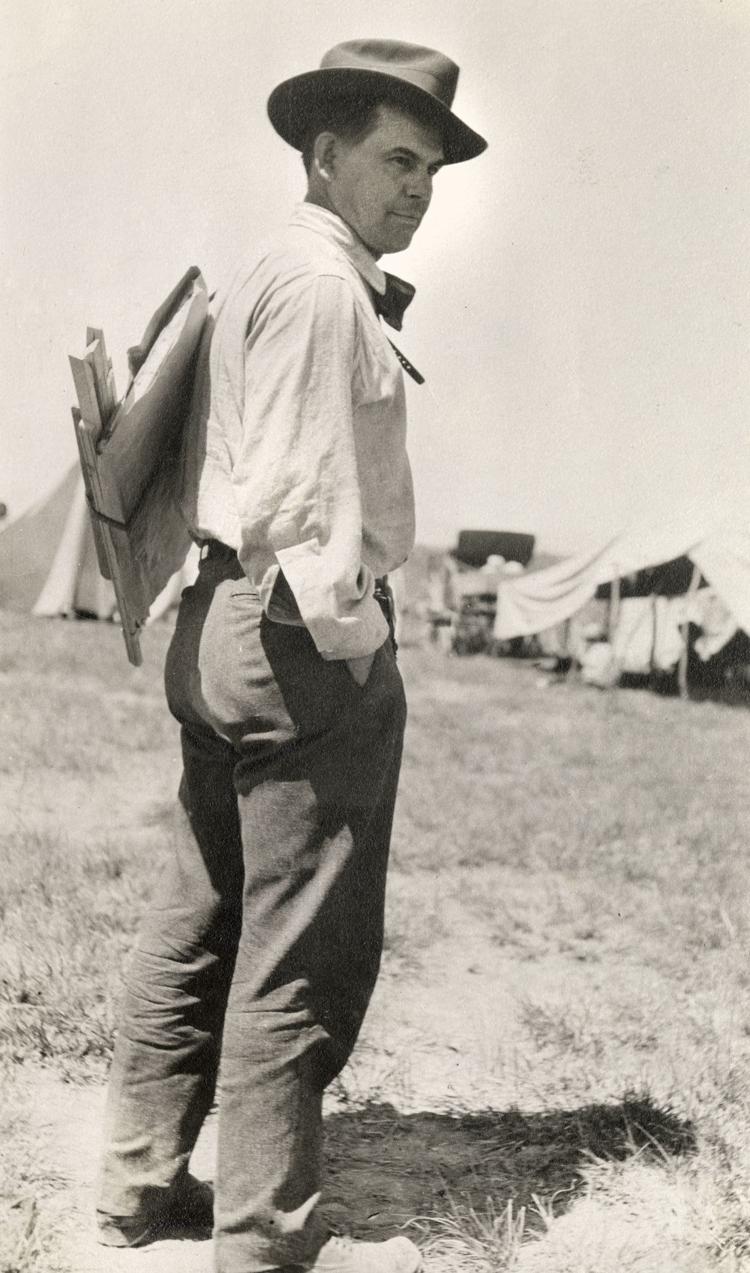 From 1892 to 1896, Scheuerle attended the Cincinnati Art Academy. As an adult, he became a commercial artist for a lithographic company, where he produced circus and "Wild West" posters. In 1900, Scheuerle moved to Chicago, where he got the opportunity to paint portraits of Indian performers traveling through the Windy City with the Buffalo Bill and the 101 Ranch Wild West shows.
Scheuerle married Carolyn Lohrey in 1904 and the couple had one daughter, Margaret. During his adult life, Scheuerle made many visits out west to paint. He made the Plains Indian the subject of his artwork and frequently took his wife and daughter with him.
On one of his visits, Bottomly-O'looney said, Scheuerle met and became friends with Charlie Russell. They liked to paint together and frequented reservations on the Fourth of July, during festivals.
Scheuerle last visited Montana in 1938. He suffered a fatal heart attack in 1948.
Throughout his lifetime, Scheuerle painted more than 200 painted portraits. It was never his intent to sell his art, as he considered each a special piece of a friend. Most of the collection was kept in the family and, over time, some has been dispersed among collectors. The artwork on display has been donated in half by Joe Scheuerle's grandson Bill Grierson and wife Pat, and the other half from collectors Alfred K. Jr. and Kathye H. Nippert.
While gallery space doesn't allow for every portrait backside to be on display, there will be a catalog available to visitors that shows the backside of each one.
The display opens with a reception at 5:30 tonight, Sept. 6, sponsored by the Montana Bankers Association. Joe Scheuerle and his Remarkable Indian Gallery is on display through December 2019. Montana Historical Society is located at 225 N. Roberts St. The entry fee is $5 per adult, $1 per child and $12 for a family. Visit mhs.mt.gov for information.