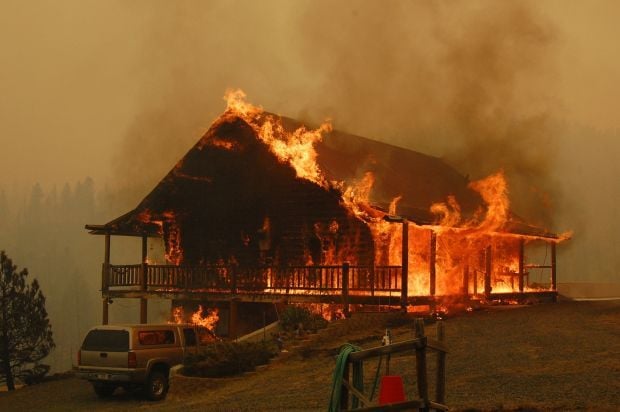 Helena and Colorado Springs, Colo., have much in common when it comes to topography — a similarity that worries firefighters here.
Forested hills help define both communities. Wild country lies just beyond city limits.
"The only difference is they had the fire, we haven't," said Pat McKelvey, the fire prevention and mitigation person with Lewis and Clark County.
Colorado Springs lost some 346 homes to a single fire that began June 23, 2012, and firefighters here are hoping to learn from that event to help prepare for one they foresee as a possibility in Helena's South Hills.
Fire officials in Helena have created a scenario on how a wildfire can come calling on Helena. The simulated event unfolds on an August afternoon. Lightning from an overcast sky would go unnoticed — just another summer thunderstorm passing through the area — were it not for the fire it creates.
By early evening, the fire is laying claim to parts of Helena. A dozen or more fire departments and trucks from state and federal agencies are struggling to keep pace with the shower of burning embers raining down upon the city.
McKelvey sees what happened to Colorado Springs as easily becoming Helena's reality too.
This potential is why fire officials from that Colorado city are being invited to speak in Helena on June 4. This is an opportunity to hear from them how they responded to the fire, McKelvey said and understand what went right and what went wrong.
But the 6:30 p.m. event at Helena Middle School isn't intended to be just fire managers talking among themselves. McKelvey, Helena Fire Chief Sean Logan and others who helped organize the upcoming meeting say they want the public to attend and ask questions.
What will the city do to stop the fire? What should homeowners do to make their property safer from wildfire? Will there be evacuations and where should everyone go? What should they take?
These are all the kinds of questions local fire managers say that they want to hear because they have answers, but not all of their responses will calm fears that people may have.
"They need to come and have an honest discussion with their city and county leaders," Logan said of why people should attend.
"If there was a fire, they'd fill that middle school," McKelvey said.
Residents of Helena think that because they live inside the city limits that they don't need to be worried, Helena's fire chief said. There's a fire department to call in an emergency.
"That's the mindset we need to change," Logan explained. "It can happen to you."
Sarah Elkins, a public affairs specialist with the City of Helena and assistant to City Manager Ron Alles, said discussing how wildfire could come to Helena is not intended to alarm people. Others of those involved in the discussion agree.
But the scenario paints a stark portrait that fire managers say will challenge them and law enforcement officers alike.
Nationwide, 60 percent of people who are advised to evacuate because of a wildfire initially refuse to leave, said Paul Spengler, the county's disaster and emergency services coordinator.
He has been at work to create evacuation points where people could go temporarily if forced to flee their homes in an emergency. These would be locations such as parking lots and churches but wouldn't provide services people would need.
In the event of a wildfire threatening the city, an evacuation on that scale would exceed what these places could offer. His advice is that people look to friends and family in other communities for temporary lodgings.
Part of the message that Spengler and fire managers want to convey to people is that Helena residents should begin to consider what they would take if told to evacuate.
State law won't allow officials to force people to evacuate.
"If an individual wants to stay, they have that right to stay," Logan said. "That's their choice."
But waiting will mean having to travel streets in town that may now be filled with others who initially resisted leaving. A photograph contained in the wildfire scenario shows streets with traffic at a standstill. Everyone is trying to get out at once. The air is milky pink with smoke and ash and reflects the glow of nearby fire.
That street could be Colonial Drive in the event of a fire coming toward Helena from the South Hills, McKelvey said.
The wildfire scenario was developed by Sonny Stiger, a fuels management consultant, and Rocky Infanger, the chief of the Wolf Creek-Craig Fire Service Area.
The weather earlier this month was a mirror image for that of August 8, 2006, a day used in creating the wildfire scenario that brings flames and smoke into Helena.
Logan looks at the initial slides in the presentation and points out that the weather conditions on May 13 were what would be expected on a typical August day.
The high temperature for that day was 87 degrees, the wind had some life to it and was blowing from 10 mph to 28 mph, gusting up to 49 mph. The minimum humidity was 11 percent — all conditions that matched or were close to those built into the wildfire scenario.
The afternoon wind is out of the southwest when lightning spawns the scenario's wildfire. The fire starts out with maybe just a small wisp of smoke amid the pines in the forest about a mile southwest of Unionville. Orofino Gulch is to the northwest of where the fire will begin its run, Dry Gulch is to the northeast.
The forest has a significant number of pine trees that have died as a result of a mountain pine beetle infestation. The the dead trees are just firewood waiting to be burned.
Helena lies to the northeast, just beyond Mount Helena and Mount Ascention.
Flames are moving up into trees and begin to leap from treetop to treetop, a phenomena known as a crown fire. A crown fire, the scenario notes, can com-promise the safety of both civilians and firefighters. The plume of smoke would be more noticeable by now.
In the scenario, the fire quickly grows to 180 acres and splits into two fires. By hour two, it's at 570 acres, about a square mile.
By 2 p.m., the flames are moving toward town at 1.6 mph through dry landscape.
For those who choose to evacuate, the route they will have to take will be determined by where the fire is coming from and where it's expected to go, Logan said.
The fire, now 3,190 acres, reaches Helena between 3 p.m. and 4 p.m., ac-cording to the scenario. It's moving along Davis Street, Oro Fino Gulch Road. By 5 p.m. the fire is on the city's southern edge and has grown to about 4,220 acres.
The scenario shows spot fires in town just east of the Capitol building, at Montana and 11th avenues, a couple of blocks up the hill from the City-County Building, Winnie and Oakes streets, and on Virginia Dale and Sanders streets among others.
These would be areas where firefighters could concentrate their efforts, but they won't be asked to risk their lives, Logan said. The goal at the end of the day is for the firefighters to be able to return to their families.
Homes burning in town, Logan said, would change everything for how the fire is managed.
"When homes become fuel, it's a dramatically different event," he said.
Much of the work to limit the fire's spread would be on its flanks and not directed toward its path. Helena probably has not been faced with this kind of potential since the 1800s, he added.
The slide show that projects the fire's advance says that 400 homes are ei-her in immediate jeopardy or have already been overrun as the fire enters its fifth hour.
The scenario assumes a change in wind between 5 p.m. and 6 p.m., pushing the fire east toward Interstate 15 and Montana City.
And this is where the simulation ends, but it doesn't conclude without offering hope for how to prepare for a wildfire.
There are measures that can be taken to protect properties, according to the scenario. Cutting down dead trees so the tops of the live ones that remain are spaced 15-foot to 20-feet apart will help defeat flames from dancing through treetops. Cutting off the lower branches of trees, up to a 6 foot level, is impor-tant to keep flames from climbing from grass and brush into trees.
Cleaning the forest floor of brush is another measure to slow the spread of a fire and prevent that crown fire from being sustained.
The City of Helena is working on a fuels reduction plan for the timbered slopes on the city's south and southwest sides.
Taking the recommended measures, the scenario notes, would keep the fire to about 3,140 acres by its fifth hour and help hold it at bay from entering Helena.
Fire managers want people to come to the presentation and hear what can happen and what their response needs to be.
Colorado Springs' experience offers Helena an opportunity to learn, McKelvey said.
"That's what we want, to learn from their experience and make ours better from that," he said.
"This could very well be reality," McKelvey added.