One captain is prepared to pass the torch to the next as two Helena High School speech and debate students prepare for the upcoming national tournament. 
Dan Ruether-Affor and Hannah Muszkiewicz are two of the school's finest, according to coach Jennifer Hermanson. Both will be traveling to Dallas on Saturday for the speech and debate national tournament.
"They're both extremely talented and hardworking," Hermanson said. "Dan is the outgoing captain and Hannah is the incoming captain, so they're both real leaders on the team."
Ruether-Affor was a senior at Helena High. He graduated just a few weeks ago and was on the speech and debate team throughout his time in high school.
"It doesn't really feel like high school is over yet, because I'm prepping for the next few weeks," Ruether-Affor said, a few weeks before leaving for nationals. The senior already has his college plans set up. He will attend Kalamazoo College in Michigan and intends to study biology. Ruether-Affor chose Kalamazoo because he wanted and out-of-state college experience. 
Muszkiewicz, a soon-to-be senior, said she has spent the past three years on the speech and debate team. She started in debate and her first opponent was Ruether-Affor.
"Dan was kind of my mentor when I started in debate," Muszkiewicz said. "He debated me first and came at me with no mercy. Since then he has helped me so much and it'll be weird to see him go."
Muszkiewicz described her first debate with Ruether-Affor as a "trial by fire," but their coach said she bounced back quickly.
"Hannah is the type of person that if she fails, she comes back even harder next time," Hermanson said. "Seeing the difference between people like Hannah and the more timid debaters has been a key to Dan's success. I've seen him take different approaches."
It was partially Ruether-Affor's help that led Muszkiewicz to be the next captain. Muszkiewicz is excited to take on the role and also found herself being more of a leader on the team during her junior year. 
"I found my event and put way more time into speech and debate," Muszkiewicz said. "I can see myself in a leadership role. I've mentored some of the younger students and I enjoy doing that. I'm the type of person who will watch a debate and then provide feedback."
Muszkiewicz's event is international extemporaneous speaking. The event sees participants choose one of three questions and have a limited amount of time to write and memorize a speech. This is very different from Ruether-Affor's event, world schools debate, which is a three vs. three team debate where teams are assigned the role of proponent or opponent. Contestants are also offered a consolation event if they don't place in their main event.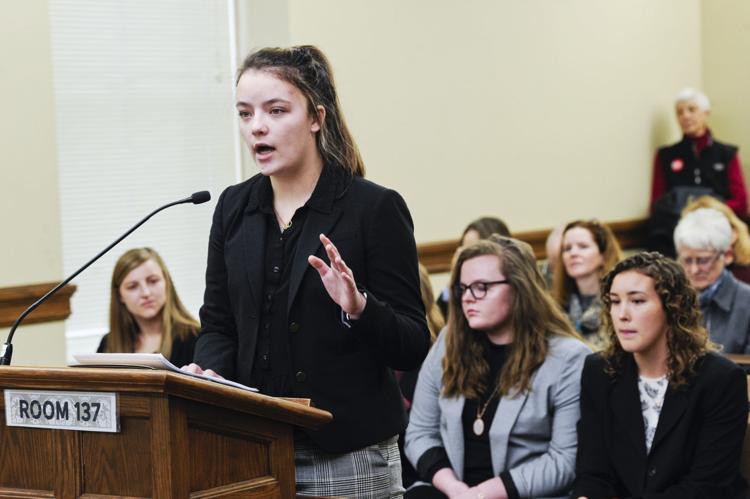 Both students aim to succeed on the national stage. They've come a long way from when they first began speech and debate.
"I saw a sign that said 'free pizza after school'," Ruether-Affor said. After the pizza was gone, Ruether-Affor discovered he had a talent and there were many topics that he wanted to explore in speech and debate, which led him to stick with it.
"I really kind of found my niche and a family in speech and debate so I will miss it," Ruether-Affor said. "But I know I'll be coaching in the Kalamazoo Urban Debate League, so I'll be okay." 
Muszkiewicz was encouraged to join speech and debate by her father, Helena School Board Chair Luke Muszkiewicz. He encouraged her to at least try it, and after some skepticism she found a love for it.
"I found a passion for proving my arguments and proving my passions," Muszkiewicz said. "It helped me find my voice."
When asked what advice he wanted to leave Muszkiewicz with, Ruether-Affor said "foresight is key." It's something most people pick up on, but he noted the important role it plays in planning. Ruether-Affor believes Muszkiewicz will be great as the team captain.
Ruether-Affor and Muszkiewicz worked hard to raise funds to go to the national tournament, Hermanson said. They all expressed their deepest thanks to the Helena community for helping make the trip happen. 
The speech and debate national tournament take place in Dallas from June 16-21.