High water forces road closure near Clancy
High waters from spring runoff have caused significant damage to Sheep Mountain Road near Clancy, prompting its temporary closure.
Sheep Mountain Road provides the only legal access to the Clancy OHV Area and Sheep Mountain Rock Climbing Area.
For more information, call the Butte Field Office at 406-533-7600.
Book signing scheduled for Montana conservationist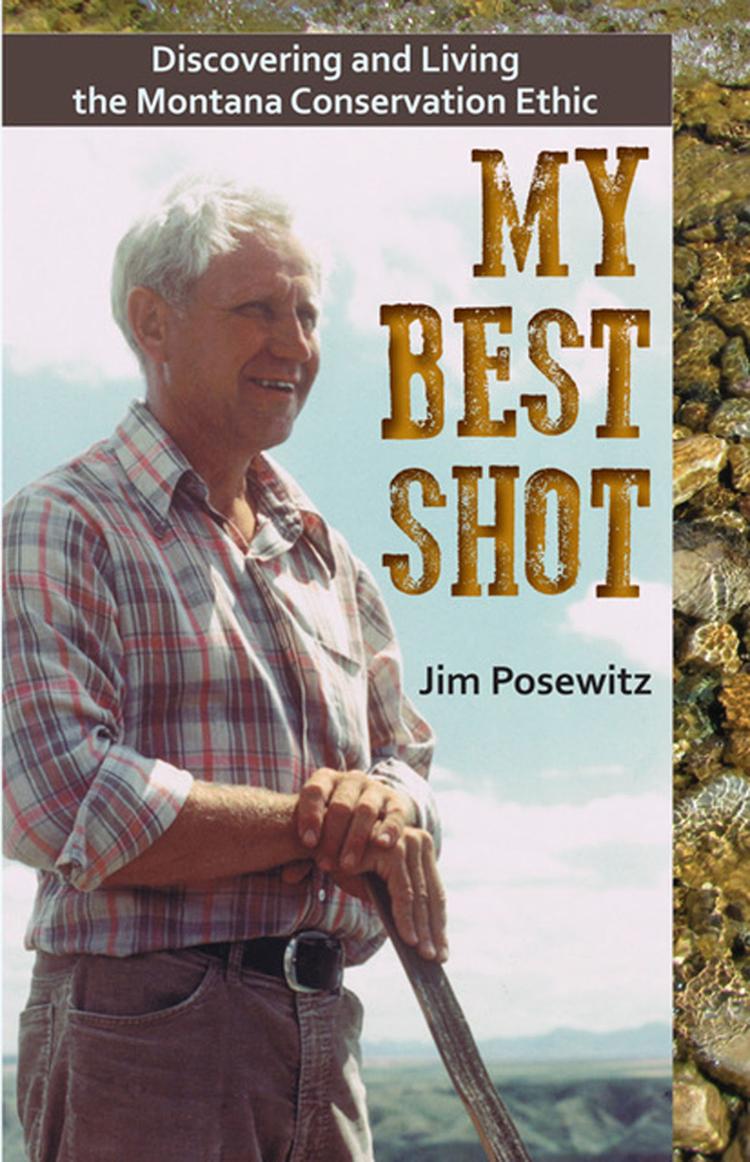 Helena author and conservationist Jim Posewitz will sign copies of his new autobiography, "My Best Shot," at the Montana Book Company, 331 N. Last Chance Gulch, on Saturday, May 19, from 11 a.m. to 1 p.m.
His book recounts a lifetime living and advocating for Montana's conservation legacy, first as a biologist with the Montana Department of Fish, Wildlife and Parks and later as a creator of conservation organizations, including Orion, The Hunter's Institute. He is perhaps most well-known for the book "Beyond Fair Chase: The Ethic and Tradition of Hunting," which is given to hunter education students across the nation.
FWP WHIP council to meet
The Advisory Council that oversees the Montana Wildlife Habitat Improvement Program will be meeting for the first time at Montana Fish, Wildlife and Parks Headquarters, 1420 E. Sixth Ave., at 9 a.m. on Friday, May 18.
The Wildlife Habitat Improvement Program was established during the 2017 Legislature to set aside up to $2 million of federal Pittman-Robertson funding for the purpose of wildlife habitat restoration work in the form of noxious weed management. 
The council will be meeting to learn more about the program and will be making funding recommendations to FWP for the first round of grant applications, which were received earlier this year.
A public comment opportunity is scheduled for the afternoon session.
Montana Wild hosts final wild living films
The final night of the Montana Wild film festival will be Thursday, May 24. The first film will start at 7 p.m. and takes a cinematic trip along some of Montana's rivers.
The event features a line-up of short films by independent filmmakers about the waterways in Montana:
Drift along the Yellowstone
Surf the Clark Fork
Learn about the efforts to restore pallid sturgeon
Legendary conservationist, Jim Posewitz, will share stories about his work to protect the Yellowstone River. 
Admission, popcorn and refreshments are free. 
Mushroom permits available
The Beaverhead-Deerlodge National Forest is issuing free, personal-use mushroom permits for the 2018 season. Morel mushrooms are expected to appear later this spring. The Forest will only be issuing personal use permits this year -- commercial mushroom harvest permits will not be issued.
However, permitted commercial picking is allowed on the Lolo and Kootenai National Forests and the following Ranger Districts: the Tally Lake Ranger District of the Flathead National Forest; the Lincoln Ranger District of the Helena-Lewis and Clark National Forest; and the Bonners Ferry Ranger District and the Sandpoint Ranger District of the Idaho Panhandle National Forest.
Personal use permits are available at all Beaverhead-Deerlodge National Forest offices. Mushrooms must be cut in half lengthwise from stem to cap at the time of harvesting. Free use harvesters have a five gallon per day (approximately two grocery bags) and 20 gallon per season limit.
Permits are not required for mushroom harvesters gathering small amounts, up to five gallons total per season (two grocery bags).
All harvesting is limited to hand picking.
Harvesters are encouraged to pick-up their free 2018 Mushroom Guide featuring more tips and recommendations at all Forest Service offices.
Several National Forests in Montana and northern Idaho region are planning to offer commercial mushroom harvest permits later this spring. For more details visit http://bit.ly/r1mushrooms.
Thompson Park MeetUp Hikes scheduled
The Beaverhead-Deerlodge NF is participating in the 50th Anniversary Celebration of the National Trails System Act. Several activities will be organized throughout the summer starting with weekly hikes in Thompson Park with members of the Butte-Silver Bow Hiking MeetUp Group.
The hikes will be held every Wednesday through June 20 on trails within Thompson Park. Hikes will leave the Sagebrush Flats parking lot at 6 p.m. and offer an easy hike and a longer hike for participants. Easy hikes will be about 45 minutes to 1 hour at an easy pace on trails with moderate elevation gain. Longer hikes will be faster paced, about 1.5 to 2 hours with more elevation gain. 
Avoid conflicts with wildlife as WMAs open
Most of Montana's 76 Wildlife Management Areas opened May 15, and with the long winter and heavy snowpack, wildlife still have limited areas, in some places, left to forage.
People who are looking to get out to the WMAs this time of year should keep vigilant to avoid conflicts with wildlife, particularly bears.
Bears, elk and shed-antler hunters will be sharing the same space once the WMAs open. 
Most animals see, hear and smell humans long before humans detect the presence of animals. Depending on the distance between the animals and humans, the animals decide whether to stay, defend themselves or flee.
Carry and know how to use bear pepper spray for emergencies.
Let someone know where you are going and when you plan to return.
Travel in groups of three or more people whenever possible and plan to be out in the daylight hours.
Stay on trails or rural roads.
Watch for signs of bears such as bear scat, diggings, torn-up logs and turned over rocks, and partly consumed animal carcasses.
Make your presence known by talking, singing, carrying a bell, or other means, especially when near streams or in thick forest where visibility is low. 
Blackfoot-Clearwater WMA opening delayed
The Blackfoot-Clearwater Wildlife Management Area will open at noon on Friday, June 1 this year.
Persistent snow, a slow spring thaw and extremely wet roads have prompted the extended closure, as well as the need to allow habitat bordering the WMA to thaw and green up to receive migratory wildlife that wintered on the WMA.
The extended closure to all public entry pertains to that portion of the WMA bounded by Clearwater Junction on its southwest corner, generally lying north of Highway 200, east of Highway 83, and south and west of Woodworth Road. The portion of the WMA within these bounds will be closed to all public entry, whether by foot or other means.
Also included in the extended closure is that portion of the WMA lying west of Highway 83 along the west shore of the Clearwater River. 
Placid Lake, Salmon Lake state parks open for camping
Montana State Parks has announced that Placid Lake State Park is open for camping. The boat ramp will remain closed to trailer launches due to continued high water, but hand-launching for small watercraft is allowed. The boat ramp will open when water levels permit. For boat ramp status updates visit the Placid Lake State Park page at: stateparks.mt.gov.
The campground at Salmon Lake State Park is also open. The day-use area and boat ramp at the park will remain closed due to continued high lake levels. Areas of flooding in the park had delayed the opening, which was originally scheduled for May 1.
Placid Lake State Park will also remain closed. Park staff will continue to monitor water levels at both parks and flood-affected areas will be opened as soon as conditions allow. For current park conditions and updates visit: stateparks.mt.gov.