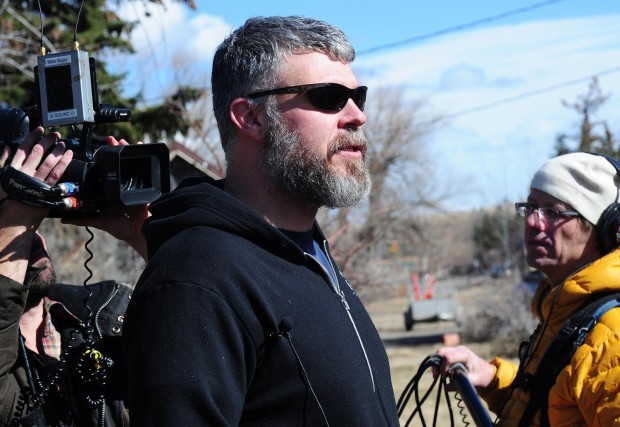 Medical marijuana grower Chris Williams is seeking a new trial after being convicted in a federal drug and weapons case that carries the potential for a prison sentence of up to 92 years. He's appealing, but his supporters aren't waiting for the justice system.
They've taken his cause to the Internet, in the form of online petitions filed with the White House, with SignOn.org, and with Care2.com. Together, they've gathered close to 40,000 signatures nationwide.
"The sentence shocks the conscience," said Chris Lindsey, a former business partner of Williams who is awaiting sentencing after pleading guilty to a federal drug conspiracy charge. Williams rejected a similar plea agreement.
"Look at (former Penn State assistant football coach) Jerry Sandusky," Lindsey said. "For 45 counts of child sexual abuse, he gets 30 years. Chris Williams is going to get three times that for being a medical marijuana provider. It doesn't make any logical sense."
Lindsey said he's signed "a few" of the petitions to pardon Williams. Others may have signed multiple petitions, too. But the action likely is largely symbolic.
Lindsey points out that petitioning a judge – one petition at MoveOn's SignOn site and another at Care2 are addressed to U.S. District Court Judge Dana Christensen of Missoula – is probably ineffective because judges are so limited by sentencing guidelines.
The White House petition that seeks a full pardon for Williams goes straight to President Barack Obama, who's pardoned fewer people – just 22, and one commutation – than any president since John Adams, NPR reported Wednesday, citing numbers provided by P.S. Ruckman Jr., a Rock Valley (Ill.) College professor who studies pardons.
"Do people think Chris Williams is going to be the guy to change that?" Lindsey asked.
Williams was among several people in Montana indicted on federal drug offenses after federal agents raided large medical marijuana operations around the state in March 2011. Montana voters legalized the medical use of marijuana in 2004. Medical cannabis businesses proliferated around the state after a 2009 federal memo that many interpreted as saying the feds would back off prosecuting such operations.
Most of those indicted after the 2011 raids accepted plea agreements, usually involving conspiracy charges. Sentences have ranged from a few years in prison to probation, the latter most notably in the case of Tom Daubert, a partner with Lindsey and Williams at Montana Cannabis in Helena.
But Williams insisted upon a trial, and in September a federal jury in Helena convicted him of eight drug and weapons charges. Afterward, U.S. Attorney Michael Cotter of Montana offered to drop six of those charges if Williams waived his right to appeal his conviction and sentencing – an unusual move that would have reduced his potential sentence to 10 years.
As with the plea offers, Williams turned down that one, too.
His stance throughout has been that because Montana Cannabis operated legally under state law, the feds had no business prosecuting him, even though marijuana remains illegal under federal law.
"I have decided to fight the federal government, because for me not defending the things that I know are right is dishonorable," Williams wrote in a letter to the Helena Independent Record last month. "Every citizen has a responsibility to fight for what is right, even if it seems like the struggle will be lost."
His federal defender, Michael Donahoe, is fighting via the system. On Tuesday, he filed a second request for a new trial for Williams on at least five of the charges, saying a ruling Monday by the 9th U.S. Circuit Court of Appeals provides a path for that trial.
During the legal machinations, Williams remains in a private prison in Shelby.
One of the petitions, which collected more than 2,300 signatures, urged Christensen to release him while he awaits word on a new trial. But U.S. Magistrate Court Judge Keith Strong ruled last week he won't be released pending appeal.
As for the other petitions on his behalf, appeals to the White House must gather 25,000 signatures within 30 days to be considered. As of Wednesday afternoon, about 19,000 people had signed the Williams petition, which has a Dec. 12 deadline.
Five of the top 10 petitions to the White House involve legalizing marijuana and none has been approved, the Wall Street Journal reported this past summer.
Two different SignOn petitions also ask Obama to pardon Williams. By Wednesday afternoon, one petition – started on Nov. 10 by a Palmdale, Calif., resident – had collected about 150 signatures of the 200 sought. The other was launched Nov. 9 by a Seeley Lake resident, and had 72 signatures of the 100 sought.
"I don't even use marijuana and I fully support the pardoning of Chris Williams and any other people that have been prosecuted for possession or growing it," wrote a Long Island City, N.Y., woman.
Meanwhile, the Care2 petition asking Christensen to reverse Williams' conviction has collected nearly 19,000 signatures since it launched Nov. 15.
Such petitions, whether they help Williams or not, "are a way to organization in a non-election setting," said Bob Brigham, who was the campaign manager for Patients for Reform, Not Repeal.
That group sought unsuccessfully to roll back stringent controls on medical marijuana enacted by the 2011 Legislature.
Signing a petition "is one of the things that advocates can be doing before the next election to push the issue," Brigham said.