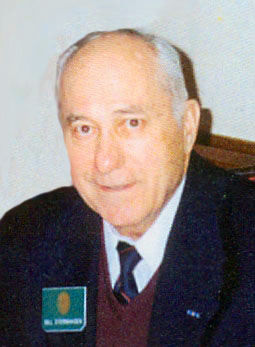 Helena Attorney, William G. Sternhagen, 86, died Friday, November 6 at St. Peter's Hospital in Helena, Montana. Bill battled cancer for 15 years and endured a stroke 4 years ago.
Bill was born on 11 July, 1929 in Havre, Montana, three months before the great depression and grew up in Glasgow, Montana. He was one of 9 children and learned in the early days how to work hard to support his family and contribute in a positive way to his community.
He raised his family in Helena, practicing law and leading and participating in several organizations in the community. He was a loving and giving man, husband, father, grandfather, colleague, and friend; a true example of a member of The Greatest Generation. He most enjoyed spending time with his family and did whatever it took to ensure his kids had the opportunity to succeed.
As Lt. Sternhagen, "Wild Bill" served in the U.S. Air Force and flew F-86 Sabre Jets in the Korean War with 52 combat missions, earning the Distinguished Flying Cross. He was known for his bravery and fighting spirit. He loved to fly jets and was a great pilot and warrior. Bill was proud of his service and a true patriot, often wishing he had stayed in the Air Force. After his combat tour, he was an instructor and then left the Air Force, attending Carroll College and the University of Montana Law School.
In 1958, he married Joyce M. Morgan, a Carroll Graduate and Nurse, of Helena. Bill practiced law for a short time in Glasgow before returning to Helena to be an Assistant Attorney General for the State of Montana. After his service to the State, Bill joined private practice in Helena and was a distinguished and respected attorney, practicing law for over 50 years. As an attorney, he prided himself on being able to help people with their problems and took personal and professional responsibility to do his very best to help others.
Bill was a devout Catholic, from being an altar boy at a very young age, to lecturing at Sunday mass at St Mary's. He attended daily mass for most of his life. He also led and participated in numerous church and community organizations including the Montana Cancer Society, Kiwanis Club, Ducks Unlimited, the Helena Trap Club, and many others.
Bill enjoyed hunting and fishing, especially with his family, relatives, and friends and was an avid outdoorsman. He most loved hunting geese, elk, and fishing. He was a Life Scout and always regretted not making Eagle and lived the Scout Oath and Law every day of his life.
An accomplished athlete and competitor, Bill was a 6-sport athlete in high school and played football for Carroll College under the legendary John Gillardi. Known as a "60 minute man", he never left the field, playing the full game on both sides of the ball as halfback, safety, and special teams. "Wild Bill" loved to carry the ball and to tackle. Known at Carroll and across the conference as one of the "fastest and toughest ever", he was inducted into the Carroll Hall of Fame and was twice named 1st Team All-Conference Halfback.
Bill is survived by his wife Joyce and children Bill, Ann, Joe, and Maggie as well as his sister Rita and numerous grandchildren and relatives.
A graveside service with full military honors will be held at 1:30 p.m. Tuesday, November 10, 2015 at Resurrection Cemetery. Please visit www.retzfuneralhome.com to offer a condolence to the family or to share a memory of Bill.