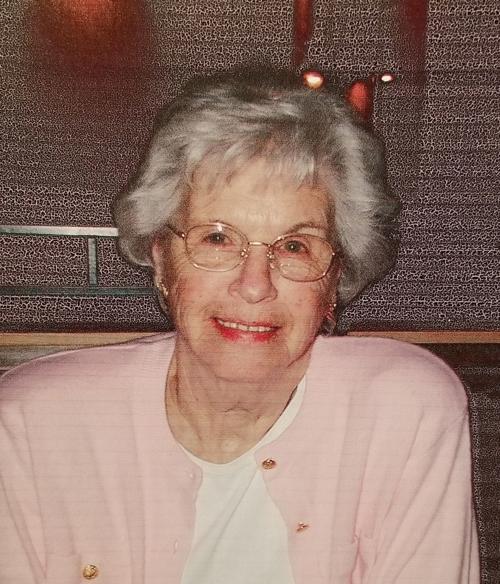 Hazel M. Romasko, age 97, of Helena passed away April 27, 2020.
Hazel Marie Swayze Romasko was born in Mason City, Nebraska, on March 19, 1923, the 6th child of nine to Alvin and Sarah Swayze. She along with four sisters and four brothers were schooled around the town of Seneca, Nebraska. Hazel's father worked for the railroad repairing rail lines, which kept the family moving chasing work. The times were difficult, making it hard to keep food on the table and maintain a home. When there wasn't work with the railroad, they would bounce around the farms in the area doing what they could to stay alive. "Those were the times."
After completing school, Hazel moved on to Helena, Montana. She found work at F. W. Woolworth Store and later was a telephone operator with manual switch boards (remember the party lines and the Operator asking "number please").
In Helena, Hazel met Harry Romasko, who she described as "The most handsome man she had ever seen". She and Harry were married July 21, 1946. Together, she and Harry built their own home. Both were very dedicated hard workers determined to succeed. They were very proud of the fact that they always paid their bills on time and kept great food on the table. At the dinner table we as kids, were asked if we wanted a portion of a certain food. If we said, "No" we got it anyway. She said we had the chance to say "Yes". She had a clever way of having us share a treat, a way that has been passed on to this day. When we divided a treat to share, one person would cut, the other had first choice as to which one they wanted.
Raising their three children; Yvonne, Jeannie and Harry Jr. (Buzz), because of the fact that we were "perfect children" went smoothly. Hazel was kept very busy keeping three children organized as well as keeping the books and paying the bills for Harry's Frame and Alignment. (Always done on time and right.)
Hazel loved to read and join friends in Bible Study. She had Bible Study sessions up to the time of her passing and was hopeful that her faith and study would secure her a place in "Heaven".
Hazel will be remembered for her great sense of humor, her admiration for nature, and for her love of family and friends. She would amaze many with her beautiful oil and watercolor paintings. She could warm you with her smile and laugh at your jokes.
Hazel was predeceased by husband Harry (2015), daughter Yvonne (2017), all her sisters and brothers.
She is survived by daughter Jeannie (Vic "Jackson") Kiesling and son Harry, Jr. "Buzz" (Luanne). She is also survived by Jeannie and Jackson's three children and five grandchildren; Yvonne's daughter and son and five grandchildren and great-grandchildren; and Harry Jr. and Luanne's daughter and son and two grandchildren.
Thinking of her grandchildren, great grandchildren and great-great grandchildren always made her smile. "True fact"—Hazelism.
Hazel enjoyed her friends at Touchmark and grateful for excellent care from the staff members. Hazel and family are very pleased with their experience with St. Peter's Hospice. Karissa and Lisa did an excellent job helping ease the pain through her transition.
We will miss her, but we have many fond memories.
Memorial services be held at a later date with interment at Montana State Veterans Cemetery, Fort Harrison, Montana. Please visit www.aswfuneralhome.com to offer a condolence to the family or to share a memory of Hazel.
To plant a tree in memory of Hazel Romasko as a living tribute, please visit Tribute Store.
Obituaries Newsletter
Sign up to get the most recent local obituaries delivered to your inbox.