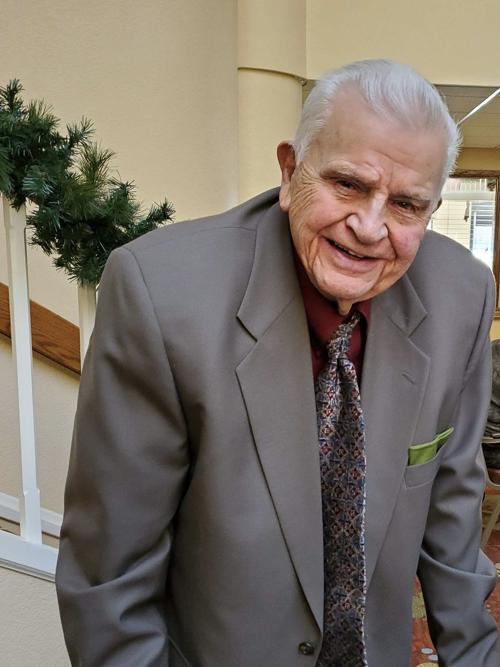 Robert Johnson Baldridge, 98, passed away December 29, 2020. He was born to Coleston Babe and Jessie Mae Baldridge in Tahlequah Oklahoma.
Johnson spent his childhood in Tahlequah with his 10 siblings, attending the Chilocco Indian Agricultural School. Ultimately graduating from Carr Central High School in Vicksburg Mississippi.
He worked for the U.S Government, where he met Annette Alexander, a RN, at the local Vicksburg hospital. He found a true partner to enjoy traveling, hunting and fishing. They married December 14, 1941. Their only child, Johnette, was born in 1942.
He was an Officer in the U.S. Air Force during WWII, flying P51 reconnaissance missions over China and India. After his military service he earned his Degree from Black Hills Teachers College in SD, and graduated at Stanford University, with his Physical Therapy Certificate.
His love for hunting and fishing called him to Montana, where in 1959 he and his family settled in Helena MT. He was the Head of the Physical Therapy Department at Fort Harrison until retirement. After 35 years of marriage, Annette passed February 23, 1976.
Johnson married Kathleen Wohlberg May 4, 1976. With this marriage Johnson welcomed his stepchildren Susan, Brian and Heather to his family.
In 1979, Johnson and Kathleen returned to Oklahoma. He enjoyed gardening, landscaping and scenic drives on OK back roads, in search of pecan pie, ice cream, and corn bread. His 98-year long life was a testament to his belief in daily practice of prayer and physical activity. In 2014, Johnson and Kathleen moved to Aurora, Co, to live independently with the help, support and love of family. Johnson lived out his remaining years with the love and support of his wife and friend of over 44 years.
His Christian faith was important to him. He was a Deacon and Sunday school teacher. His last church home was at Disciple of Christ in Broken Arrow, in which they made many close friends.
Johnson is preceded in death by his parents, siblings and his wife Annette Alexander Baldridge.
He is survived by his second wife Kathleen Baldridge, Daughter Johnette(Mike)Tubbs; Stepchildren Susan(Richard)Bangs, Brian(Maddy)Wohlberg, Heather(Angelo)Palmieri; Grandchildren Lynnette Tubbs, Stacy(Steve)Hansen; Step-Grandchildren Ashley Bangs, Breanne Wohlberg, Shelby Wohlberg, Madison Wohlberg and Grace Wohlberg ; Great-Grandchildren Rechelle Verlanic, Bridgette Verlanic, Alexandra Verlanic, Lewis Hansen and Paige Hansen; and Step-Great Grandchild Brayson Wohlberg.
Due to COVID-19 pandemic, there will be no services at this time.