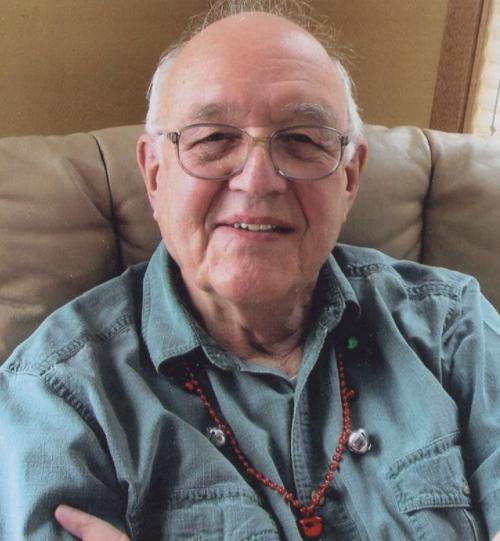 Ralph Leonard, known affectionately as Ralph, Dad, Uncle Ralph, Grandpa, and Ralph M. Leonard, left his body behind to discover the great unknown on January 16, 2021, at the age of 89. He said, in the days leading up to his passing, that he was ready to go, and that if anyone wondered about the importance of family, all they had to do was look around – he died of natural causes at home, in Helena, MT, surrounded by loved ones until he took his last breath, after which those present raided his stockpile of root beer and threw an impromptu wake. He requested that his obituary be short and sweet, but if that was what he wanted, he should not have lived so long or touched so many lives.
Ralph was born to James Dennis Leonard and Harriet Ralph Leonard on March 1, 1931 in Billings, MT, during an oil strike. In 1951, he married his high school sweetheart, Carol Yvonne Wood, and they spent the next 69 years facing the joys and hardships of life together. He is survived by Carol; daughter Sharon H. Leonard; son R. Dennis (Amy) Leonard; granddaughters Vanessa M. (Daniel) McGuire, Melissa E. (L. Paul) Rivas, Kaitlin C. Leonard, and Sophia V. Leonard; and great-grandchildren Joshua T. L. Crumpton, Mikaela A. Presley, Shelby J. Presley, James R. Presley, and Carolann M. McGuire. He is preceded in death by his parents; his two older brothers, John C. Leonard, and James D. Leonard; and his grandson, Shawn L. Leonard.
Ralph proudly served his country as a member of the US Air Force, joining in 1951 and attaining the rank of Staff Sergeant. He was a veteran of the Korean War, and Carol followed him to England for three years during his tour of duty. Following service, he earned a PhD in communicative disorders from Michigan State University in 1968 and went on to teach as a professor of speech and hearing at the University of Wisconsin, Stevens Point and the University of Montana. He later opened a private practice of clinical audiology in Minocqua, WI, and after retirement, spent 20 years volunteering at the Montana Talking Book Library in Helena, MT.
This, however, is the least of what made Ralph such an impactful and beloved human being. Ralph was the kindest of men, generous with his heart, and accepting of everyone, despite their flaws. He was just as kind to the staff at his favorite pizza joint as he was to his own family, which is probably why everywhere he went, people knew him by name and greeted him with genuine affection.
With Ralph, laughter was an everyday affair. His good-natured complaints and affectionate teasing were the stuff of legend. For years, Carol endured comparisons to his mother's cooking, which, if Ralph was to be believed, must have surely put Julia Child to shame. Carol's response was to direct him to "go home to momma" if he liked her cooking better. He never did.
Comfort was a paramount concern for Ralph, who never met a belt he liked. As a result, his grandkids were fond of dragging his pants to his knees, which he suffered with grace. He spent his life working to break in clothing to his satisfaction, an endless pursuit made more difficult by Carol's insistence on buying him new clothes when he wore holes in the old ones. His hats were not deemed suitable until he had rolled and crushed them to shapeless lumps, after which family members would invariably swipe them, leaving him to start all over.
Ralph saw family as a gift, to be treasured. Adults were equals, their contributions valued, however large or small, and children were adored. Kids, whom Ralph frequently referred to as "doodlebugs", were never without a horsey when Ralph was around, and all fondly recall being chased, to their terror and delight, by his gruesome "Frankenstein monster", complete with jutting jaw, rolled eyes, and outstretched arms. Games were a staple in the Leonard household, and while Ralph was always happy to teach children blackjack, gin rummy, and chess, his competitive side could not be quashed. Win or lose, he smack-talked every toddler, teen, and adult who sat down to play.
In Ralph's estimation, no home was complete without cats, who could often be found curled on his lap as he napped through a football game, a bowl of cashews at his fingertips. Visitors to the Leonard house were always invited to join Ralph in some ice cream at the local establishment, whether it was summer or 20 below zero. Chocolate ice cream made life worth living, and indeed, it was the last thing he ever ate.
Ralph is remembered as a man of incredible honesty and integrity who always tried to be fair and stood up for what was right, even at personal risk. His approach to life was defined by a keen sense of humor, which, according to his wife, was the type that could "get you through the day". Although he was not a religious man, Ralph believed that we have to come back to take care of our karma, so with happy hearts, we can all look forward to seeing him again one day.
Memorial services for Ralph Leonard are planned for summer 2021 in Mount Pleasant, MI (date TBD), where his ashes will be interred at Riverview Cemetery, with his family. In lieu of flowers, please send donations in Ralph's memory to the Lewis & Clark Humane Society (lchsmontana.org) or St. Peter's Hospice of Helena, MT (sphealth.org – select "Hospice of St. Peter's" in the Designation section of the donation form). Please visit www.aswfuneralhome.com to offer a condolence to the family or to share a memory of Ralph.