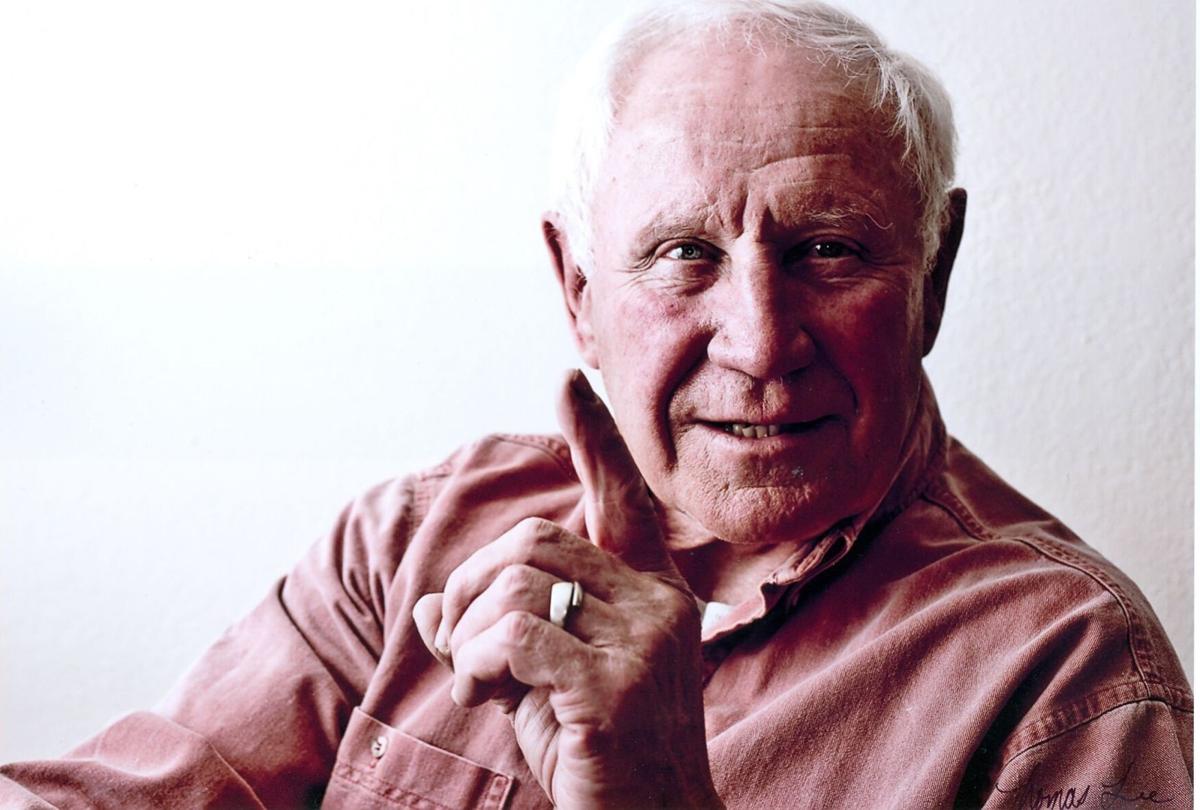 March 6, 1935 - July 3, 2020
Jim Posewitz (1935-2020) – Jim Posewitz stepped into the Wilderness Beyond near high noon on a sun-filled glorious Montana day. Our happy warrior crossed The Great Divide on July 3, 2020. In life he blazed a trail for all conservationists to follow.
Born in Sheboygan, Wisconsin in the teeth of the depression, James Anton Posewitz – "Poz" –grew up exploring the natural world and teaching himself to hunt and fish– when he wasn't in his grandfather's tavern listening to adults solve the problems of the day, or on the football field playing for the team.
In 1953, thanks to a football scholarship earned at Montana State College (later Montana State University) Jim stepped off the train in Bozeman, Montana, to begin a life devoted to Montana and natural resource conservation. Poz played as the left end and linebacker for four years on the Bobcat team. In 1956, the team won the Rocky Mountain Conference championship after a 9-0-1 season, which resulted in them going to the Aluminum Bowl in Little Rock, Arkansas, where the Bobcats became the national co-champions for the 1956 NAIA (National Association of Intercollegiate Athletics) football season. The team voted Jim, along with team mate Don Edwards, most valuable players that year. Not only did Poz play his heart out on the field, at the same time he earned a Bachelor of Science degree in 1957.
As most young men of the era, Poz was drafted by the U.S. Army (3rd Infantry Division, Military Operations Specialist/Intelligence Assistant) for his two-year stint, most of which was spent in the land of many beers – Germany. Where again, he played football for the Bamberg Riders, and won the 1961 European Championship. Upon honorable discharge, he returned to MSU where he obtained his Master of Science degree in Fish and Wildlife Management.
In 1958, he married Helen Vidal and together they raised six sons. Poz later partnered with soulmate, Gayle Joslin, and together they worked tirelessly for wildlife, natural resources conservation and protections, and ethical hunting.
Poz began his long and storied career with Montana Fish & Game (later Montana Fish, Wildlife and Parks) in 1961 as a fisheries biologist working in Great Falls, Kalispell, and Glasgow. While serving as head of the Water Resource Development Unit, the big issue was additional dams on the Missouri River upstream from Fort Peck Reservoir. His biologists gathered the scientific data to resist those dams which were never built; the river is now in the Wild and Scenic River System and a National Monument.
In a few years he was promoted again and moved to Helena. In 1969, Poz was named the first and only administrator of the Ecological Services Division where he remained for the next 13 years before uncomfortable politicians moved him into the position of Special Assistant to the Director until his retirement in 1993. During that time, he became the head of the International Joint Commission addressing water quality on the Flathead River system, and with an expert team, prevented an open pit coal mine, and associated pollution, from being developed within the Canadian portion of the Flathead.
Under Poz's leadership, the importance of in-stream flows for fish and wildlife was documented and successfully defended against the demands for energy development and agricultural production. As a result of these efforts, the Yellowstone River remains the longest free-flowing, undammed river in the Lower 48 States. The Montana Legislature then passed the Montana Water Use Act in 1973, which established provisions within state law to protect and enhance fish and wildlife resources and their habitat. As a result of the efforts of many and with Poz at the helm, numerous dams on the Yellowstone, Missouri, and Kootenai rivers were never built.
The next battle was improving Montana's Strip and Underground Mine Reclamation standards (that are still used today) to reclaim wildlife habitat affected by strip-mining in our state. Because of Poz, field biologists all around Montana gathered baseline data to ensure that wildlife and fisheries resources were protected in the face of a multitude of development projects: from dams and diversion projects to oil-and-gas drilling projects to underground and surface mining projects to highway placement. Poz's constant proselytizing helped ensure that Montana's wildlife would not be commercialized. The people passed a citizen initiative in 2000 banning "high-fence" operations and captive shooting of wildlife.
Throughout his career, Jim worked with Montanans to develop inclusive, philosophically and scientifically sound approaches to conservation issues and to encourage public involvement and support for those initiatives. He was tireless in his efforts to promote programs recognizing that wildlife resources belong to the people, and was a driving force articulating the North American Model of Wildlife Conservation, that defines wildlife as a Public Trust. He never ceased to point out the history of wildlife destruction in America, followed by its renewal and the return of a multitude of wildlife species to our landscape – efforts that were led by ethical hunters and other advocates. He focused on ensuring that wildlife biologists and managers as well as lawmakers and the public clearly understood this history in order to use that awareness in the management of wildlife resources and the challenges facing conservation today. He and MDFWP biologists consistently provided accurate information in engaging ways, so that citizen advocates could use those facts to influence government decisions that affect their lives, and to save and properly manage natural resources and places they value and love.
Upon retirement, Poz did not sit down in an easy chair. In fact, some would say that this next chapter in his life led to equally influential achievements. In 1994 his first book, Beyond Fair Chase – The Ethic and Tradition of Hunting, was published for hunters of all ages, but focused on those venturing out for the first time. More than a million copies have been distributed. He established Orion— The Hunter's Institute, a non-profit conservation organization dedicated to ethical hunting and the wild resources essential to that purpose. Poz delivered more than a thousand presentations during the course of his conservation career to agency employees, conservation organizations, community-based organizations, hunting-and-angling groups, lawmakers, and many others across North America. In all cases, he advocated for the public's expectation that government will be the conscientious steward of the public's wildlife and natural resources.
He continued writing and published four more books, believing that understanding one's history led to better decisions today. Inherit the Hunt-- A Journey into the Heart of American Hunting is a sequel to his first book and examines the unique heritage of hunting in North America and the challenges facing hunters at the close of the 20th Century.
With Poz's next two books, his admiration for Theodore Roosevelt took center stage in his passion for telling conservation success stories. Rifle in Hand -- How Wild America Was Saved examines the critical role of American hunters, especially Theodore Roosevelt, and George Bird Grinnell, D'ing Darling, Aldo Leopold, and others, in saving the wild lands and wildlife of North America during the 20th Century and their role in creating the highly successful North American Model of Wildlife Conservation. Taking a Bullet for Conservation: The Bull Moose Party – A Centennial Reflection, 1912—2012 tells the story of Theodore Roosevelt being shot by a would-be assassin and compares President Roosevelt and his administration's efforts in the conservation of fish and wildlife to contemporary efforts and challenges.
Jim's final book was his autobiography, My Best Shot – Discovering and Living the Montana Conservation Ethic. Through his life stories, Poz shows how determined individuals can and must protect America's "democracy of the wild."
Through the years, Poz's expertise, dedication, and commitment led to his appointment and service on dozens of advisory councils and boards. He became the co-chair of the International Joint Commission for the North Fork of the Flathead River. He was a founding member (and for 25 years the Executive Director) of the Cinnabar Foundation, a non-profit established and funded by Len and Sandy Sargent to support the constitutional right of Montanans to a clean and healthful environment. He was a founding member and on the boards of Helena Hunters and Anglers Association, the Teller Wildlife Refuge, the Forever Wild Endowment and the Montana Outdoor Hall of Fame. The list goes on. Poz was sought by many to serve because all knew that his wise counsel, strategic mind, and ability to find natural resource conservation solutions were important to their cause.
The list of honors and awards Poz received through the years is long. Some of particular note include "Conservationist of the Year" from the Montana Wildlife Federation, the Montana Environmental Information Center, and the Montana Hunting Hall of Fame. He was named "Conservation Communicator of the Year" by the Montana Wildlife Federation and "Educator of the Year" by the Safari Club International. He received the "Alumni Blue & Gold Award" from Montana State University for "distinguished services which have contributed to the benefit of mankind." In 2015, he received the National Wildlife Federation's "National Conservationist Achievement Award" for Conservationist of the Year, accepting the award in a ceremony in Washington, D.C., and, in 2018, Poz was inducted into the Montana Outdoor Hall of Fame.
Poz was preceded in death by his parents and his first son, Eric. He is survived by his life-partner, Gayle; sons Brian, Allen, Carl, Matthew (wife Heather and daughters Sarah and Lindsay), and Andrew (wife Kelly and daughters Madison and Charlotte); stepchildren Ann Gassmann (husband Nate and daughter Joslin and son Lyzander), and Clayton DeSimone (wife Michele and daughter Ayla Camas). Poz is also survived by his brother, John (wife Mary and their three sons and daughter and their children).
Poz's motto for life – "As long as there is time on the clock, you have to play the game" – guided everything he did. He never faltered in the face of opposition; he never gave up and usually found a way to achieve his goal if first blocked; he always gave whatever issue he took on his best shot. In the end, his determination and strategic mind, his relentless humor and hardy laugh, and his unflinching positive attitude ensured success in so many, many arenas. The natural resource conservation legacy Poz has left for all Montanans is what sets our State apart. When we fish or float a free-flowing river, or spot a herd of elk heading over the hill or a group of bison peacefully grazing on the plains; when we seek out the quiet solitude of a long hike into the backcountry and experience the country as it once was; when we take rifle in hand and head into the woods or onto the plains to meet the hunting challenge in order to renew our soul, we will remember Poz.
There was no more time on your clock, Poz, but you charted the course, and your example guides those of us left behind so that we stay in the game and make our world a better place for those who come next. You made sure that the Montana you first saw is still the last best place. As you so often reminded us, the battle for wild places and our natural resources is never over; each victory simply sets the stage for the next battle. And, as you also said: "When one arrives at the Pearly Gates, Saint Peter does not look you over for medals, diplomas, and awards, but for scars." May we all follow the example you set Poz
– to stay in the fight and cherish the scars.
For those who wish to post their thoughts and memories of Poz, please feel free to do so here:
In memory of Jim, please cherish this place every time you find yourself in the field and please consider a donation to the MSU Alumni Foundation, for the newly established Jim Posewitz Endowment Memorial Scholarship Fund here:
or Simply note Jim's name on the check in the event you are sending a check or to the conservation organization of your choice.