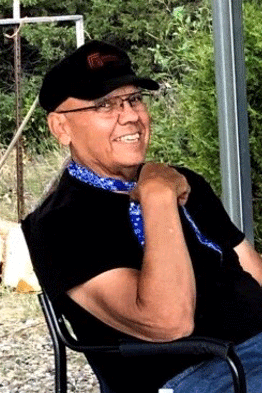 Our husband, father, and grandfather, Michael "Mick" David Martin, was called Home to be with his Lord and Savior, Jesus Christ, on Monday, January 20, 2020, in Helena, Montana.
Mick was born September 13, 1947, in Harlem, Montana. He grew up on the family ranch on the Fort Belknap Reservation. After graduating Harlem High School in 1965, Mick joined the U.S. Marine Corps and was a Sniper in Vietnam.
He returned home from war in 1969. Mick continued his public service as a Police Officer, Game Warden and in the Montana National Guard. In 1978 Mick went to work for Burlington Northern and was promoted to Locomotive Engineer. He retired from Montana Rail Link after 20 years. Even after retirement, Mick continued working as a Prison Guard at the Montana State Prison, and in other occupations in the proceeding years. While working in his chosen fields, he also had a strong interest in flying. In 1970, Mick attended the Cannon Aeronautical Center and later earned his private pilots license.
After retirement, he was able to fully enjoy his passion for long range shooting and ballistic science. Mick loved music and taught himself how to play guitar. While accomplishing his many hobbies, he also enjoyed listening to music; Alison Krauss, Blue Grass and Country Western.
On June 20th 1970, he married the love of his life Evelyn (Evie-O) Griffin. They were blessed with three children, Suzie, Will and Katie. Mick had a never-ending love for family and thoroughly enjoyed time spent with them camping on the family property.
You have free articles remaining.
During this time, Mick loved telling great stories and giving life lesson advice. Much of this advice was given in memorable quotes that are now legendary and will be passed down for several generations, "you did good that time", "let me show you an old Indian trick", "let that be a lesson to you", "did I fling a cravin' on you" or "what did I SAY". When Mick said, let me show you an old Indian trick, you should pay attention, because the "Marvelous Martin Mind" had a way of deciphering even the most difficult of conundrums. His life lessons and skills were invaluable. He also had an incredible knack for giving people nicknames. You knew you had his love and admiration if you had one. In fact, if you had more than one, you were revered.
He also enjoyed spending time with his family on the back veranda enjoying the incredible landscape and wildlife sanctuary that he created. Most importantly he cherished his grandchildren, who affectionately referred to him as Pop Doodles.
Mick was proceeded in death by his mother, father, Sister Wilma Jean and Brother Don Martin.
Mick is survived by his wife Evie Martin, son Will (Dani) Martin. Daughters Katie (Joe) Swanson and Suzie (Josh) Oudman. Sisters Patty Quizno, Kathleen & Garry McGuire, Irene Martin and Brother John Martin, numerous nieces and nephews. And most importantly, several grandchildren; Koby Martin, Jake Oudman, Sami Martin, Elena Oudman, Emma and Olivia Swanson, who will miss him terribly, and love him forever.
Mick loved the Lord Jesus Christ and was a devout Christian, he is now a citizen of Heaven.
In lieu of flowers the family requests that donations be sent to the Lewis and Clark Humane Society, PO Box 4455, Helena MT 59604. A celebration of life will be held at a later date, per Mick's request. Please visit www.aswfuneralhome.com to offer a condolence to the family or to share a memory of Mick.
Mick… you did good that time!
To plant a tree in memory of Michael Martin as a living tribute, please visit Tribute Store.