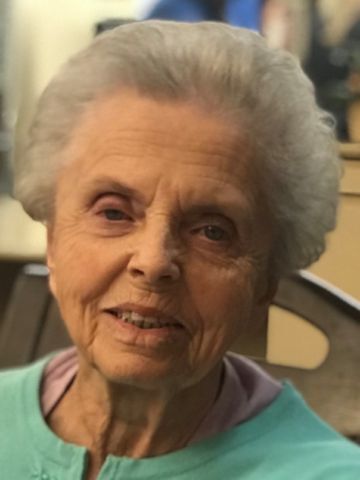 Marilyn lived a full and loving life, as daughter, sister, spouse, mother, grandma, and great-grandma.
Lover of laughter, tender of heart, quick to tears of joy or compassion, eager for fun and adventure: traveling or fulfilling grandchildren's dreams delighted her, and she was always ready to experience new things, and to help others.
Grounded in faith, generous of spirit, creator of beauty: in her home, making quilts and meals, Marilyn was utterly human, as are we all. Her temper was swift but rare and never nurtured a grudge. She focused her love and care on her entire family, seeing only the good in people, refusing to gossip or speak ill of anyone. She possessed and lived by deep wisdom, likely borne of overcoming her early, difficult circumstances.
In addition to graciousness and civility, Marilyn deeply valued and protected her independence and dignity, the recent erosion of which caused her great anguish. She was aptly described as a "cream puff with a spine of steel," the truth of which anyone trespassing on her independence quickly discovered.
Marilyn Yvonne Olson Metropoulos was born and baptized in Grand Forks, ND in 1936. Her father, George Olson, rum-runner during prohibition, oldest of 12 children, was loosed on the world to make his own way at the age of 16. Her mother, Exceene Dolliver, tender but determined to make their family work until it no longer made sense to try, and much toughened by that effort, was in later life known in the family as "White Lightning," for a variety of reasons. Marilyn was the second of four sisters and a brother, Keith, who died in infancy. Her precious sisters were her dearest friends. The laughter at the kitchen tables where they gathered as adults rang like the laughter of the gathered beloved at the feast of the kingdom of God.
In 1954 Marilyn and Jon Metropoulos married at First Lutheran Church in Miles City, MT with her sisters as bridesmaids. Life and relationships are best when balanced. Marilyn balanced her husband's fiery presence with a strong and formidable power as of water: flowing around but shaped by the presence of another with a strength that could move mountains.
Although family was first, she found the fulfillment she needed in work. When asked recently to name her favorite part of her life, she said that it was working as a sales representative, visiting restaurants, hospitals, and schools, filling food orders, savoring the friendships she made, the independence she felt and the pride of a job well done.
Marilyn made her home a beautiful, and gracious place, grounded in love, for raising a family of three children: Valyn (Steve Swanson) Metropoulos, Jon (Theresa) Metropoulos, and Tyler Metropoulos. Their children were encouraged to excel, to be independent, to value faith and family and to enjoy life. Marilyn delighted in her grandchildren: Abby, Jonny, Meg, Andy, Connery, Rhaya, Anna, and Grace, and her great-grandchildren, Kara and Eloise.
When she became a grandmother, Marilyn embraced the role with her flair for beauty and delight in simple things: tea parties, collecting small items for them: hankies, and sock monkeys, books and videos, anything to light up the face of a child; anything to make them feel loved for who they were. The hours she spent sewing them quilts were an expression of her devotion to them: one for each grandchild, each one uniquely designed for that child, made with love, and with excellence.
We may be seen most clearly for who we are by our grandchildren. Marilyn's grandchildren were made to feel treasured by her thrill at spending time with them, as if it were her delight to be on an adventure with them.
As the challenges of aging mounted and dementia began to take firm hold, Marilyn kept loving and caring for those around her, asking the "old folks" if they needed help with their wheelchair, or finding a warm sweater. She recounted stories from her life in a memory loop, but it was the best of her memories. Until fairly recently, she was in a sweet spot. It didn't matter if the stories were from her early life with her sisters or stories of work or life with Jon and their children, the essence of each story was gratitude; gratitude for her parents, sisters, husband and children; gratitude for the life she had been afforded by God, and those who helped and loved her along the way. Maybe the record was skipping, or maybe the last record she heard was Marilyn's Greatest Hits. She seemed bound to mold even bad memories into cause for gratitude.
For several years after Jon's death, Marilyn was lovingly attended to by her son Tyler in Billings. During her last years while living in Helena, Marilyn received careful, loving attention from her son Jon, and her daughter-in-law, Theresa, companion in so many adventures. She was also compassionately cared for by the Touchmark staff, especially Jessee, Laurie, Olivia, and, in particular, Cody, all of whom we sincerely appreciate. Pastor Brad Ulgenes, St. John's Lutheran Church, Helena, ministered to her spirit, bringing her the good news of the peace that passes all understanding through our hope in Christ that always calmed her, even in troubled storms of fragmented thoughts.
Tuesday, August 18, Marilyn left this life to claim the promises of her baptism, deeply loved and admired by her children and their spouses, grandchildren, great-grandchildren, nieces, nephews and friends and tenderly cared for by God who had loved her all of her life. Her husband of 61 years, Jon, passed before her in 2015, as did her precious sisters and mother and father in previous decades. She is survived by her children, their spouses, and her grandchildren and great-grandchildren.
A beautiful celebration of life was held at St. John's Lutheran Church in Helena, officiated by Pastor Brad Ulgenes. Marilyn was laid to rest in the Custer County Cemetery in Miles City, MT next to Jon, the love of her life, and his parents, John and Retta May. In Marilyn's memory, be kind to one another. Life is too short for ugliness. Memorials may be sent to St. John's Lutheran Church at St John's Benevolence Drive, 1000 Helena Ave. Helena MT 59601. Please visit www.retzfuneralhome.com to offer the family a condolence or share a memory of Marilyn.
Obituaries Newsletter
Sign up to get the most recent local obituaries delivered to your inbox.