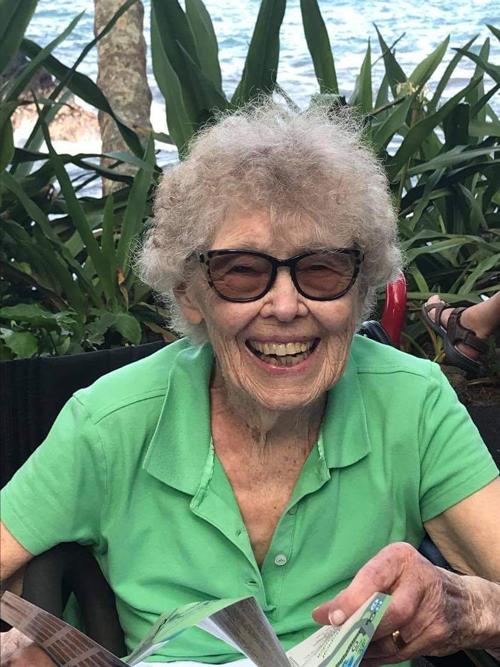 Our dear mother, Linda Skaar, died peacefully in her sleep on December 16, 2020 in San Leandro, CA, following a stroke she suffered just nine days previously.
Born Linda Lou Moffitt on April 10, 1928 in Indianapolis, her family moved from Indiana to Port Washington, NY as a child, graduating from high school there in 1946. That fall she enrolled at Indiana University, quickly drawing the attention of her soon-to-be husband Palmer David Skaar. They moved three times in the next 10 years—to Madison, WI, Cold Spring Harbor, NY and Bozeman, MT--where Dave had accepted a faculty position at Montana State College. Her three sons were born along the way, and she settled into a life in Montana for the next 30 years.
In the 1960s she developed a taste for politics and advocacy for women's rights, although she often hinted that her activism may have taken root when living in Wisconsin and campaigning door-to-door in opposition to Senator Joe McCarthy's re-election! Throughout that decade of the 60s she volunteered tirelessly for the League of Women Voters and the Gallatin County and Montana Democratic Party. She even gave it a go running unsuccessfully for the Montana Legislature twice in 1966 and 1968. The fact that she didn't win may have been due to the Republican-leaning electorate in Bozeman in those days, but also her gender. In 1967 there were only three woman elected to the Legislature (one a Democrat), so the odds of winning were pretty slim!
She also went back to finish college, receiving a B.A. in History from MSU in 1973. She quickly parlayed that to a career as a private labor mediator, and then working for the Board of Personnel Appeals in the Department of Labor and Industry in Helena from 1977-1987. While in Helena she was also a member of the first ICCW—Inter-coordinating Committee for Women--to address issues for working women in state government. One thing she was especially proud of was being instrumental in getting a bill introduced in the Legislature which created the State Sick Leave Bank (now called Sick Leave Fund) for State of Montana employees.
During her time in Helena, Dave died in 1983. She resigned from the State in 1987 and moved to Oakland CA to be closer to family where she bought a four-plex and became a landlord (much beloved by her tenants!) for the next 33 years. She reconnected with an old family friend, Alistair Sharman of Elgin, Scotland, and they married in 1992. They settled in San Leandro, CA and shared many happy years together travelling all around Europe and North America. Alistair passed away in 2010, but her bug for travel never ended. Her last trip was to the big island in Hawaii in 2018. It was a trip we will all remember, not just because the family was together, but also the wonderful house we rented which was destroyed by a lava flow just weeks after we left!
As her health began to fail over the past year, we were all fortunate to have son Steve, who lives nearby, to be able to tirelessly care for her in a manner that allowed her to stay in her home to the very end. Linda is survived by her brother Don of North Ridgeville, Ohio, three children Steve (Vickie) of Emeryville, CA, Don (Tedra) of Helena, and Andy (Colleen) of Springfield, IL and two step-daughters Jane Sharman (David) of Olympia, WA and Morag Sharman of Auckland, New Zealand. She also has five grandchildren and nine great-grandchildren. A memorial service will be held at a later date. In lieu of flowers, please make a contribution to the American Civil Liberties Union, or a charity of your choice that champions the rights of the disadvantaged or discriminated.
A memorial service will be held at a later time.