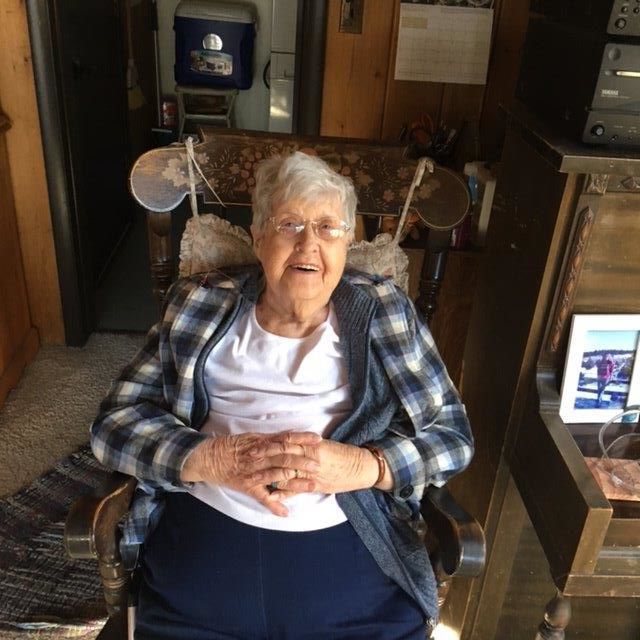 July 22,1919 – September 6, 2019
Lorraine Kuntz passed away September 6, 2019, at her assisted living residence, Son Heaven, in Helena, MT after celebrating her 100th birthday in July. A recent fall accelerated a decline in her overall health. Cremation has taken place.
She was born July 22, 1919 near Youngstown, Alberta, Canada to Henrietta C. (Ofstaas) and Kristen T. Anderson and named Donna Lorraine. Her parents met in Winnebago County, Iowa near Lake Mills, married in October 1916, and moved to Alberta in the spring of 1917. Their plan was to initially live and work near Kristen's brother, Dan Anderson, who was already established in the area, and later acquire land for homesteading in the Peace River valley of northwest Alberta. The trajectory of their lives changed forever when Kristen abruptly died of acute appendicitis in April 1920. Her mother was also expecting a new baby, so they returned to Lake Mills where the maternal grandparents, Hans and Caroline (Nelson) Ofstaas largely raised Lorraine and her little brother, also named Kristen, while their mother lived away working as a country school teacher to support the family.
The family moved to Albert Lea, MN when Lorraine's mother married B.J. Kron in 1930. Lorraine took her stepfather's last name, and graduated from Albert Lea High School in 1936 as salutatorian of her class at age sixteen. Money was always scarce, so she followed her mother's example and began working in local business offices to help support the family which by that point had grown to include three little sisters. At age 17 Lorraine met Ray (Curly) Kuntz of Oakville, IA through mutual friends, an encounter that many years later would change her life. Meanwhile, however, she spent most of the 1940's working as a traveling administrative assistant and trainer of new employees for a company that provided clean linens and towels to businesses from locations scattered across much of Wisconsin and eastern Minnesota.
In 1947 Lorraine traveled to southeast Iowa to visit old friends. Curly was invited over to play cards. That evening led to their marriage in October 1948, at which time, Lorraine, the city-raised working girl, began learning how to be a farm wife and in 1949, a mother. She and her beloved Curly had an active four decades running the family farm and being involved in the life of their nearby community, Oakville. Lorraine cared for Curly virtually single-handed at home for several years, through all but the last few months of his Alzheimer's disease, until he passed away in 1989. She remained at the farm until moving to Montana in 1992 to be near her daughter, Gail and family, and especially her only grandchild, Maren. She joined many community organizations and a church, established greatly valued friendships, traveled extensively and thoroughly enjoyed her Montana life for most of the past 25 years.
Lorraine was an unusually resilient and adaptable person who found ways to thrive, learn and make friends everywhere she went. These useful traits were undoubtedly honed by the upheavals of her early life and chronic shortages of nearly everything through the Great Depression. The key thing she had in abundance was an intensely close, interconnected family and friendships spanning decades which truly meant everything to her throughout her long life. She loved lively conversation and debating ideas. She was endlessly curious to know other people's thoughts and stories. She was an avid reader who wanted to understand history, science, theology and world affairs. She well might have become an academic if the times and her life circumstances had been more favorable. She went to college in her 70's and completed most of the coursework for a bachelors degree, earning mostly A's and feeling thoroughly put out to receive a rare "B" grade. She was very proud to be 100% Norwegian, an active Sons of Norway member, and made two trips to Norway to tour and visit cousins.
Lorraine believed community service to be both a privilege and an obligation, and accordingly served on local and county school boards, was a 4-H leader and an officer of the local chapter of Iowa Federated Women's Clubs. She especially loved music, and greatly enjoyed singing in her church choir and attending civic music concerts. She was raised and confirmed in the Lutheran faith and later became an enthusiastic Methodist after she moved to rural Iowa. She strongly felt that professing to be a Christian meant walking the walk. As she saw it, Jesus cared about everybody, but put great emphasis on serving the poor, children, women, outcasts, disadvantaged persons, and welcoming strangers. She admired how He stood up to the rulers of His day on behalf of powerless people. These concerns were a priority for her over many years of work through her church and donating time, effort and funds to provide help, especially to Native American Tribes.
Lorraine was preceded in death by her parents, step-father, husband, her siblings and their spouses: Krist (Ernestine) Anderson, Turlock, CA; Barbara (C.D. "Bud") Varner, Hollandale, MN; Helen Trim, Evanston, IL; and Mary Kron, Albert Lea, MN; her niece Nancy Varner, Victoria, MN, and nephew Dan Varner, Hollandale, MN; and her brother-in-laws and spouses; Art (Irene) Kuntz and Allen (Sue) Kuntz, Oakville, IA. She is survived by her daughter, Gail Kuntz and son-in-law Terry Wheeling, Helena, MT and grand-daughter, Maren Wheeling, Lynnwood, WA; nephews Chuck Varner, Hollandale, MN and Steve Trim, Chicago, IL; grand-nieces Chrissy (Lee) Holtberg and family, Blooming Prairie, MN, and Laura Varner, Hollandale, MN; and numerous treasured cousins in both her and her husband's extended families.
In lieu of flowers, donations in memory of Lorraine may be sent to the Helena Indian Alliance, Hospice of St. Peter's Health, Helena, MT, or a charity of the donor's choice. Following a private family memorial service in Helena and later gatherings in Minnesota and Iowa, Lorraine will be buried at the family plot in rural Hawkeye Cemetery, near Oakville, IA. Lorraine's family wishes to express thanks and gratitude to the managers and staff of Son Heaven Assisted Living for the exceptional care they provided to Lorraine over many years. Lorraine's family is also thankful for the compassionate care by nurses and staff of St. Peter's Hospital, Apple Rehab Cooney, and St. Peter's Hospice during Lorraine's last weeks of life.
Obituaries Newsletter
Sign up to get the most recent local obituaries delievered to your inbox.