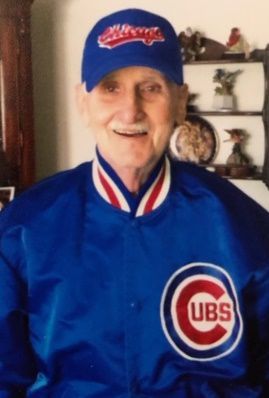 Today we lost the ultimate Cubs fan and the "King of Hearts", Fritz Hiel, second child of Peter and Madeline Hiel, died of natural causes, on March 17th, surrounded by the love of his family.
Fritz was born on 1/2/1925 in Trenton, New Jersey, with Charles his older brother and Peter the youngest. Fritz grew up and went to school in Trenton, playing soccer throughout his childhood.
Not quite old enough for the military Fritz lied his way into the Navy. During WW II he served on several Naval vessels in the Pacific, manning the gyro compass. Ask us about the "Jack of Diamonds" story. After the war Fritz, or as his Navy tattoo reads "FRED", returned to the States and found his way to Chicago, Illinois.
The real story begins here when he spotted a young woman lying on the beach on the shores of Lake Michigan, Dorothy, the soon to be "love of his life", found this sailor, fed him some lunch, and stayed with him for 70 years.
Fritz soon found work after the war with Sears Roebuck and started his family only 2 blocks from Wrigley Field. There, between Cubs games, the family began, first with Michael, soon followed by Jeffrey and Lisa.
With the help of the G.I. bill Fritz and his young family moved out of the city to the new and expanding suburbs into a new house in the small town of Carpentersville, IL.
Still working for Sears Fritz's family began to grow, grow and grow.
After a lull of ten years, Matthew, Madelyn, Julie, and Christine followed, rounding out the family to seven children. Besides being very active at home, Fritz was very active in his church, St. Monica's and served on the City Council, and Police Commission.
You have free articles remaining.
As the family grew and started moving away, Fritz and Dorothy followed Michael and Jeffrey to Montana in 1997. Here he became active with the Senior Center helping with the "pinochle card" program, volunteering with his wife at Hawthorne School library, until health problems forced him to quit. Helena was now his home and there was never a person he met that was not a friend. He sincerely was interested in what they were doing and who they were.
It took many years of family prodding to get Fritz to go to the VA at Fort Harrison, he always said that the VA was for the "real sick", vets. Finally he started go there and has had nothing but great, quality care until the end, and the family is greatful.
During his last years health problems continued and help was needed. Daughter Madelyn and her husband Ken moved next to Fritz and Dorothy and with the additional help from Home Sweet Home health care continued to care for him through the end.
A special thanks goes out to Betty (Home Sweet Home) and Frontier Hospice whose compassionate efforts helped the family during these trying times.
Fritz was preceded in death by his wife Dorothy, who passed last September, his parents, Peter and Madeline born in Palanka, Hungary, and his brothers, Charles and Peter.
His legacy continues with Michael and Debra Hiel, Jeffrey and Terry Hiel, Madelyn (Hiel) and Ken Thomas, all of Helena, Lisa (Hiel) and Mark Kolkovich Hartwell, GA, Matthew and Renee Hiel of Jefferson GA, Julie and Wilbur Meyer of McHenry, IL and Christine and Boedy Gann, of Elberta, Alabama.
Grandchildren Sarah Linden, Peter Hiel, Kaylee Hiel, Jaclyn Hiel, Brittany Chandler, Lauren Maness, and Carly Thomas, all of Montana. Richard Kolkovich, CO, Amanda Calvo, GA, Emily Adams, and Tori Hiel, GA, Emilie Meyer, and Malarie Meyer, IL, Jacob, Miranda Engel, IL, Zachary Engel, and Evan Gann, AL.
Great-grandchildren Henry, Adela, Riley, Trevor, Daxyn, Arthur, Lyndon, Alexander, Kadyn, McKenzie, Kennedy, Scarlett.
The family is planning a celebration of both Fritz's and Dorothy's extraordinary life together this coming June 26th. A Funeral Mass for Fritz and Dorothy will be held at 12:00 p.m. on Wednesday, June 26, 2019 at the Cathedral of Saint Helena, 530 N. Ewing St. in Helena. A Committal Service with Military Honors will follow at Montana State Veterans Cemetery. The family will have reception following the committal service at a location that will be announced closer to the date of the services.
Donations in his name are welcomed to a charity of choice, the family recommends Frontier Hospice, Angle Fund, YWCA, and Friendship Center - all of Helena. Please visit www.aswfuneralhome.com to offer the family a condolence or to share a memory of Fritz.
To plant a tree in memory of Ferdinand Hiel as a living tribute, please visit Tribute Store.