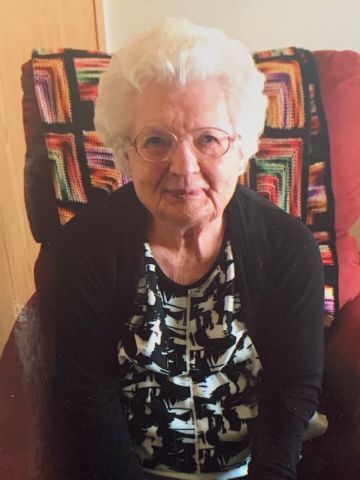 Georgiana Uptmore Morgan was born December 18, 1923 to George Uptmor and Aurora LaBarre at St. Clare Hospital in Fort Benton, Montana. Her birth followed that of her brother, Merlin and her sister, Bernadine. She passed away peacefully on November 6, 2020.
She attended grade and high school in Fort Benton, graduating in 1942. She went to work in Fort Benton with the County Extension Office then moved to Helena where she worked for the Department of Public Health. She met the love of her life, Roland O Morgan (RO), who was stationed at Fort Harrison, Helena, Montana with the First Special Service Force (FSSF). They were married on the same day as her sister Bernadine and Ralph Randall on November 22, 1945 in Fort Benton. Both couples made their home in Helena.
She and RO raised their 6 children in Helena MT and she worked at the Veteran's Administration until her retirement in 1975.
They enjoyed traveling to many of the FSSF reunions in the US and Canada. They both attended college at Northern Montana in Havre, MT following RO's retirement from Asarco.
They traveled extensively to Hong Kong, Japan and Hawaii together. She lost her husband from a heart attack on November 3, 1981 while they were attending college in Havre.
Georgiana traveled to visit her children who live in California, Oregon, Nevada, Tennessee, and Oklahoma. Her children took her on many trips including Italy, Rome and France in 1990. There they visited the sites where RO fought with the FSSF at Anzio-Nettuno and Cassino among other locations in Italy. She also went to Europe in 1996 where they visited 11 countries. She loved traveling to visit family.
She has been an active member of The Cathedral of St. Helena since 1942, participating in all forms of ministry, including Eucharistic ministry, assisting at funeral lunches, making baby layettes, and delivering Holy Communion to shut-in Catholics. She was active in Bible studies and prayer groups. She was a member of Church Women United since 1983 and served as president for several years. She was also influential in raising funds to add a chapel to the women's prison in Billings MT, and a member of the Survivors Club for many years. She enjoyed participating in aerobics and swimming at the Broadwater Athletic Club.
She is survived by her children, Diane Laisnez of Helena MT, Marlene Buchholz of Beaverton OR, Les (Sue) Morgan of Helena MT, Jeannette (Bill) Yim of Sacramento, CA, Norm (Donna) Morgan of Las Vegas, NV, and Mark (Tara) Morgan of Peggs, OK also, 15 grandchildren, 21 great grandchildren, and 3 nephews.
She was preceded in death by her husband RO, sister Bernadine Randall, brother Merlin Uptmor, grandson Benjamin Morgan, and son-in-law Tom Buchholz.
A very special thank you to Lavae Atkins, Lea Haaland, the LaBarre and Ryan families for their continuous loving care and support, the Staff of the Bee Hive Assisted Living, and St. Peter's Palliative Care/Hospice Teams.
A funeral service for immediate family members will be celebrated on Tuesday, November 17 at Noon at The Cathedral of St. Helena and a Celebration of her Life will take place when it is safe to do so.
Memorial gifts, if you wish, may be made to Helena Food Share, P.O. Box 943, Helena MT 59601. To offer condolences to the family, please visit helenafunerals.com.
Obituaries Newsletter
Sign up to get the most recent local obituaries delivered to your inbox.